The Co-Chairs of the Philippine Preparedness Partnership (PHILPREP) stressed the vital role that multisectoral approach plays in building national resilience and achieving sustainable development. This was the unified message they shared at the Virtual Townhall organized by the National Disaster Risk Reduction and Management Council (NDRRMC) on July 29, 2020.
PHILPREP Co-Chairs Undersecretary Ricardo Jalad (Administrator, Office of Civil Defense), Mr. Rene Meily (President, Philippine Disaster Resilience Foundation), and Ms. Loreine dela Cruz (Executive Director, Center for Disaster Preparedness) all served as speakers. The main focus of the Virtual Townhall was Disaster Risk Governance in the New Normal.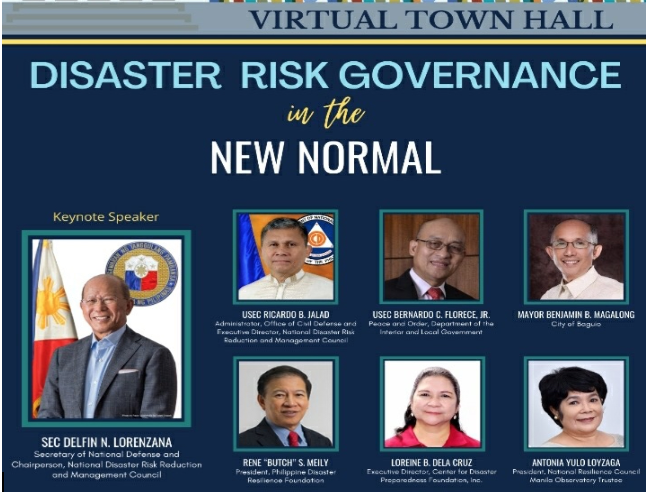 In his keynote message, Secretary Delfin Lorenzana (Department of National Defense) mentioned that among the main goals of the government at the moment is to ensure the successful recovery of local individuals and communities affected by the coronavirus disease 2019 (COVID-19) pandemic. He added that the widespread use of online platforms in various development efforts is an evidence of adaptation to the new normal. Undersecretary Bernabe Florece, Jr. (Department of the Interior and Local Government), Mayor Benjamin Magalong (Baguio City), and Ms. Ma. Antonia Yulo Loyzaga (President, National Resilience Council) were among the distinguished panel of speakers.
In his presentation, Undersecretary Jalad emphasized that effective collaboration among various stakeholders is important in integrating health concerns into disaster risk reduction and management (DRRM). This is evidenced by the synergistic work needed in the fight against the COVID-19 pandemic. He added that various stakeholders should work hand-in-hand in coming up with messages for public consumption.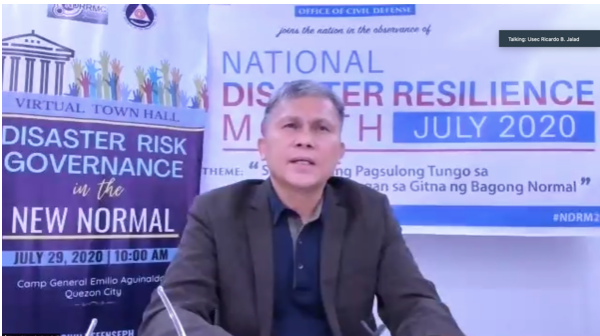 As part of risk communication, the public must have access to accurate, relevant, and timely information in order to promote safe behaviors. Through the use of social media platforms, compliance to minimum public health standards may be propagated. Together with the government, he urged the private sector, local civil society networks, the academe, and the media to complement and support one another in view of achieving a safer, disaster-resilient, and climate change-adaptive Philippines towards sustainable development.
The Office of Civil Defense (OCD) is the secretariat and executive arm of the NDRRMC. In the fight against the COVID-19 pandemic, it leads the logistics efforts of the Council's Response Clusters. It provides mobility support for the delivery of essential goods and services, hauling of relief augmentation, and distribution of protective gears and relief goods. OCD is also the main coordinating body for all domestic donations relative to the management of COVID-19. More information about OCD may be found here: http://www.ocd.gov.ph/.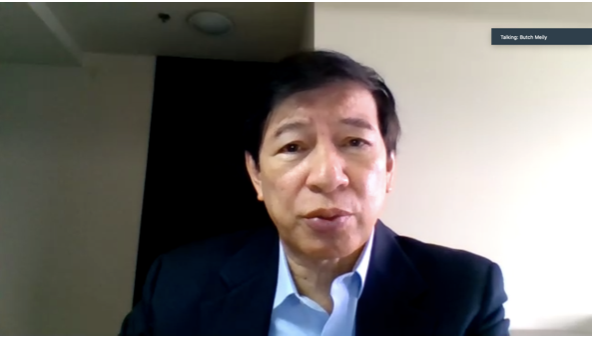 According to Mr. Meily, safety is of paramount concern to everyone. People will not go out to shop or eat if they do not feel safe. This means that private companies may need to reinvent themselves to survive in this trying time. He urged businesses to take advantage of digital platforms in order to effectively adapt to the new normal.
He shared that PDRF has tools that can help micro, small, and medium enterprises (MSMEs). Among the initiatives he discussed is SIKAP, which stands for Synergizing Recovery Initiatives, Knowledge, and Adaptation Practices for MSMEs. SIKAP is a unified online business recovery hub that aims to help MSMEs bounce forward to the "next normal". Mr. Meily also mentioned that PDRF offers for free an MSME Guide to Business Resilience and a comic book for MSME recovery. He ended his presentation with a call for the government and the private sector to continue working together in building a safer environment for every Filipino. More information about PDRF may be found here: https://www.pdrf.org/.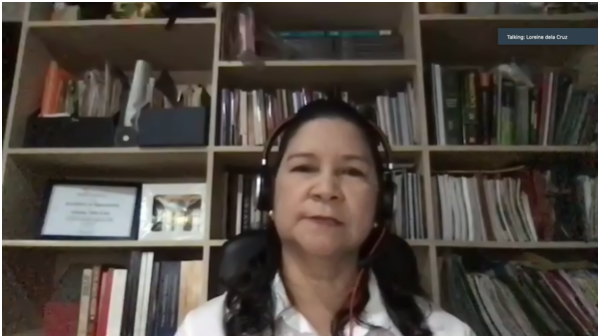 Ms. Dela Cruz presented the vital role families play in DRRM. As first responders and carers in their own communities, families may be tapped to be local leaders in following safety and wellness protocols, propagating health-related information, and supporting their spheres of influence. As champions for local leadership and community development, families may further be assisted by enabling them to take part in local development planning, strengthening their knowledge and skills, and connecting them with other communities in order to amplify their voice. She called on the listeners to uphold the rights of those most at risk, especially the vulnerable and the marginalized.
She also shared the development initiatives that PHILPREP continues to do. Ms. Dela Cruz noted five ways of working with and the addressing the needs of local communities. She enumerated the following roles development workers play: (1) as catalyst in sparking action; (2) as capacity builder through the development of knowledge and skills; (3) as convener in connecting individuals and organizations across various levels and different agendas; (4) as amplifier of the voices of those most at risk; and (5) as reporter to ensure accountability.
CDP is a local civil society organization that promotes the rights of local communities to a safe, resilient, and sustainable future. Through its various development initiatives, CDP engages with populations most at risk in disaster context including women, children, elderly, and persons with disabilities. More information about CDP may be found here: https://www.cdp.org.ph/.
It is worth noting that PHILPREP is a multi-stakeholder platform on DRRM. As a tripartite partnership among the government, civil society, and the private sector, PHILPREP is composed of OCD, CDP, and PDRF. At the regional level, PHILPREP works under the Asian Preparedness Partnership (APP) that is present in Cambodia, Myanmar, Nepal, Pakistan, Philippines, and Sri Lanka. The APP program is supported by the Asian Disaster Preparedness Center (ADPC) and the Bill and Melinda Gates Foundation (BMGF). More information about the APP program may be found here: https://app.adpc.net/.