Isolation is a norm for marginalized people. When a pandemic strikes, their exclusion from basic services is amplified. Their economic burdens and vulnerabilities commonly become a matter of survival. The Rural Education Economic Development Society (REEDS) has its expanded services, to help farmers, widows, the disabled, and the transgender community during the COVID-19 pandemic.
The task force members and volunteers at REEDS have made it their mission to incorporate advocacy and inclusion into their activities across the Punjab and Sindh provinces of Pakistan. The two provinces have the highest concentration of cases and collectively make up more than 75% of the cases nationwide. Disasters do not ostracize in their damage and organizations such as REEDS focus on inclusive intervention which is the cornerstone of any relief effort.
REEDS is one of the 170 local organizations that make up the National Humanitarian Network (NHN)*. The network is one of the founding members of our national partnership, the Pakistan Resilience Partnership (PRP). Our national partnership has promoted the mobilization of the media and academic and research on advocacy and awareness in the field of disaster management. The PRP has also contributed to drafting the National Disaster Response Plans (NDRP) 2019. The plan recognizes the changing environment and disaster management mechanism in Pakistan.
The Rahim Yar Khan district is located in the Punjab province. The city has put physical distancing measures in place to curb the spread of the virus. The provincial government has been effective in imposing lockdowns in order to control the outbreak. However, parameters of the lockdown such as physical distancing have constrained and even stopped many income generating activities. The pandemic is predicted to force 125 million people below the poverty line in Pakistan.
Marginalized are one of the first and most affected populations during any disaster event. Qambar Kashish is a young transgendered women from the Railway Colony in the Rahim Yar Khan City She has joined REEDS during the pandemic to give her community the support and priority that is their basic right.
Advocate for the Silenced
Qamber takes on many leadership roles for her community. She is a volunteer and active member of the REEDS task force from the Railway Colony- "We have become used to being neglected. I chose to be a voice of support because the disaster has pushed many of us into a state of helplessness."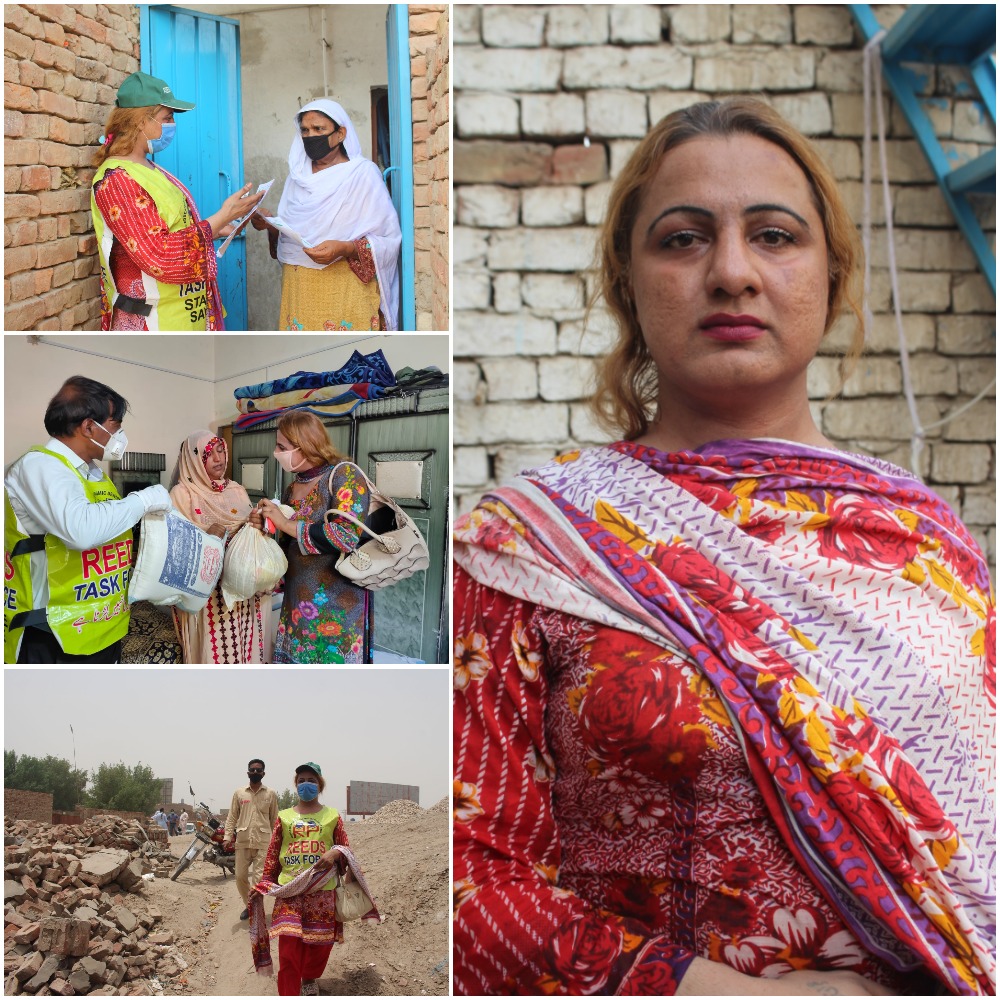 Although they have a space in the community, acceptance is still a distant reality. The 2017 census reported 10,418 transgender persons in the country- an enumeration that contradicts studies that one out of every 50 children identify with a transgender tendency/ potential. "We are citizens of Pakistan but we are still not accepted in everyday society. Our community suffers from an inferiority complex that stems from a community that ostracizes and mocks us. The Almighty has blessed us with extraordinary patience and will to continue living," states Qambar.
Qambar conducted an assessment in the area to find that 56 transgender individuals have lost their livelihood resources leaving them unable to support themselves or their loved ones. "They are unable to access any support from the Pakistani Social Protection Program (Ehsaas) as they do not have ID cards or have not registered because they are not aware that we can receive one."
REEDS is exceptionally unique in their community engagement according to the Qamber, "I joined the COVID Task Force Program knowing that we would engage in preventative behavior. They enforce inclusion in all of their response programs. Together, we have ensured that each individual in the community applies proper handwashing, coughing ethics, social distancing, wearing masks, and disinfection." Conveying these messages is a constant endeavor for the task force. "Our daily work is to deliver simple, clear, and repetitive messages that guarantee a community incorporates and perceives these behaviors as a positive change. We have not had a positive case in our community as of now."
Bridging Policy and Reality
The Supreme Court has recognized the rights of transgender people in 2009. Unfortunately, systemic change and societal practices are not a unified effort. The transgendered community had long faced stigma and discrimination which makes them reluctant to approach formal channels for support. COVID-19 highlights the necessity for public services to be inclusive in their practices and the government has taken steps to support this shift. Transgendered people can access the government's health insurance scheme as of this year. The coverage provides Rs, 720,000 ($4.670) a year for health treatment.
Discrimination is the most covert and common manner to isolate marginalized communities. A vast majority of transgenders attend secondary and tertiary schools because of their treatment. Education is the start of a series of lost opportunities towards progress. Although 73% of Pakistan's labor force is under an informal economy, the negative stigma around the transgender population follows them well into their adulthood. It prevents them from skills related work opportunities.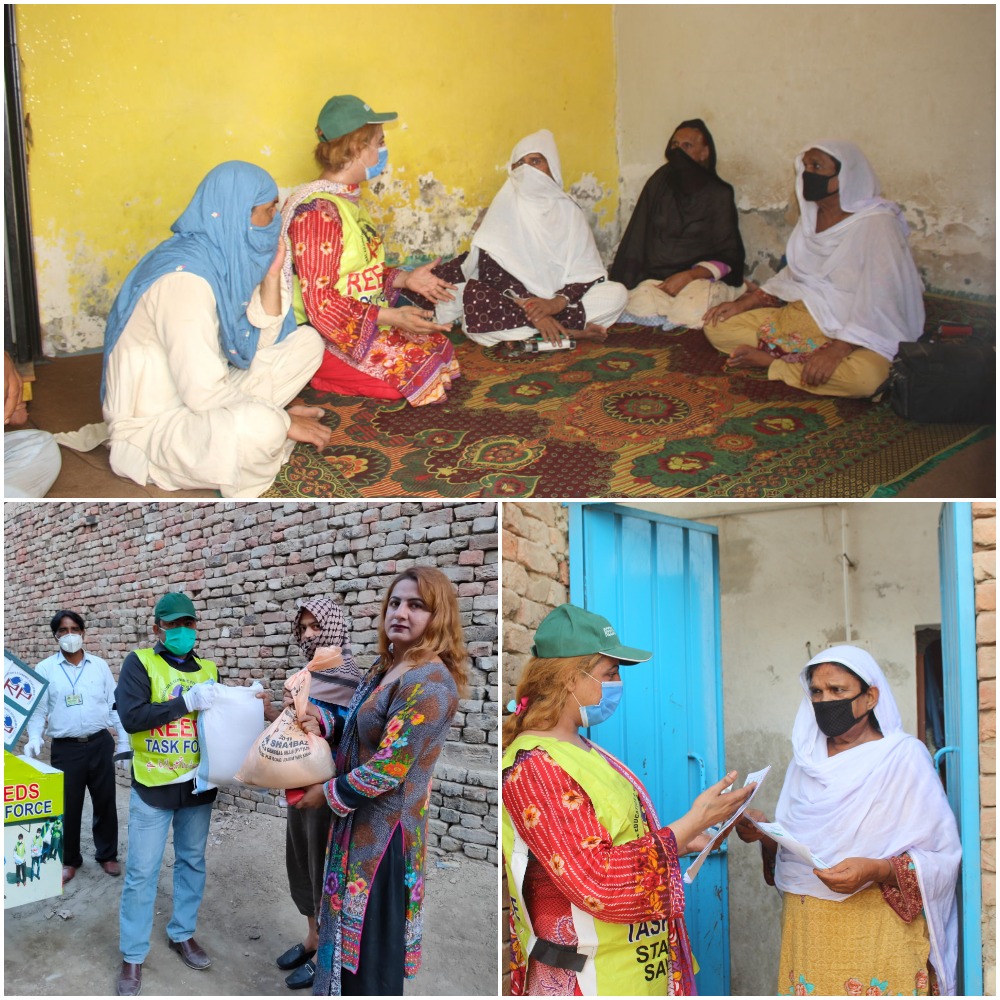 "We would earn PKR 200-300 (USD 1.30- 1.70) from begging and offerings we received throughout auspicious functions. That has all ceased during isolation and we have fallen into even deeper poverty," expresses Qamber. Starvation and financial struggles become a much more apparent reality that affects more citizens than the pandemic. "The organization offered to provide information and Rashan packages. I collected district-wise data for distribution to all of the households in a particular area," explains Qambar. REEDS follows government guidelines for standard ration packages. "The community received packs that contained the food staples that included flour, rice, pulses, spices, oil, sugar, teach, and dry milk. Each package would sustain a family of six to seven for a month."
When Efforts are Escalated
REEDS members assembled to provide protective measures and information for the marginalized communities that seldom receive it. They launched a campaign to raise funds through a staff coordination fund platform aiming to support 600 marginalized communities who similarly rely on begging as a means of meeting their daily needs. The safety packages comply with the World Health Organization (WHO) recommendation and Core Humanitarian Standards. The organization also ensures the safe delivery of these packages at community members' doorsteps. The safety kit contained surgical masks, gloves, hand sanitizers, and COVID-19 information leaflets.
REEDS amplify their efforts with coordination. They are continuously synchronizing with the District Government and WHO through radio programs and distribution of educational flashcards to community members. These mediums expand the reach of knowledge regarding the symptoms of COVID-19 and how to prevent it.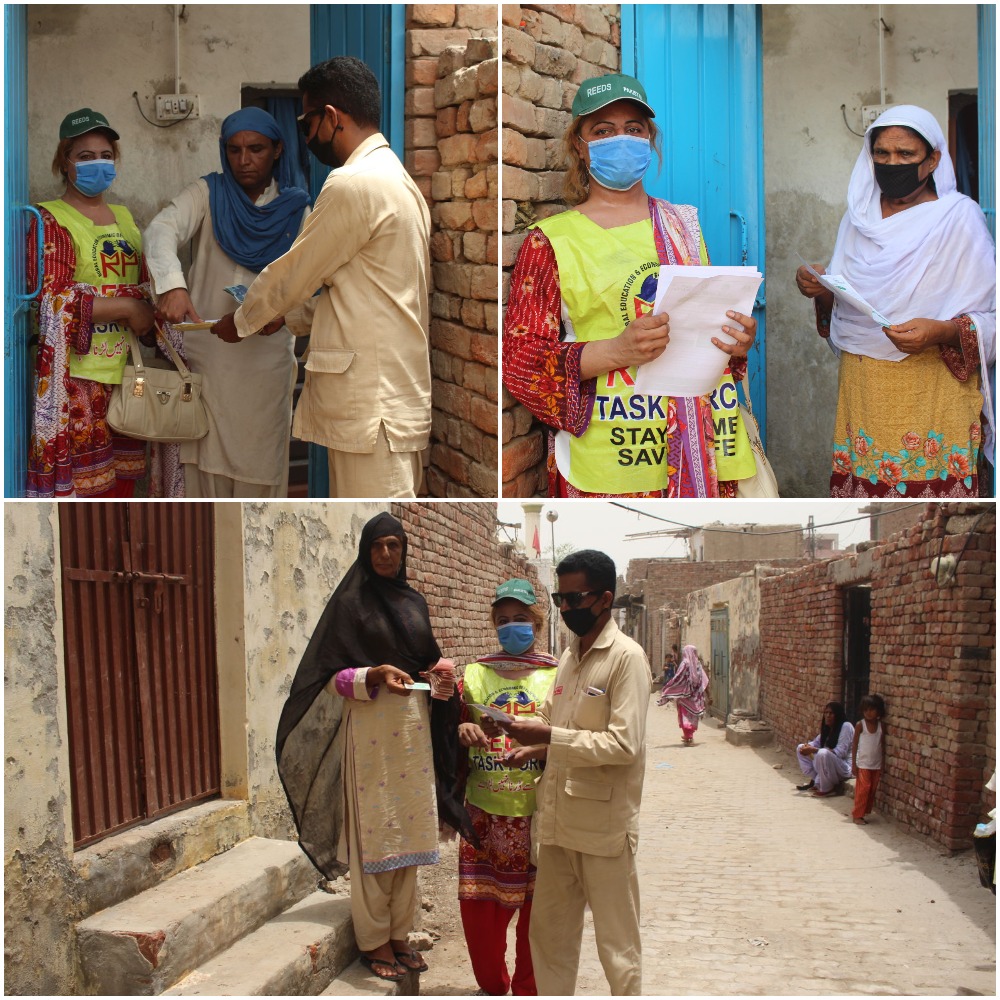 Qambar perceives the current crisis as a reminder for the collective responsibility towards marginalized communities, "The burdens on these populations become greater than ever. My request is that you stay at home to practice awareness and use your voice to spread awareness. We are all reformers when we promote and follow safety guidelines." The most dedicated advocates arise from the community they serve. Qambar is more than an advocate- she is the systemic change that progresses a community. She is the representation of a community whose voice and rights have long been stifled.
This World Humanitarian Day, we celebrate real-life heroes- the frontline workers and community volunteers like Qambar, who put their community's safety before their own.
The NHN was established after the 2010 floods with the vision to address limited support and information exchange during emergencies. It is in line with the national priority on disaster management. The NHN capacity building initiatives, sharing of in-country/ regional updates and information packages, and policy focus to the entire spectrum of disaster management with greater attention to DRR.