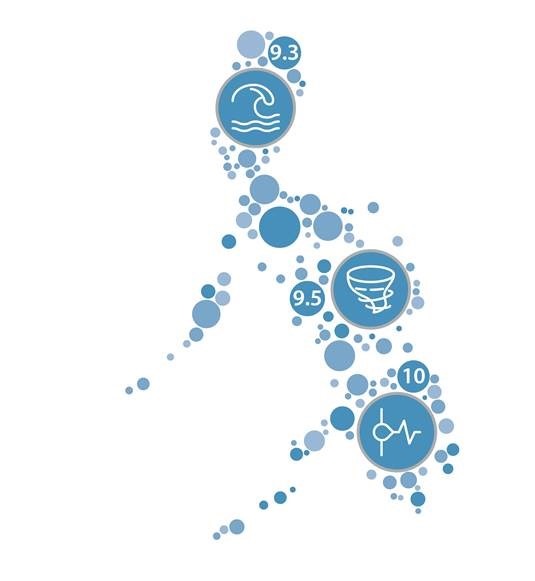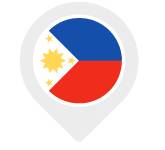 The Philippines has an overall risk index of 5.3. The country's most common disaster events of earthquakes (10.0), tropical cyclones (9.5), and tsunamis (9.3).
The Republic of the Philippines is an archipelago of islands. The country is divided into three areas from the northernmost tip of Luzon to Visayas, and Mindanao at the south. Only 2,000 of the 7,614 islands are inhabited by 109 million people. The nation's proximity to the Ring of Fire and typhoon belts in the Pacific ocean make it prone to earthquakes, volcanic eruptions, and other natural disasters. Located right above the equator, the Philippines islands are surrounded by warm waters. However, these waters also cause up to 20 typhoons a year that threaten the 60% of the population living along with the low-lying coastal areas. 
With a maritime tropical climate, the Philippines has an annual average temperature ranging from 23° to 32° Celsius (C) and relative humidity of 80%. The yearly rainfall ranged from 960 to 4,060 millimeters (mm). The two major wind belts cause unique weather patterns across the country, the northeast experiences winter monsoons while the southwest faces summer monsoons. Rivers are short and significant the only inland water bodies are Laguna de Bay in Luzon and Lake Sultan Alonto in Mindanao. 

The topography of the Philippines widely varies as the larger islands were formed by volcanic masses. The lowlands are predominantly narrow coastal strips except for the larger plains in Luzon and Mindanao. The highest points are Mount Pulog at 2,928 meters (m) and Mount Apo at 2,954 m.