The first webinar of 'The Leadership Lens – Fostering Innovations for COVID-19 Sensitive DRR' series was held on June 19, 2020, at 12:00 PM Bangkok time by APP as the secretariat of ADPC. The event was a success with 419 users and 270 unique online viewers.

The moderator Mr. Hans Guttman (Executive Director- Asian Disaster Preparedness Center) welcomed everyone and introduced panelists, and the webinar's concept and purpose. The first webinar focused on leaders taking innovative approaches to DRR/ DRM during the COVID-19. "This particular webinar will focus on the leadership part, people who are required to give direction and take charge. The main objective of this webinar is to highlight and understand how local leaders have taken the lead in the COVID-19 situation and formulated innovative approaches in taking disaster risk reduction and management (DRRM) forward."

The first panelist, Dr. Valerie Bemo (Deputy Director, Emergency Response, Bill & Melinda Gates Foundation) highlighted how these webinars are connecting global knowledge sharing. She connected how COVID-19 is unique as it transcends from a local to an international setting, "The crisis is a crisis that is global and local as well. That means that as a leader, they have to see what is going on for everybody. It means that there was something done in other countries that we can learn from. We can look at what other countries have done in the scenario but none of the country's situations will be the same as yours." Dr. Valerie emphasized the need for leaders to localize these lessons to the national setting.

She was followed by Mr. Pratyaya Amrit, IAS (Principal Secretary- Disaster Management Department, Government of Bihar, India), who commended the efforts of local governments in the smaller states across India. He detailed that India is distinct because of its population size and vastness but its achievements are commendable: "Some of the provinces have done really well and perhaps that is because of the absolute coordination between cooperative federalism and I think it has worked beautifully in this country." He also drew from his experience of disasters and how a local population looks to the government for administrative leadership.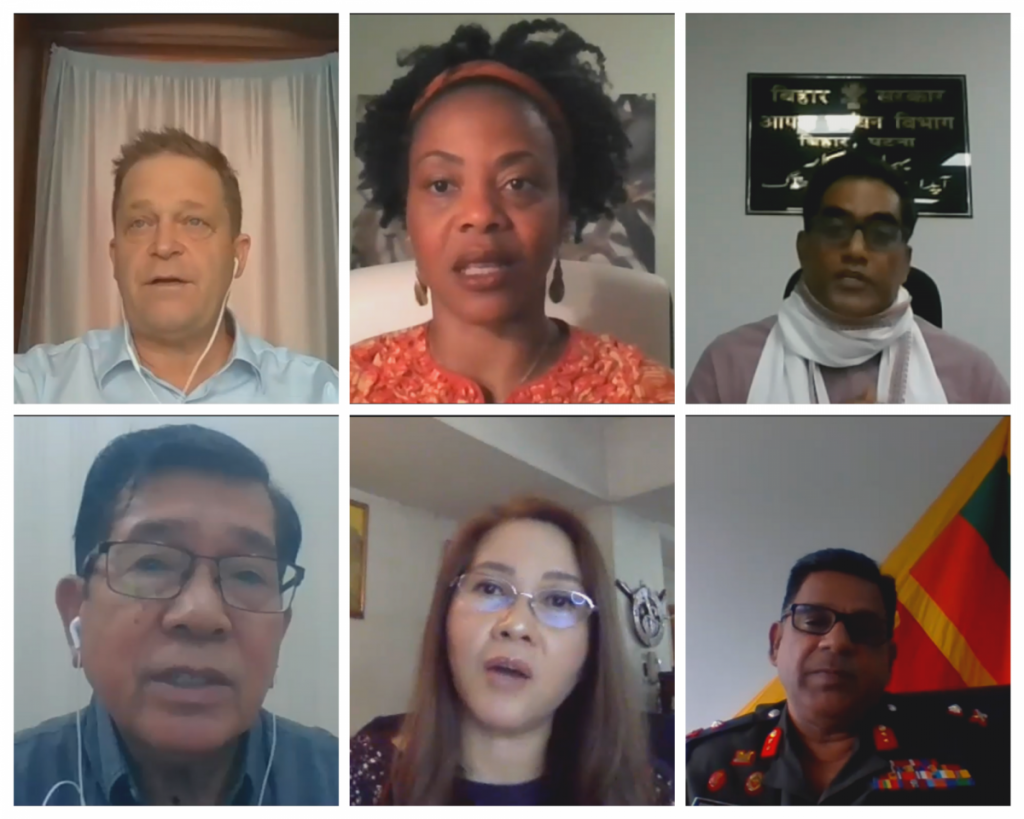 The moderator and speakers of the webinar: Mr. Hans Guttman (top left), Dr. Valerie Bemo (top center), Mr. Pratyaya Amrit (top right), Mr. Ngwe Thein (bottom left), Ms. Veronica Gabaldon (bottom center) and Maj. Gen. S. Ranasinghe (bottom right).
Mr. Ngwe Thein (Executive Director- Capacity Building Initiative, Myanmar) recalls that people across Myanmar were in a state of panic because of how rapidly the virus had spread in the early stages. He drew hope for the national response- "We quickly formed the COVID-19 action group in the last week of February 2020. Each of the organizations belonged to their respective community and the quick reaction on education and awareness were designed and assigned among the group members."

Maj. Gen. S. Ranasinghe (Retd) (Director-General- Disaster Management Centre (DMC), Government of Sri Lanka) acknowledged that national leaders immediately responded to the pandemic and their active approach led to country-wide success. He expounded on how the DMC had to also prepare for the southwestern monsoon with the consideration of COVID-19, "Planning and preparation for the monsoon connected with COVID-19, dengue, and leptospirosis all came together and the Amphan cyclone came in. We had a rehearsal and initial dry run to cater for the disaster mitigation of all of these issues, where we can be expecting the worst-case scenario this year." The Director-General stressed that they worked with the consideration of all possible outcomes of the disaster events with the employment of the technical forces such as security and health authorities to control the situation.

The final panelist, Ms. Veronica Gabaldon: (Executive Director- Philippine Disaster Resilience Foundation, Philippines), recognized that there are preparedness measures in the Philippines but the challenge is operationalizing them in the presence of COVID-19. She explained that they have developed communications risk material to handle multiple disaster risk events. "In PDRF, we run an operations center which monitors weather systems, earthquakes, volcanic eruptions, and pandemics. It provides updates and alerts to our network. We also conduct tabletop exercises as part of our preparation. We also focus on business continuity for micro, small, and medium enterprises (MSMEs)."

The session was concluded with a Question & Answer session with the panelists and a key message from each of them going forward:

Dr. Valerie Bemo: "Leaders have to put their people at the center and have provided them with a solution. Together, we can make it."

Mr. Pratyaya Amrit: "It is too enthused to infuse hope amongst the people at large. Be positive and as far as the administration is concerned, teamwork makes dreams work."

Mr. Ngwe Thein: "Do not worry too much at the same time, do not ignore and neglect because we should be very careful all the time but not worried. Follow the guidelines; the guidelines are very easy."

Maj. Gen. S. Ranasinghe (Retd): "Leadership, fast decision making, prompt actions, economical revival, and finally it is most important that the discipline of people related to medical protocols and health advice. Because it is not over until we find a vaccination. We have to be very careful. If you neglect yourself, you are neglecting your whole village, town, and country."

Ms. Veronica Gabaldon: "Coordination and collaboration because we talk of strategies all day but eventually coordinating and collaborating will make all these strategies work. And it has to be a multisectoral approach. That is why it is important for PDRF to work with Philprep of the APP, where we can ensure that different stakeholders can work together in strengthening the capacity of local stakeholders."

You can catch the full episode on the following link: Video

Stay tuned to Facebook, Twitter, and the APP website for details on upcoming webinars!