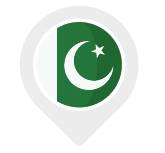 Pakistan has an overall risk index of 6.3. The country's most common disaster events of earthquakes (9.3), floods (8.8), and tsunamis (6.7).
Pakistan consists of a diverse landscape that comprises desert, and forest to elevated plateaus, hills, and mountains. The country is situated between the Indian and Eurasian tectonic plates with a population of 224.9 million people. Pakistan's location between these plates is a major cause of the many natural disasters that plague the nation. Pakistan has also been ranked number 8th among the 10 most-affected countries between 2000 and 2019 with earthquakes, floods, and droughts affecting the greatest number of people.

The northern and southern parts of Pakistan have varying climates due to the varying nature of the land. Although the annual average temperature is 27° Celsius (C), the temperature can vary between -10° C in the northern mountainous areas up to 50° C in the southern regions of Punjab, Sindh, and Balochistan. Pakistan generally has a dry climate with less than 250 millimeters (mm) of rainfall. The monsoon season between July and September can provide between 380 mm of rainfall in the river basins and up to 1,500 mm in the northern areas.

Two-thirds of Pakistan consists of semi-arid and arid land. Inland water bodies such as lakes, rivers, and streams exist seasonally. The plain region in the south of Punjab hosts 60% of the national population. The northern part is primarily forest-clad hills with over 60 peaks that are more than 6,700 meters (m). The K-2 is the highest peak in Pakistan and the second highest in the world at 8,611 m.