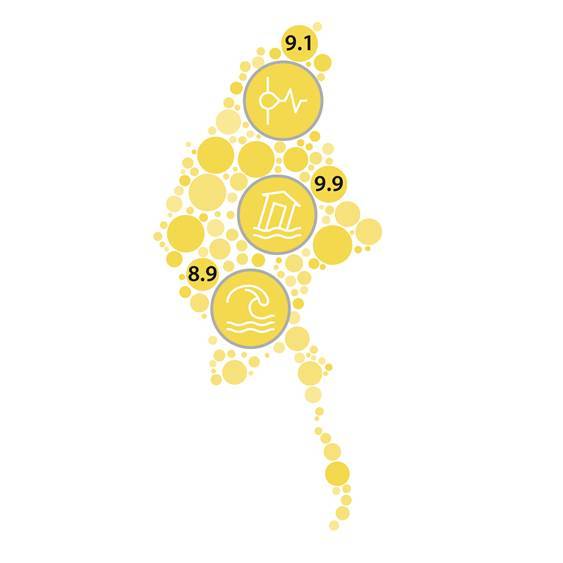 Myanmar is the largest country in the Southeast Asian region. Stretching from the coastlines of the Bay of Bengal to the Hengduan Mountains of China, the country has a population of 54.7 million people. Myanmar is ranked 17 in the high-risk index with the population excessively subject to hazards and exposure coupled with a lack of coping capacities.
With a substantially tropical climate, Myanmar experiences a monsoon season, a cool season, and a hot season. The average annual temperature is 27° Celsius (C) with a range of 18° to 32° C in the cool season and 24° to 36° C in the hot season. Rainfall varies during the monsoon season, reaching over 5,000 millimeters (mm) in upper Myanmar, 760 mm in the central parts of the country, and 2,500 mm in the lower region.
Myanmar features mountainous areas in the north and west that include the coastline, the Shan highlands in the east that extend to the Malay Peninsula, the cultivation area surrounded by the Salween and Irrawaddy River, and the fertile delta and lower valley in the south. The southern regions of the Irrawaddy and Sittang rivers encompass an area of 26,900 square kilometers (sq. km) making up one of the world's largest granaries. The highest point in Myanmar is Hkakabo Razi at 5,881 meters (m). 

Myanmar has an overall risk index of 6.3. The country's most common disaster events of floods (9.9), earthquakes (9.1), and tsunamis (8.9).