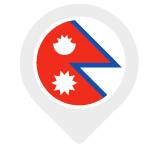 Nepal has an overall risk index of 5.4. The country's most common disaster events of earthquakes (9.9), floods (6.7), and droughts (2.8).
The Federal Democratic Republic of Nepal is a land of mountains with over three-fourths of the country covered in mountainous ranges. The country has a population of 29.6 million people between the mountains and jungles of the country. Nepal is one of the 20 most disaster-prone countries in the world with eight out of 10 people vulnerable to earthquakes, droughts, floods, landslides, extreme temperature, and glacier lake outburst floods (GLOFs).

The climate of Nepal varies due to elevation changes. The valley and lower Terai region have subtropical climates. The cultivable land and dense jungles of the Terai region have led it to house one-third of the total population. The rainy season lasts from June to October with 80% of annual precipitation occurring within this period. Altitudes between 1,200 and 1,300 meters (m) above sea level experience temperate conditions. The annual average temperature ranged from 2° to 29° C. The subalpine regions above 4,300 m experience snow with long winters and extreme cold. 

Nepal consists of strikingly contrasting areas from the great plain to jungles and mountains. Eight of the world's highest mountains are situated in the Himalayas. Mount Everest is the largest peak in the world at 8,500 m. The country is made up of three major river systems – the Kosi, Narayani, and Karnali – that extend to 6,000 rivers, 2,323 glacial lakes, and 5,358 lakes.