In the effort to build disaster response capacity and enhance the resilience of vulnerable communities, PEER supported numerous training in Bangladesh, India, and Sri Lanka, in October.
Here's a round-up of the training conducted in October and November:
Enhancing Emergency Management in Bangladesh
Fire Services and Civil Defence (FSCD) led an 8-day CSSR training at its Mirpur training complex in Dhaka from 12-19 October 2022. PEER supported the fire service in training 24 officers on basic search and rescue (SAR) operations.
CSSR upskills first response groups with the skills required to search for, stabilize and extricate victims trapped in collapsed structures. In addition, the course provides an in-depth understanding of different equipment and techniques employed in rescuing victims in case of disasters.
Lt Col Md Rezaul Karim, Director General, FSCD, encouraged the participants while concluding the training and added, "CSSR course offers a comprehensive understanding of the basic skills required to respond to emergencies. As a result, trained responders will be able to secure personal and family well-being."

Similarly, the National Institute of Preventive and Social Medicine (NIPSOM) held a 5-day HOPE training for instructors (TFI) in Dhaka, in collaboration with the Directorate General of Health Services (DGHS) and ADPC, under the PEER program. 
Dr. Ziaul Islam welcomed the participants during the inaugural session. Bangladesh is a highly disaster-prone country, hence, disaster preparedness is essential. HOPE-TFI can help us harness our skills to protect our country. As a result, 22 medical staff took part in the instructors' training from 15-19 October 2022. 
HOPE course is the foundational course for emergency preparedness in health facilities. It prepares hospital staff to develop and implement response plans to manage emergencies. In addition, it strengthens the professional capacity of health workers involved in routine hospital operations.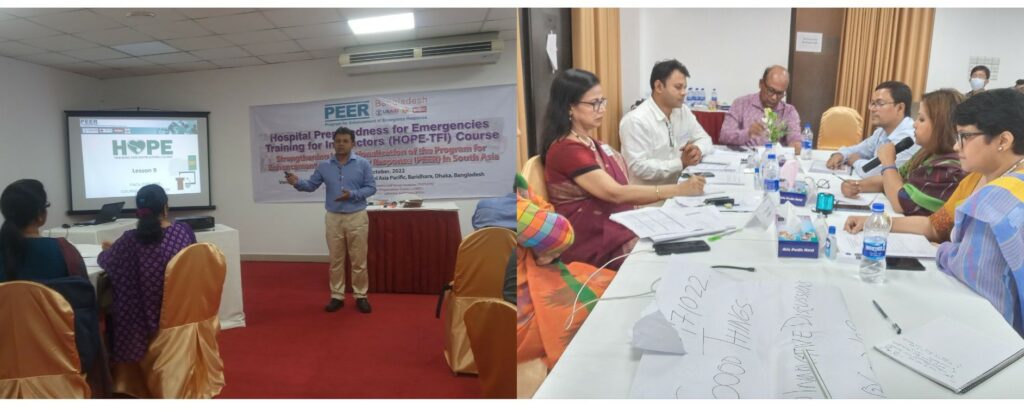 Training for Instructors (TFI)
FSCD also conducted a Training for Instructors (TFI) from 21-25 October 2022 with 24 officers from the response force at its Mirpur Training Complex. Mr. Md Rezaul said, "The TFI course is constantly revised to the changing needs in Disaster Risk Management (DRM) and technology" while talking about the relevance of the course.
TFI equips PEER instructors with the skillset necessary to conduct and manage PEER training. With sessions on classroom management and communication skills, the course aims to prepare adept instructors who can further train more responders and volunteers on DRM.
Prescribing preparedness for India 
National Disaster Response Force (NDRF) organized MFR Basic training from 1-14 November 2022 in Kolkata. 28 NDRF officers from the second battalion enrolled in the training to acquire the basic knowledge of first aid and primary treatment of patients during emergencies. 
"Updated course materials play a great role in providing the latest knowledge and skills to all rescuers," Mr. Narendra Singh Bundela, Inspector General, NDRF, said while inaugurating the training.

The 13-day-long training introduces the participants to various kinds of injuries. In addition, it enhances the capabilities to perform emergency procedures like Cardiopulmonary resuscitation (CPR) and foreign-body airway obstruction (FBAO) through practical sessions.
PEER-trained responders for Sri Lanka 
PEER in partnership with the Disaster Management Center (DMC) and the Sri Lanka Centre for Disaster Response Training (SLCDRT) at Gampola, piloted the first MFR and CSSR training in the country to enhance the disaster response capacity of emergency responders. The training center conducted its first-ever PEER courses from 17 October to 8 November, with support from senior regional PEER trainers from Nepal and the Philippines.  

26 participants from the Army, Navy, Airforce, Police, DMC, St. John's Ambulance, Fire brigade, and Ministry of Health & Disaster Management Center enrolled in the 13-day training to learn basic life support skills to manage emergencies. Similarly, for the 9-day CSSR training, 24 officials took part in the training, eager to upskill their knowledge on managing collapse structures and rescue operations during emergencies.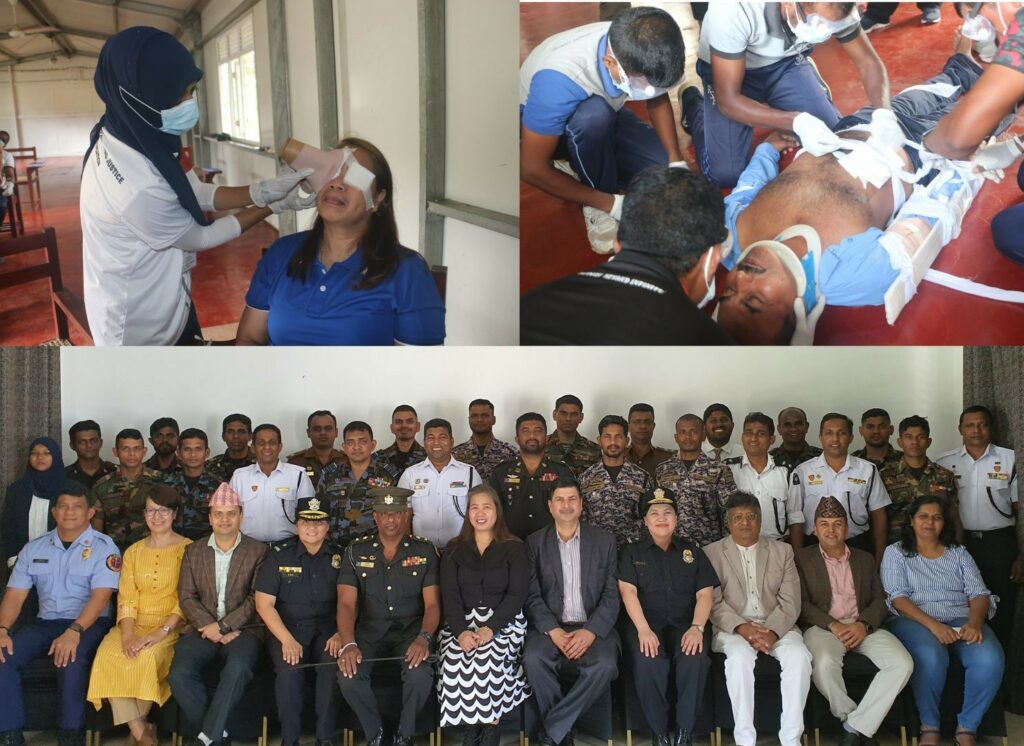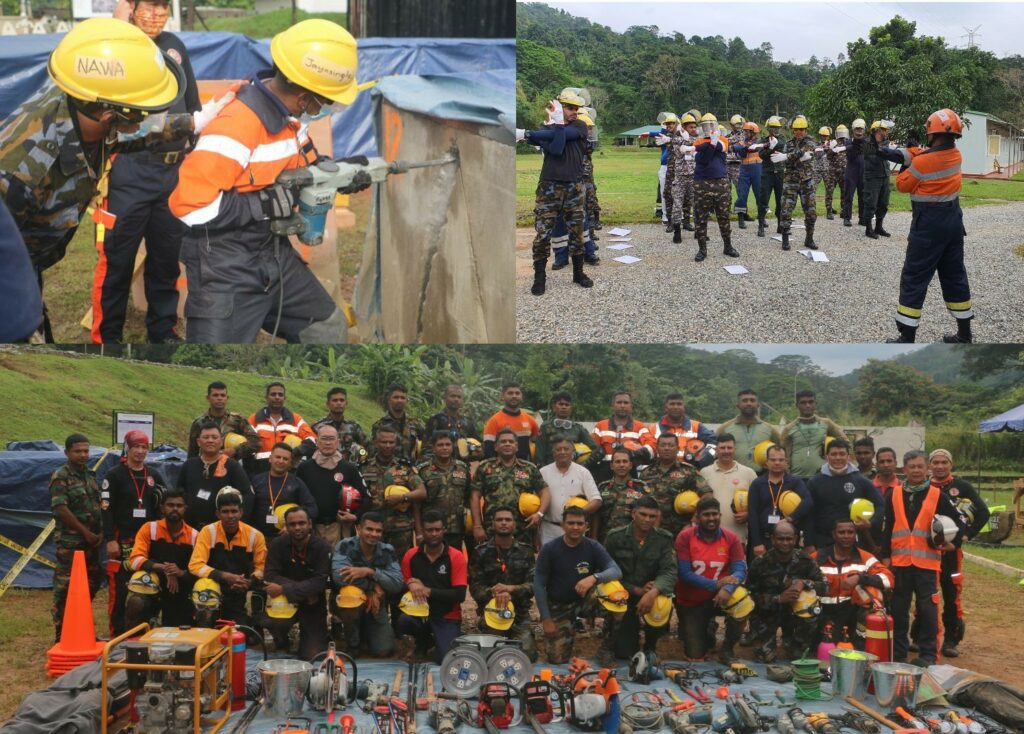 Through these basic PEER training in Sri Lanka, the program is laying down a strong foundation for disaster response training in the country. Trained responders from this training will be shortlisted for a round of instructor training who will advocate for a safer and resilient Sri Lanka.