PEER Bangladesh organized a strategic program coordination meeting with the National Institute of Preventive and Social Medicine (NIPSOM) on 18 October 2021. The forum aims to develop an institutionalization strategy for Strengthening Emergency Response and Resilience in Bangladesh (SERB) and PEER. The meeting explored various entry points and identified priority activities for HOPE institutionalization in Bangladesh. The discussion also includes agreeing on the roles and responsibilities to operationalize the MOU between ADPC and NIPSOM.
John Abo, Chief of Party of PEER South Asia, walked the participants through the progress of institutionalization of Hospital Preparedness in Bangladesh. He highlighted that the goal of the meeting was to devise better coordination between ADPC and NIPSOM to roll out the activities. He shared the institutionalization assessment tool based on nine conditions to measure success and reiterated the importance of reassessing the progress every six months.
John further explained the structure of the HOPE Regional Working Group. NIPSOM as the HOPE working group chair, coordinating with other partners from  Directorate General of Health Services (DGHS), Bangabandhu Sheikh Mujib Medical University (BSMMU), Medical and Dental Council, Nursing and Midwifery Council, and WHO Bangladesh.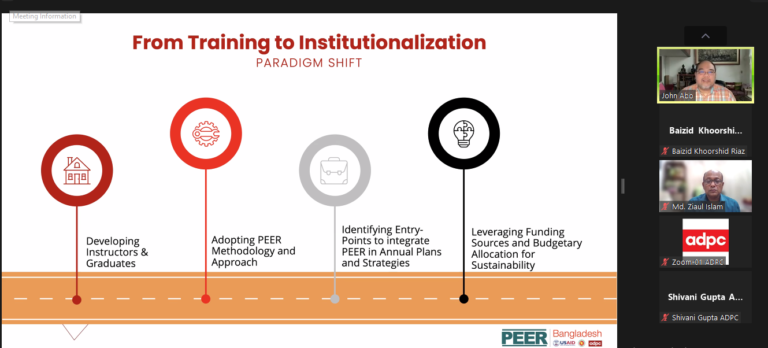 Prof. Ziaul Islam, Ph.D., Head of Social Medicine of NIPSOM, shared some recommendations to strengthen the partnership between NIPSOM and ADPC. The suggestions are as follows:
 

ADPC and NIPSOM should identify funding provisions for planning purposes to consider the number of training, required resources, and procedures for how NIPSOM will manage the budget.  

 

NIPSOM should form a technical working group to develop a three-day HOPE certificate course for MPH students adapted from the recently reviewed HOPE curriculum. 

 

The program should constitute a core team of experts to adapt and contextualize the Hospital Risk Assessment (HRA) and develop a planning guide in developing Hospital Emergency Response plans (HERP) with appropriate budget allocation.
Dr. Baizd Khoorshid Riaz, Director of NIPSOM, added that to promote effective communication between the organizations, the director of NIPSOM will act as the primary point of contact for strategic consultation. 
Mr. Mohammed Ahsan Ullah, Senior Project Manager from ADPC Bangladesh, presented a brief overview of the budget allocation for PEER and SERB. He shared the available resources, type of expenditure, and proposed lead agency under each program.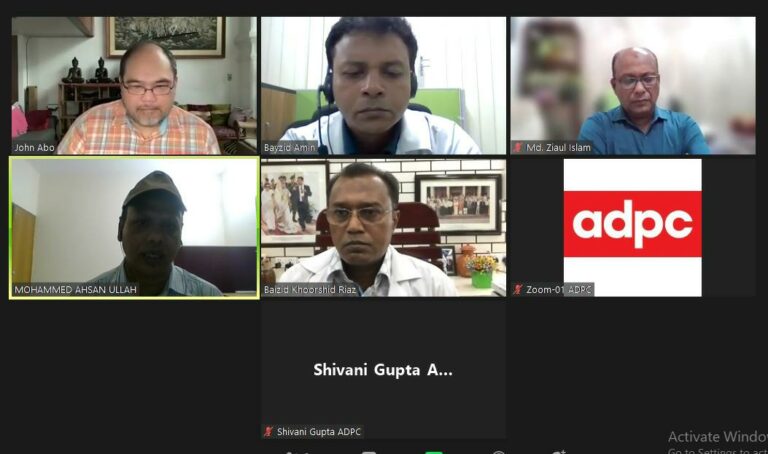 At the end of the discussion, Dr. Baizid Khoorshid expressed that NIPSOM fully supported the partnership with ADPC and shared that NIPSOM will be an active partner to implement activities with ADPC. 
 Cover picture by Freepik.