From the dry-cleaners around the corner to the carpenter that makes our house a home, service sector workers are the backbones of our everyday. The sector makes up 61% of the gross domestic products (GDP) and employs more than have of the Philippines.
At APP, we focus on the vulnerable sectors of our society in our development initiatives. MSMEs are among the priority sectors of our national chapter, Philippine Preparedness Partnership's (PHILPREP) and its targets in local program activities. PHILPREP has developed these case stories to amplify the voices on the ground, especially during the COVID-19 pandemic. It seeks to portray human stories to raise awareness on how disasters affect the most vulnerable communities.
The interviews for this series were conducted in partnership with the Social Enterprise Development Partnerships, Inc. (SEDPI). The organization was our main local partner for this publication.
Federic Caneta / Resident of Cebu City – Furniture Maker
The miter saw is silent in Federic Caneta's workshop. The carpenter has a cabinet and a couple of shelves from commissions that were canceled because of the lockdown. His monthly projects vary with demand, "I make furniture on a custom-made or pre-order basis. Orders would range from P8,000 to P15,000 a month. There has been no demand since the enhanced community quarantine."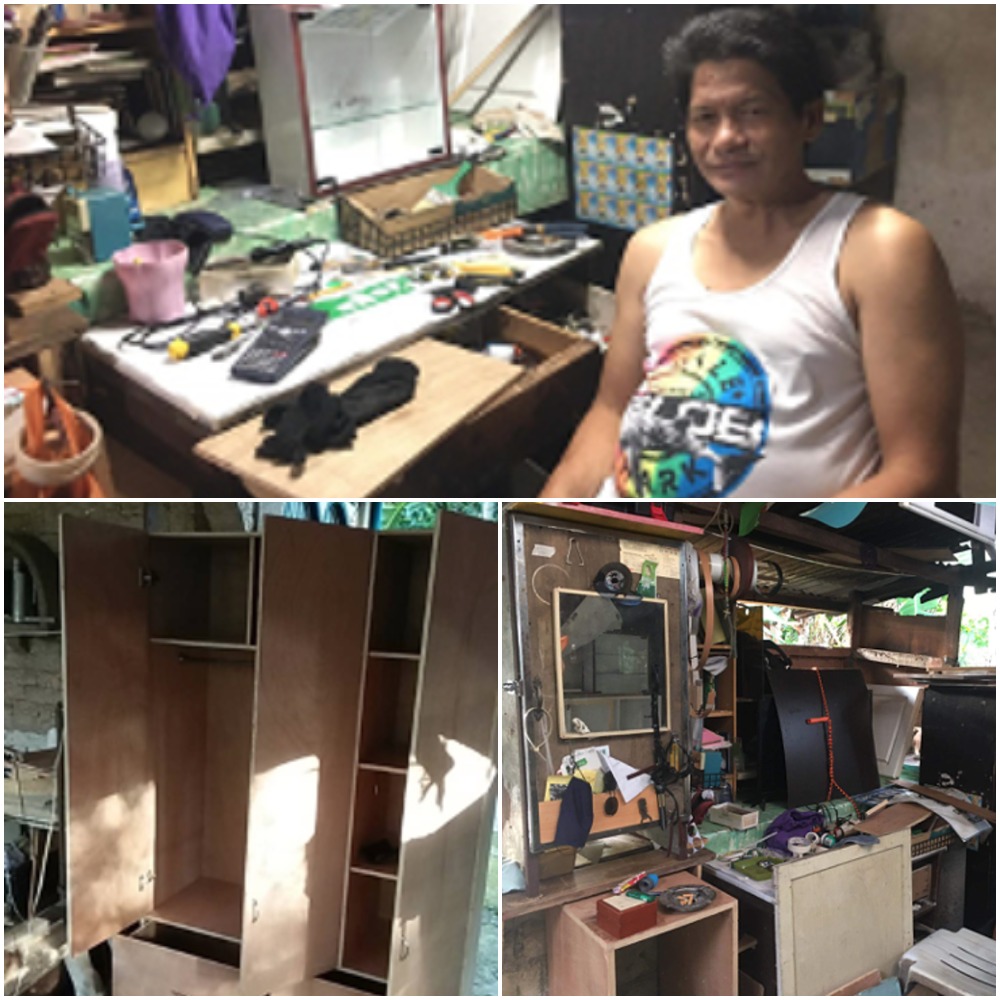 His daughter, Rica Caneta, is a private school teacher. She has been helping him sell some of his works, "I made a hanging cabinet and a storage cabinet with the extra wood from the previously commissioned projects. I sold them for P2,500 and P3,000 respectively. Rica is working from home so she takes some time to promote my pieces through social media." The average monthly salary for a carpenter is P16,800. Profits come from down-payments upon the order or balance payments upon delivery. Federic is concerned that he might not have supplies to continue the few online sales, "I had one piece that I was not able to complete. I was unable to obtain the needed materials due to travel restrictions. Some customers have also canceled their orders."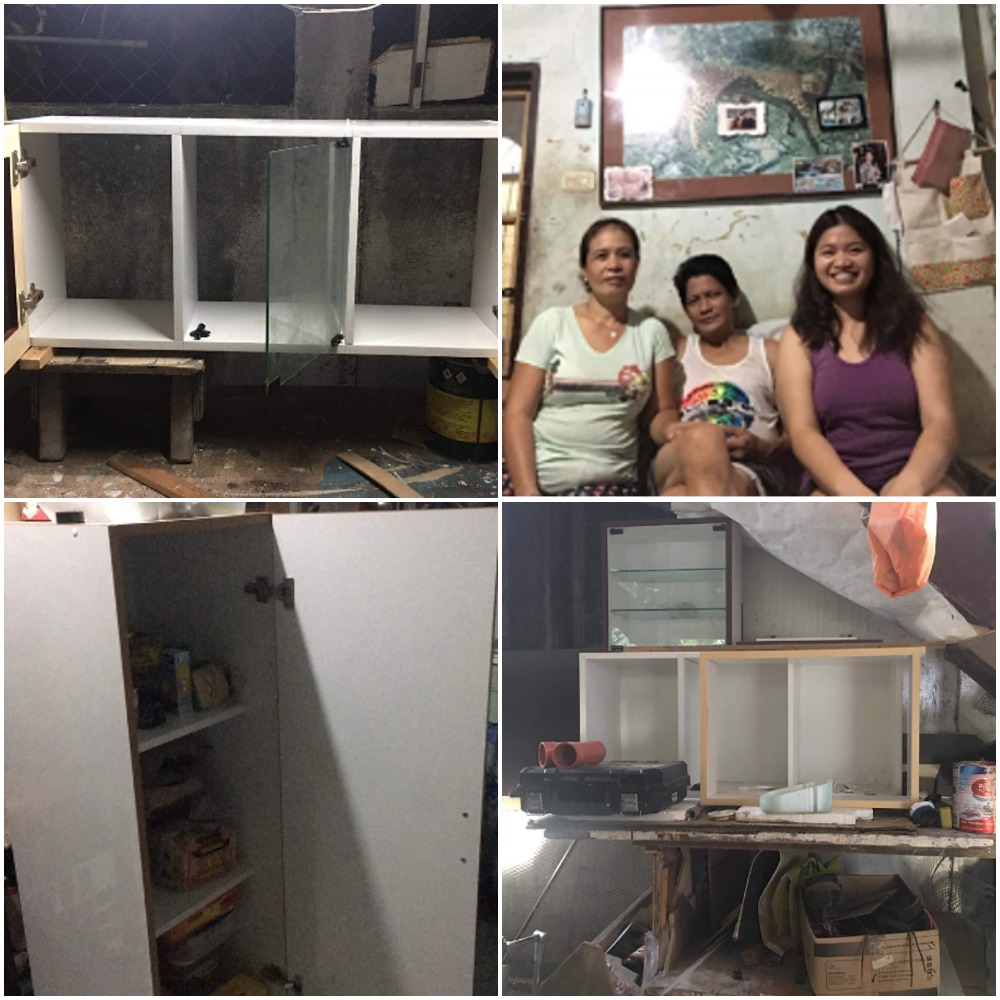 Federic's son, Drake, is an animal handler and is supporting the family through these times, "My children are providing financial support we need. Our monthly expenses are usually P10,000 which was primarily covered through my business." He has discovered the potential of taking his business online to help it grow, "I would need around P10,000 to buy materials for future orders. Online sales have made me realize that professional guidance in promoting our business would really help it expand."
Chierrie Villarosa Marces / 29 years old / Resident of General Santos City- Pisonet
When life gives you the Internet, make digital solutions for your business. Chierrie Villarosa Marces owns a small Pisonet (pay-by-the-minute computer and Internet shop). The lockdown has forced her to close her shop so she is selling goods through digital networks, "I have closed the pisonet since mid-March. I am focusing on online trading which includes buying and selling dry goods, food items, and other basic commodities."
Online sales are the only means of income for Chierrie, "I make around P200 for every P1,000 I invest in online selling. I have been doing it for some time but even that has experienced a decline." Her customers have stopped ordering dried foods, "Basic goods and essential commodities such as fruits and cooking ingredients are the priority now. We own a tricycle that we use to transport orders. Travel restrictions have made getting the goods from my supplier difficult."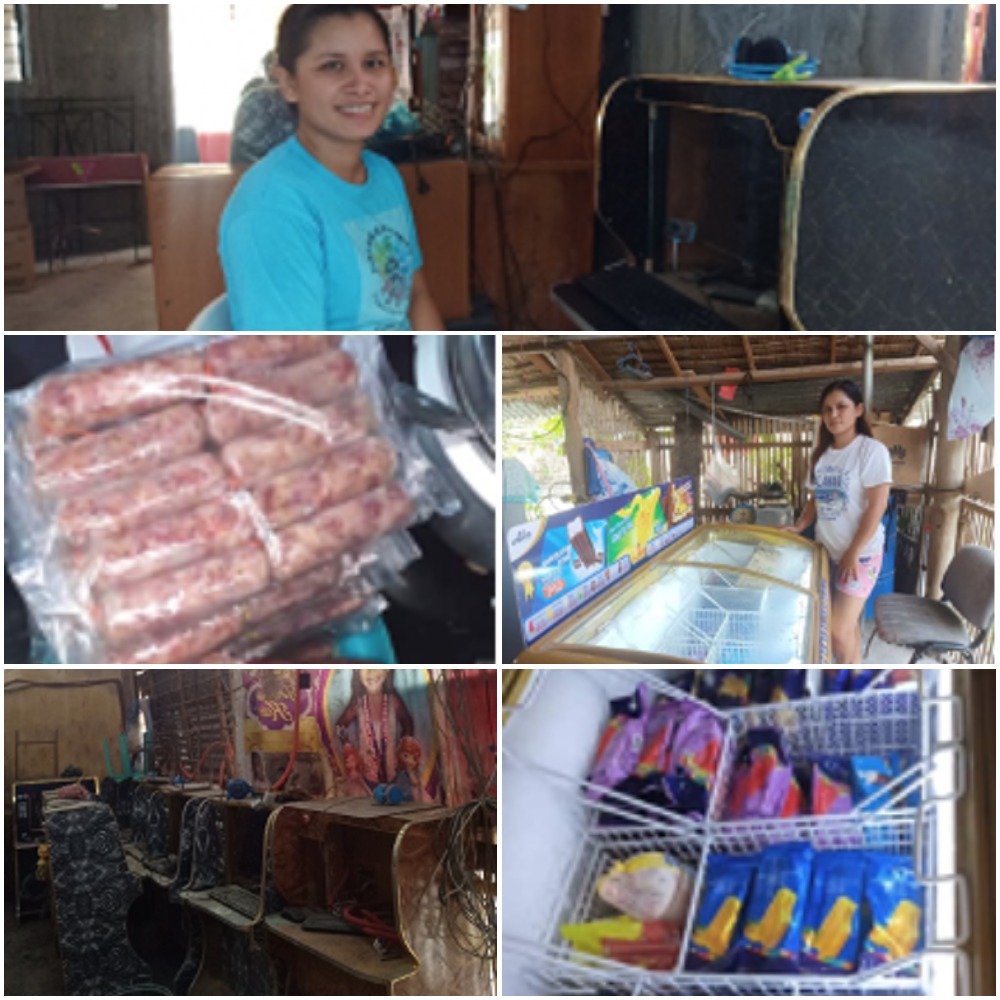 However, these sales do not provide stability for the pisonet. Filipinos spend the most time on the Internet around the world, averaging in at 10 hours per day. Her Internet business had expanded to printing, scanning, and photocopying services, "I would make around P25,000 every month from the pisonet. The expenses would be around P8,000 for the Internet and electricity bills. My direct suppliers have been generous enough to offer freebies on their services for now."
Chierrie is struggling to make ends meet, "Our household expenses are about P10,000 every month. I am grateful to the government for providing us with rice, meat, canned goods, and other staples." She is worried about restarting the business once the community quarantine is lifted, "I estimate that we will need at least P5,000 to restart the pisonet. It would cover two months of our Internet bill. We can manage the cost of computer maintenance and business equipment."
John Cuvin / Resident of Naga City – Laundry Shop
John Cuvin, his wife, and his mother are bonded in their dream to be business owners, "My wife owns a beauty salon and my mother has also had a number of businesses." He established a laundry shop, JJS Suds Laundry Service as a lucrative business opportunity. Dry cleaning and laundry services ranked second in the service industry, providing business opportunities for 18% of entrepreneurs. John's monthly expenses amount to P25,000 as he provides support for his family, "My wife and mother live in different provinces and I would pay for their utilities and my mother's caretaker. I want to provide them with financial support."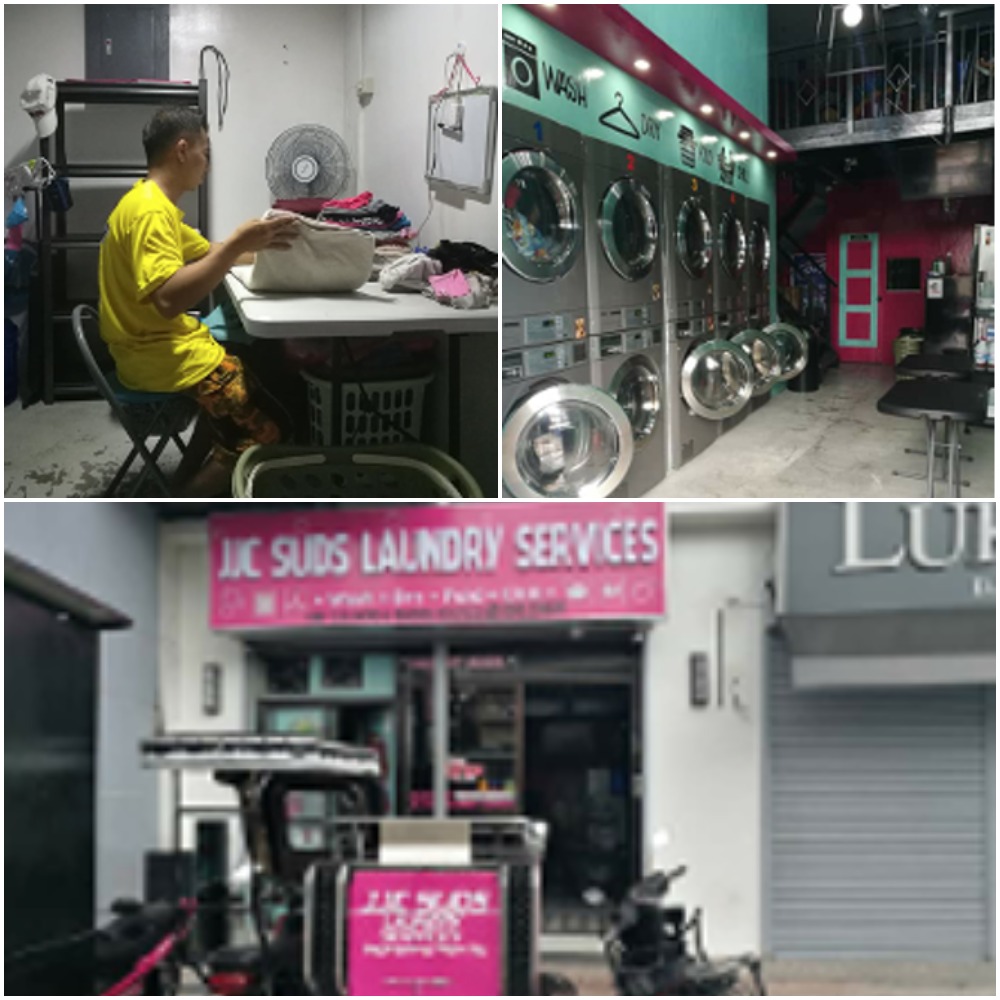 JJS Suds is a connection to the local community, "We would normally have 30 to 50 customers a day before the lockdown. We are lucky if there are five customers these days. Our daily revenue would reach up to P15,000 per day and that target is now P5,000." John has had to cut corners to adapt to the new normal, "We had seven workers on a daily basis and now there are only two at any given time. The store is only open for limited hours because customers no longer come in late at night. It has led to slower service delivery. We have also started using electric fans."
Basic supplies have become much harder to procure. His team promotes the use of dryer sheets when the fabric conditioner is short on supply- "Wholesalers have increased the price of fabric conditioner and liquid detergent from P10 to P11 per sachet. Sometimes we have to buy them from the local retailers for P17. The dryer sheets would be available for P500 per box but they are not locally available. We sell each sheet for P10."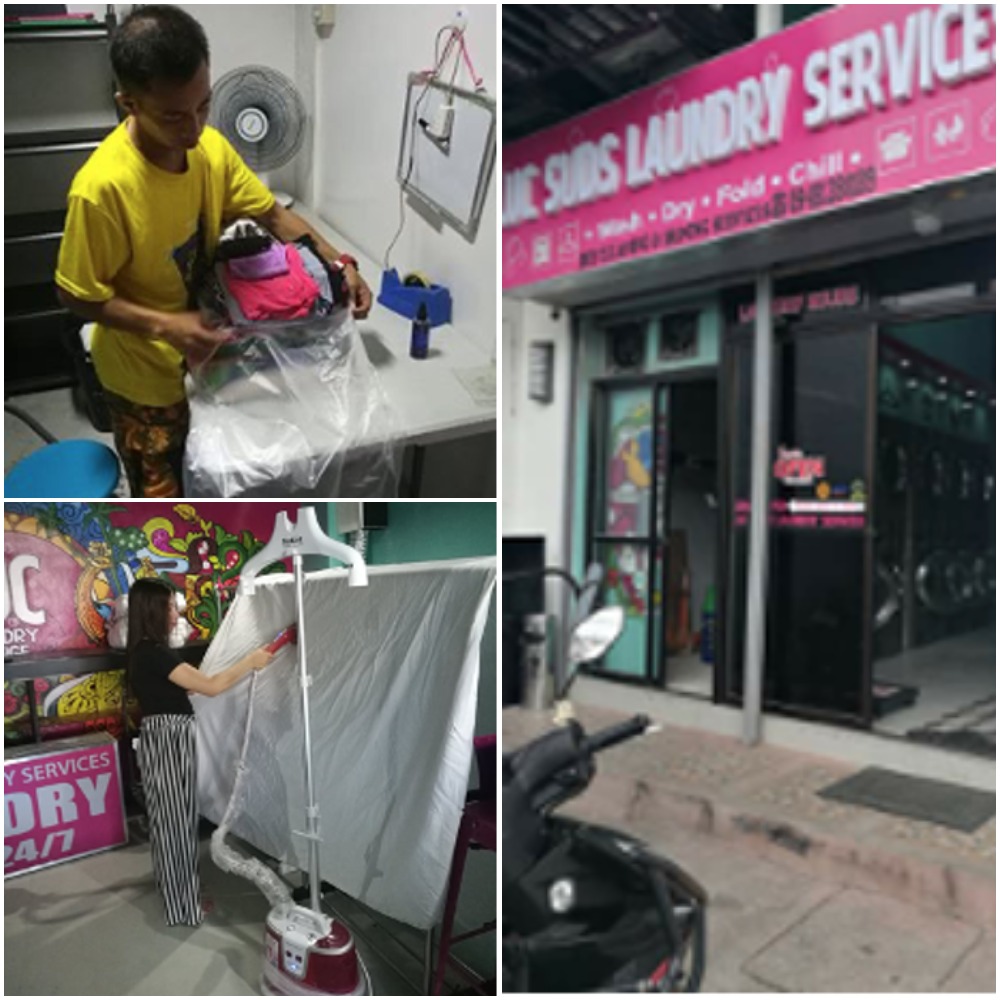 Communication is a constant with John's regular clientele. The staff coordinate with customers on Facebook. John has also decided to bring the business to his regulars, "We also support our personnel needs by helping with the laundry and delivery. The shop currently relies on delivery modality to remain operational. Finding alternative solutions is necessary to keep the business running."
Although business expenses were high, John would earn between P30,000 to P50,000 a month, "I spent around P120,000 which included the P50,000 for my staff's salary on a monthly basis." He anticipates support or policies in order to relieve the challenges they are facing, "It would be really helpful if the government could provide financial support to cover the salaries of our staff, and postpone rent collection or allow us to pay it in installments."
Pureza Elopre Granario / Resident Naga City – Sari-sari store
Opening Pureza's shop is necessary for survival but also puts her family at great risk, "My husband and mother-in-law are both over 50. I worry that I might bring the virus home." Work is scarce for her husband who is a plumber. "We are fortunate that profits from the store are still P800 to P1,000 per day."
The green and white awning in her shop have been a part of her neighborhood's fabric for years, "My supplies get sold easily. Before the quarantine, sales were mostly liquor and sodas. Customers now want canned goods and frozen foods which ensure that they can stay at home. Sales of phone credit are always in-demand and have gone up by 20%." Pureza maintains is systematic when it comes to buying stock for her shop, "We have to go at a specific time and day so that we can avoid the long lines. There is still a queue but any steps we can take to be cautious are necessary."
A savings and investment scheme supports small businesses from any shock in income flow. Pureza is fortunate to have enough to restart her business. She estimated that P10,000 was enough to restock her full inventory, "I was a part of the Social Amelioration Program (SAP) through which I received P5,000. We used the money to purchase additional inventory for the store." Her mother-in-law has also contributed to the shop. "She gave me a P2,000 loan which I used to buy coffee, sugar, and soap."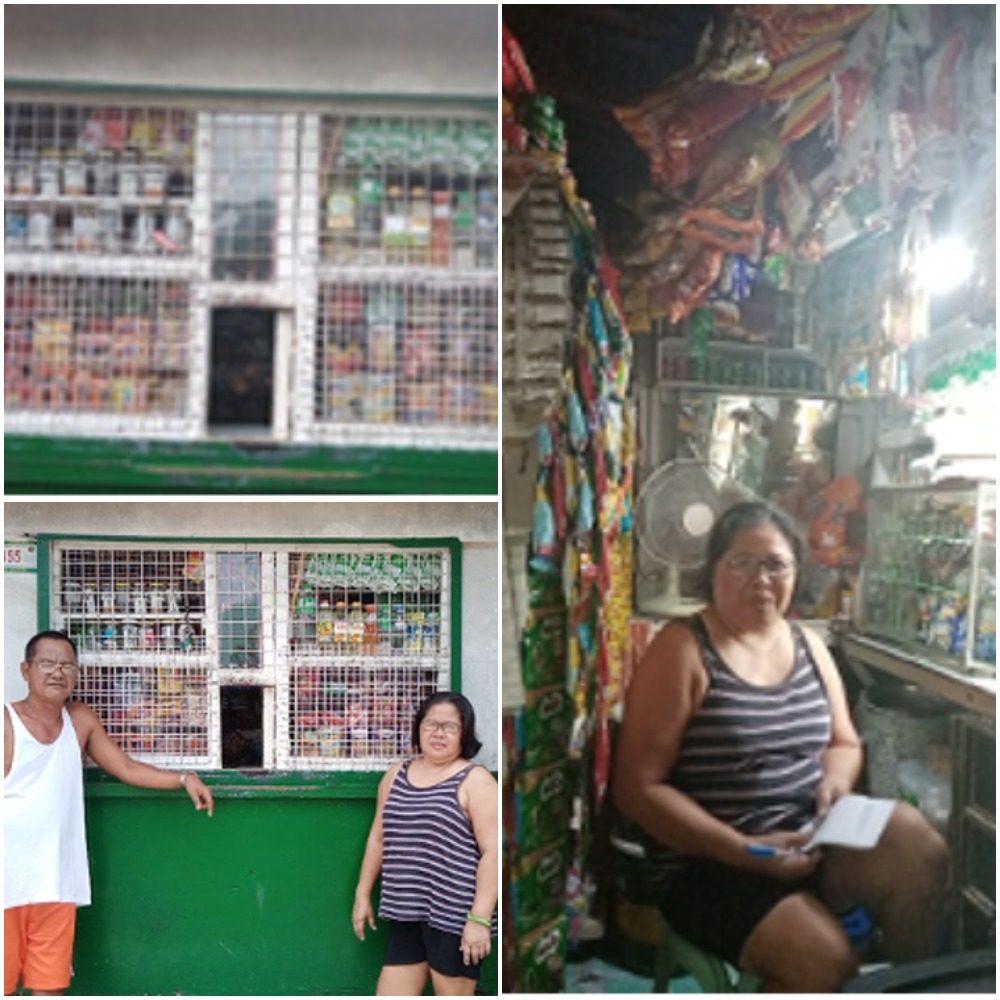 Pureza's shop is her saving grace during the uncertainty, "We need P9,000 for our household expenses and about P7,000 for the store." The store is a constant for her. Its history in the community mirrors Pureza's presence and determination, "We reinvest all of our profits into the shop. I'm obtaining inventory through other channels because I want to see my store grow despite the circumstances."

Click the links for Part I and Part II of this series.