A year's worth of hard work begins to blossom across Cambodia during mid-November. Green stalks produce gold in rice fields. These paddies hold a special place in the land, where rice makes up 26% of the GDP and employs 3 million people.
Nokor Pheas is no exception to the traditional rice harvest. Farmers store the grains to dry in a small store-house near the farm across the area. The village is located 50 kilometers away from Siem Reap Town in the Ankor Chum district with a population of 9,229. Nine out of ten people in Nokor Pheas are rice farmers.
Favorable weather conditions, sufficient water supplies, and improved irrigation infrastructure have improved Cambodia's rice production by 4% to 8.95 million metric tons (MMT) in 2018. However, peripheral areas like Nokor Pheas have yet to make significant progress in agricultural technology and practices. Less than 30% of the rice fields are irrigated in the village.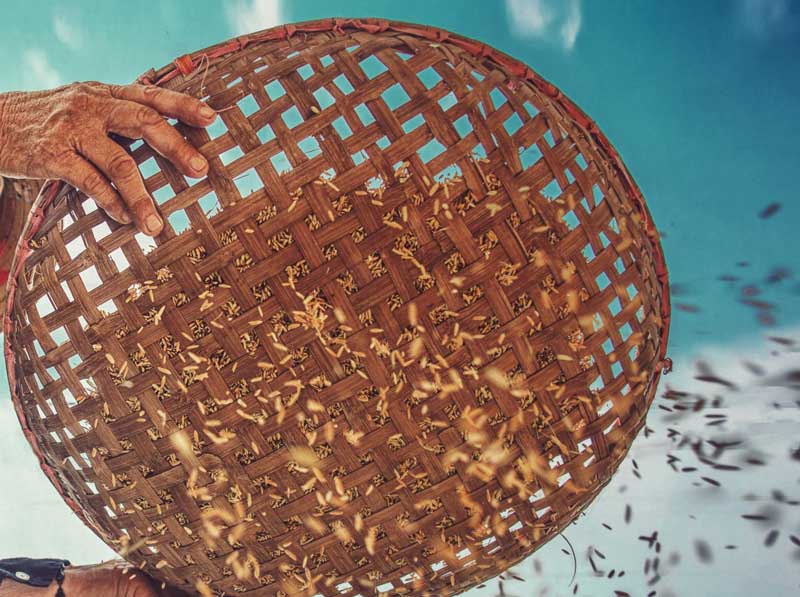 Harvesting Solutions
Rice paddies make up three-fourths of all cultivated land in Cambodia, where 30% of the total area is dedicated to agriculture. The agricultural sector has significantly advanced during the beginning of the century, lifting 4 million people out of poverty. Nevertheless, Nokor Pheas faces droughts and flash floods as a result of deforestation and forest clearance for plantation. The lack of agricultural productivity has forced many families into food shortages or the decision to migrate.
Partnership for Development of Kampuchea (PADEK) is an LNGO that is dedicated to supporting Cambodia's rural area. PADEK is a member of the Cambodian Humanitarian Forum (CHF). The forum is one of the local partners for the Preparedness Partnership of Cambodia (PPC), the national partner and member of the Asian Preparedness Partnership (APP). PADEK promotes 'greater resilience to natural disaster and climate change'. The local actor and the APP recognize the need to include women and female-headed households to alleviate poverty. It makes the LNGO the ideal advocate for Nokor Pheas, where 54% of the population are women.
PADEK initiated its Resilience Program in 2016 in Nokor Pheas and three other communes of the Ankor Chum district. Building capacity and institutional strengthening of local humanitarian leadership and disaster risk reduction structure are some of the main components of the program. This component has led the organization to work closely with the village's Commune Committee for Disaster Management (CCDM). The committee operates at the local level as a coordinator and facilitator of such as the allocation of pre-disaster budgets and mobilizing resources for emergency response.
Cream of the Crop- Resilient Leaders from within the Community
Chheun Kimsean has been a council member of CCDM since 2004. She is 38 and realized the need for women to take on an active role in agriculture when she started her own family, "I joined the commune council and became in charge of supporting women and children because I knew that they were essential in better farming practices." An FAO national study has shown that if women had equal access to productive resources, services, and opportunities, such as land, livestock, financial services, and education, they could increase the yield in their farms by 20-30%. Additionally, 75% of women in Cambodia are employed in agriculture.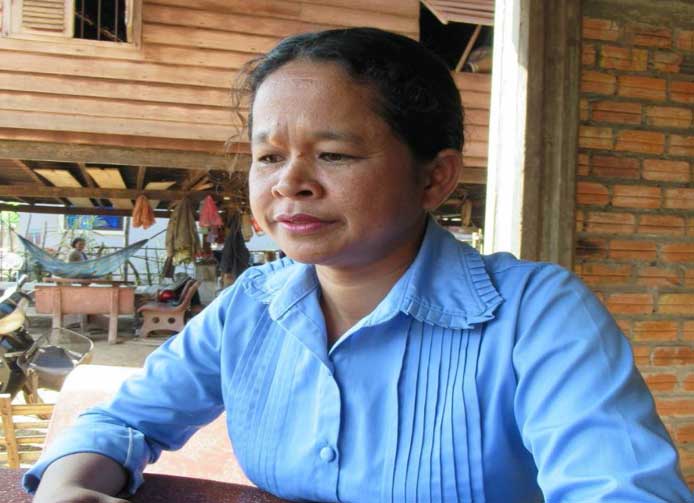 Chheun represents the path towards equal representation- she is the only woman in the local council of eight. Women make up less than 15% of the elected rural council in Cambodia. The councilwoman started change in her own backyard, "I used my knowledge from disaster risk management to restore a pond near my house, create home gardens amongst the households, and share the best practices for adaptation."
The council member is one of the many CCDM members who participated in the training courses organized by PADEK. Chheun participated in training activities and sessions that demonstrated field practices such as the ways to use the Hazard, Vulnerability and Capacity Analysis (HVCA) Tools to collect data. HVCA supports information sharing through simple technology such as Google Earth.
It Takes a Village
The CCDM members know that strength comes in numbers. "We started by bringing the village elders, youth, monks, and other influential members of the village together. The discussion began with using HVCA tools to collect data and conducting data analysis to formulate the Community Based-Emergency Preparedness and Response Plan (EPRP)/ Contingency Plan (CP)." A coordinated effort is most constructive when the supervisors undergo the methodology themselves. Chheun and her team started by learning about the structure, function, and process of HVCA and how to regulate analysis for planning: "Once we comprehended HVCA, we organized meetings with the commune to integrate these plans into the Commune Investment Plan."
Manos Unidas (MU) funded these activities which are conducted by PADEK. The APP provided training, capacity strengthening, and technical support to the PADEK staff in DRM, and echo-training to CCDM members in order to produce and implement an EPRP. The session supported the council members to become trainers and knowledge disseminators. Chhuen conducted seven sessions in 2017 and 10 the following year, "My first session was held with a group of 95 farmers and 63 of them were women. In 2018, 245 people attended my sessions and more than 70% of them were women. Seeing these women take a leading role is the greatest motivation to plan even larger sessions."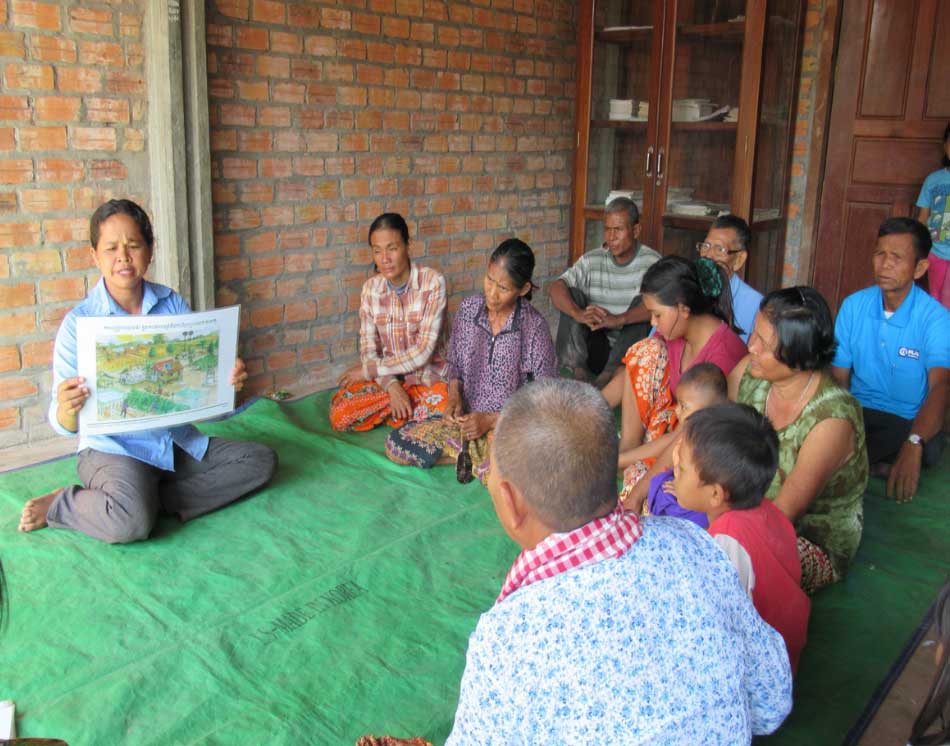 Chhuen and her fellow CCDM members are scaling training sessions in the upcoming year, "We want to conduct 10 sessions for 300 farmers. They need to understand the impact of climate change to prepare and find a way to improve agricultural productivity." Chheun sees better practices sprout in her village. She estimates that about 60-70% of farmers have adapted to better farming practices, "Farmers are now using System of Rice Intensification (SRI) techniques such as short-term rice seed. It is particularly effective for farmers with a small amount of land for rice cultivation. They have also learned to choose resilient crops that require less water during the dry season." The benefits of SRI are evident in 50 countries which include a majority of South Asia and Southeast Asia. The technique has led to a 20-100% or more increase in yield, up to 90% reduction in required seeds, and up to 50% in water saving. SRI has gained national policy support in multiple regions of Cambodia.

All Hands on the Ranch

PADEK has worked in cooperation with agricultural experts from the Provincial Department of Agriculture (PDA) and the District Office of Agriculture (DOA). They have taught farmers to apply techniques of the World Overview of Conservation Approach and Technologies (WOCAT). Chhuen has witnessed this knowledge germinate in gardens throughout Nokor Pheas, "Many of the family gardens have started to apply soil and water conservation techniques through the drip system. The practice allows families to grow a number of products within a limited space." The drip irrigation system has proven to save between 30-65% of water when compared to traditional systems. "Farmers are now saving so much water while growing a variety of vegetables."

Chhuen has taken her commitment to building a stronger and more disaster resilient community to a national platform. She supports the strength that stems from unanimous dedication, "We are here because of commune counselors, farmer's participation, and support at the district level. It drives me to appeal to the government for an increased budget at the local level to implement communal Emergency Preparedness and Response Package (EPRP) effectively." The Government of Cambodia and other NGOs are currently working towards implementation funds for EPRP.

The community activist recognizes the significance of LNGOs such as PADEK and the CHF and their continued support of government policies for poverty reduction through projects such as the Livelihood Resilience Program, "The desire towards a more resilient community has a trickling effect. We are reminded of our potential when we see these organizations investing in our village."
APP realizes that the greatest potential is with local actors such as PADEK and their participation in the CHF. We believe that change starts from the roots to transcend and transform a region.