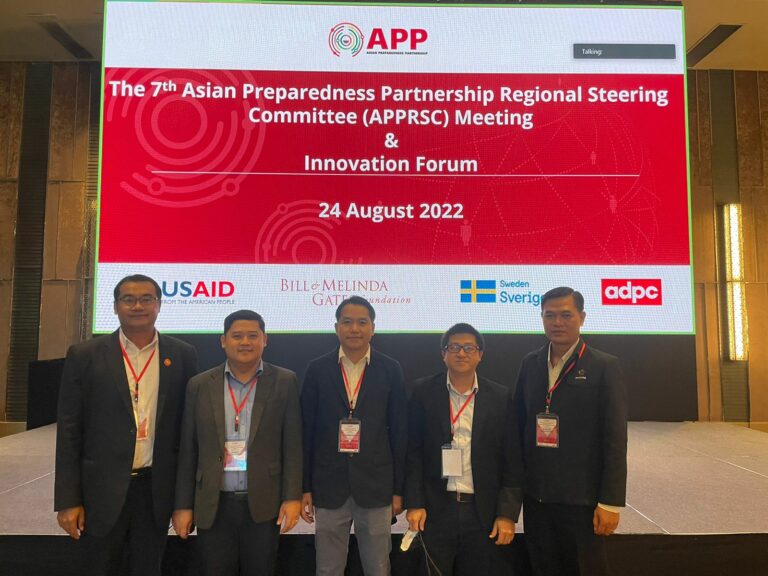 Mobilizing Multi-stakeholder Partners
Lao PDR sought to establish a multi-stakeholder platform with the government, civil society, local humanitarian organizations, and the private sector for greater engagement in emergency preparedness for response based on the model established in other Asian Preparedness Partnership (APP) member countries. The Department of Social Welfare (DSW) of the Ministry of Labor and Social Welfare (MoLSW) of the government is mandated to work on disaster risk management (DRM) in the country. They play a key role in acting as a focal point for project activities and mobilizing other sectoral partners to engage in these planned activities. APP activities have led partners from different sectors to develop Terms of Reference (ToR) that recognized their roles in DRM. These activities included the participation of Lao partners in the 7th APP Regional Steering Committee Meeting and Innovation Forum to further integrate the country as a member of the regional platform.
Capacity Development through Training 
Comprehensive training courses on DRM, first aid, and leadership skills to capacitate partners on key concepts, systems and processes in the country have been validated and finalized. The courses were intended for participants at the national level as well as in the Sekong and Savannakhet provinces. The following Training of Trainer (ToT) courses was conducted at the national and sub-national levels: 
national ToT on DRM curriculum in Vang Vieng District between 10 – 13 May 2022 with 38 participants (30 males, 8 females).

sub-national level ToT for Sekong province in Paske District between 6 – 9 June 2022 with 33 participants (25 males. 8 females).

sub-national level ToT for Savannakhet province in Thakhek District between 21 – 24 June 2022 with 44 participants (33 males, 11 females).

sub-national level ToT for District Disaster Management Committee for the selected district from Savannakhet and Sekong provinces in Paske District between 22 – 24 November 2022 with 41 participants (33 males, 8 females) including civil society organizations (CSOs) and private sector in Pakse district.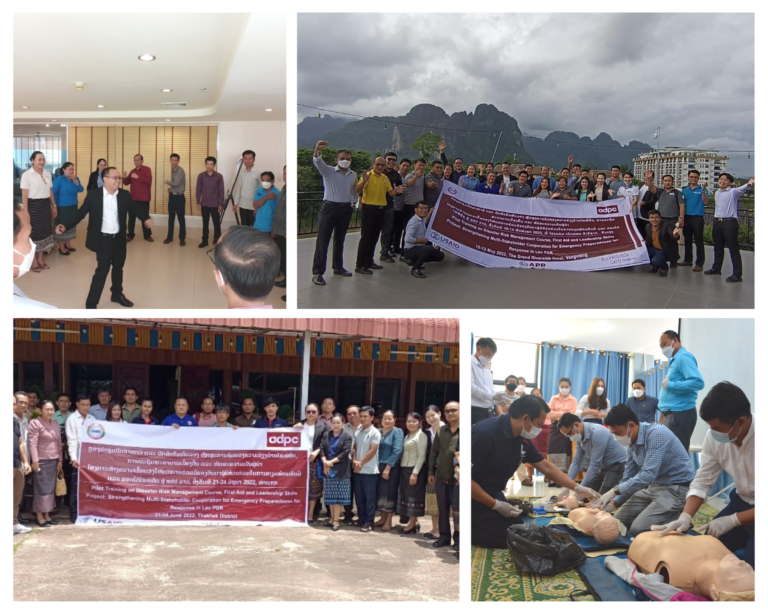 Discourse for Disaster Resilience
APP partnership model in Lao PDR organized a Policy Dialogue for Dissemination of the 10-year National Strategy on DRR (2021-2030) on 16 June 2022. The workshop served to raise awareness of the multi-stakeholder emergency response and inter-agency contingency planning process with 43 representatives from the government, CSOs, the private sector, and the Asian Disaster Preparedness Center (ADPC). It was also the initial step to support CSOs and the private sector in organizational emergency planning development. The session started with a presentation on the national strategy to assist CSOs and the private sector in the application of these guidelines for organizational emergency planning development and long-term program. It was followed by the CSOs presenting their long-term program to raise awareness amongst government partners. The workshop concludes with ADPC technical consultants presenting a policy review analysis of existing strategic documents and legislations. 
Build Businesses Better
Small and Medium Enterprises (SMEs) make up 99% of all registered firms and over 80% of employment in Lao PDR. With their needs as a priority, a forum to orientate 14 senior representatives (10 males, 4 females) on the value of engaging in emergency preparedness efforts. It also served to align efforts of the government and other sectors to enhance understanding and knowledge of business resilience among the private sector and non-profit associations. A module on business resilience based on APP materials has been adapted to the national context to sensitize private sector organizations on disaster preparedness, response, and recovery. 
Workshops for the Way Forward
APP developed the Institutional Capacity Assessment Tool (ICAT) to help local organizations evaluate the changes in institutional and operational capacities to integrate the Core Humanitarian Standards (CHS) into their humanitarian work. APP partnership model in Lao PDR conducted an orientation workshop on ICAT for 17 (8 males, 9 females) representatives from various CSOs and the private sector on 17 November 2022. The partnership also organized a workshop on contingency planning in DRM with 23 (13 males, 10 females) from the same sectors on 11 November 2022. The event provided a basic understanding of the contingency planning that needs to be developed for organizations with the objective and potential to pave the way for joint contingency planning among partners. 
Regional Knowledge Exchange 
Representatives from the Lao PDR government, civil society, and private sector participated in a week-long, two-country interactive orientation in Thailand and Cambodia between 5 – 9 July 2022. The visit was part of APP's South-South knowledge exchange initiatives aimed at facilitating cross-learning between countries by providing opportunities to share their knowledge and experience. The program makes continuous efforts to integrate new ways of thinking about a multi-stakeholder partnership with dialogues centered around innovation, gender and rights-based approaches, and localization. Elevating the capacities of local actors in DRM roles has always been at the core of APP's mission. The partnership has extended the regional network into Lao PDR to broaden its approach to localization through comprehensive DRM and transnational knowledge sharing. 
Regional and National Awareness of Disaster Management
The Association of Southeast Asian Nations (ASEAN) Day for Disaster Management and International Day for Disaster Risk Reduction from 13 – 15 October 2022 under the theme "Stronger Together in Balancing Action to Enhance Localization for Disaster Resilience". APP partnership model in Lao PDR supported the National Disaster Management Committee, particularly the Ministry of Labour and Social Welfare, Department of Social Welfare to organize  National Day for Disaster Management. Support from ADPC and other international led to the engage 260 participants. The main activity to commemorate the event this year was the walk for health held on 15 October 2022. It witnessed the participation of 379 representatives (272 males, 107 females) from the governments, development partners, international non-governmental organizations (INGOs), CSOs, the private sector, and the general public.