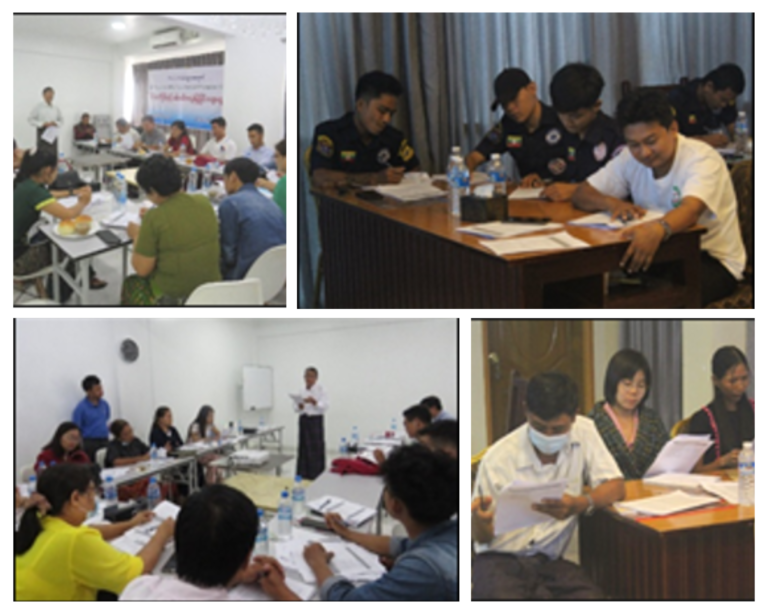 APP Tools Introduction and Assessment Rollout
The Core Humanitarian Standards Assessment Tool (CHSAT), Institutional Capacity Assessment Tool (ICAT), and Tool on Institutional Engagement (TIE) were translated into Myanmar and introduced to members of the Myanmar Preparedness Partnership's (MPP) civil society organization (CSO) network in July 2022. A total of 28 participants (17 males, 11 females) from 22 CSOs were introduced to the CHSAT and ICAT tools in the Magway and Hpa An districts. The TIE tools were also presented in these two districts with 30 participants (15 males, 15 females) from 13 CSOs.

Bringing Civil Society Organizations Together
A Partners Forum was held amongst CSO members of the MPP on 12 August 2022. It witnessed 41 participants (20 males, 21 females) from 29 CSOs from the Hpa-An,  Magway, Mandalay, and Yangon areas. The event was divided into two main workshops which entailed the formation of a CSO preparedness partnership and the prioritization of preparedness activities for the future. All of the organizations drafted a Terms of Reference (ToR) for the CSO partnership in their districts. They also discussed the major preparedness activities that were submitted for the attention of the entire forum.

Alliances for Change
Three CSO Coalition workshops with 69 participants (45 males, 24 females) from 43 organizations were organized in the Hpa-An, Magway, and Mandalay districts. Participating organizations developed a detailed TOR of the objectives, functions, communications channels, and responsibilities of the coalition. The coalitions were formally designated as the Kayin CSO Coalition, Magway CSO Coalition, and Mandalay CSO Coalition.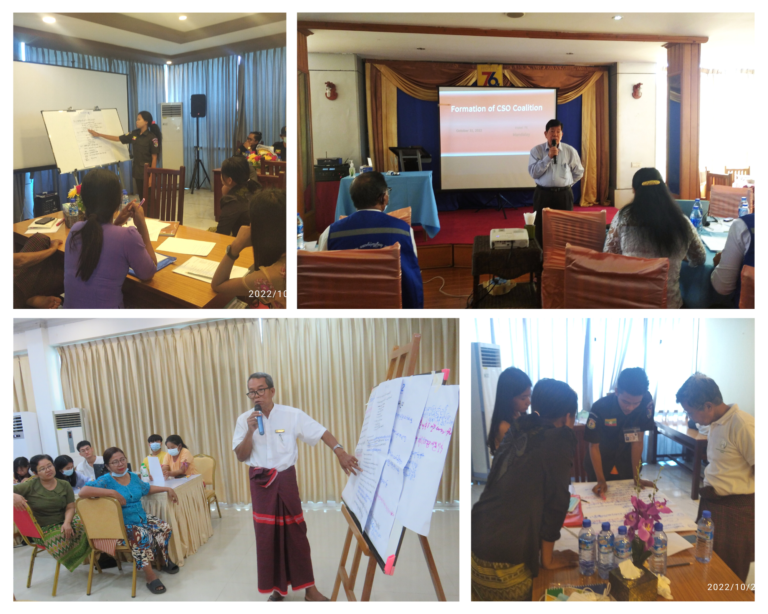 Capacity Assessments for the Way Forward
Three district-level CSOs – Shin Par Gu Social Organization (SPGSO) from Magway, Chan Mya Thitsa Social Organization (CMTSO) from Mandalay, and Youth Learning Center from Hpa-An – were selected for Organization Capacity Assessment Workshops. The sessions witnessed the participation of 34 participants (16 males, 18 females). The participants initiated the capacity assessment activities by drawing a timeline of their milestones and landmarks and using this to reflect on their organization's performance. This was assessing seven organizational dimensions through an assessment tool. Following a gauge of their institutional capacity, each organization developed an action plan for the next three to six months.