The Asian Preparedness Partnership network implemented by Asian Disaster Preparedness Center works towards enhancing south-south learning and cooperation in South and South-East Asia. The South-South learning facility established through this collaborative partnership provides an exceptional opportunity to document, learn and build on the expertise available in the region and promote intercountry knowledge and experience sharing events for disaster resilience.
As part of this facility, a senior delegation from the Government of Sri Lanka led by Ministry of Irrigation, Water Resources and Disaster Management officials organized a learning and exchange visit to Philippines and Thailand from 27 August – 1 September 2018.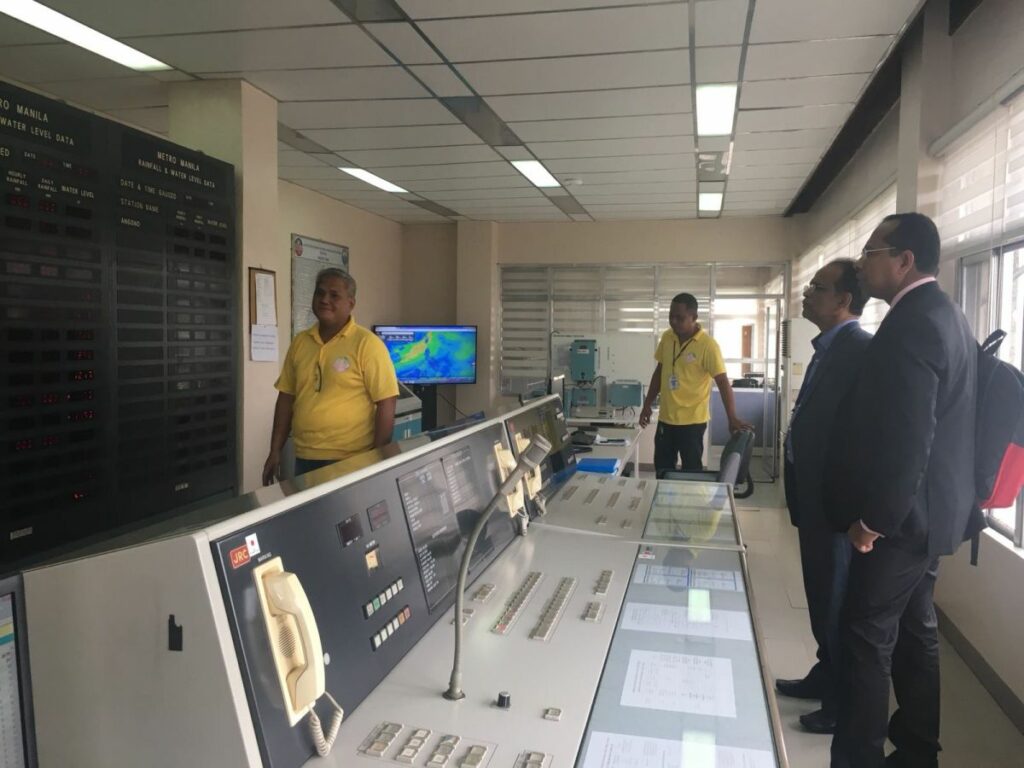 The delegation led by Eng. N.A. Sisira Kumara, Secretary in Ministry of Irrigation, Water Resource and Disaster Management, together with Dr. Asiri Karunawardena, Director General- National Building Research Organization, Ms. Anoja Seneviratne, Director (Mitigation)- Disaster Management Center, Mr. M.S. Udayasinghe Perera, Director (Project Planning & Designs)- Department of Irrigation and Mr. Kitsiri Weligepolage, Director (Water Resources Planning)- Department of Irrigation commenced their institutional tour with a visit to key local government office – the Quezon City Disaster Risk Reduction and Management Office (QCDRRMO) in Philippines to understand their Emergency Operation Center (EOC) and its facilities.
Complementing the robust functioning of the EOC facility, the delegation moved forward to the Metro Manila Effective Flood Control Operation System (EFCOS) to study how EFCOS facilitates effective flood control operations for the Pasig-Marikina-Laguna Lake Complex through real-time rainfall and water-level data collection via telemetry system, warning system, and multiplex communication system in Metro Manila.

On 29th August, the study visit was capped off with a tour of the National Disaster Risk Reduction and Management Emergency Operation Center under the Office of Civil Defense, Philippines. Mr. Edwin Salonga, Chief, Disaster Risk Governance Division informed the delegation about the comprehensive national civil defence and disaster risk reduction and management program existing in the Philippines.
In the second leg of their institutional visit, ADPC hosted the delegation in Bangkok for expanding areas of collaboration in disaster resilience. Discussions were undertaken with Mr. Hans Guttman, Executive Director-ADPC with Director, Preparedness for Response and Recovery and Director, Climate Resilience Department for developing comprehensive Disaster Risk Management and Climate Resilience programs in Sri Lanka. To further understand the workings of flood systems, a visit to the Bangkok Metropolitan Administration (BMA) Flood Control Center, Department of Disaster Prevention and Mitigation (DDPM) and the National Disaster Warning Center (NDWC) was also organized to learn and adapt successful preparedness systems functioning in these institutes.