Digital Resource Center (DRC), a multi-purpose web portal has been established by National Humanitarian Network (NHN) to provide access to information through humanitarian platform for increased coordination and collaboration in Pakistan. The resource center has been set-up to enable national government, local organizations, individuals and humanitarian community to retrieve and share reliable and authentic humanitarian information.
Asian Disaster Preparedness Centre (ADPC) with support from Bill & Melinda Gates Foundation (BMGF) together with National Disaster Management Authority (NDMA), civil society network, private sector network, academia and media have formalised the Pakistan Resilience Partnership (PRP). With the aim to integrate all stakeholders, DRC presents a unique knowledge sharing platform under PRP. The one-day workshop hosted on 9th August 2018 at Islamabad, explored possibilities of linking DRC platform and modalities of knowledge sharing by all stakeholders in the country. 16 representatives from national government, local humanitarian network, private sector, media and academia participated alongside UN agencies and INGOs to share their experience.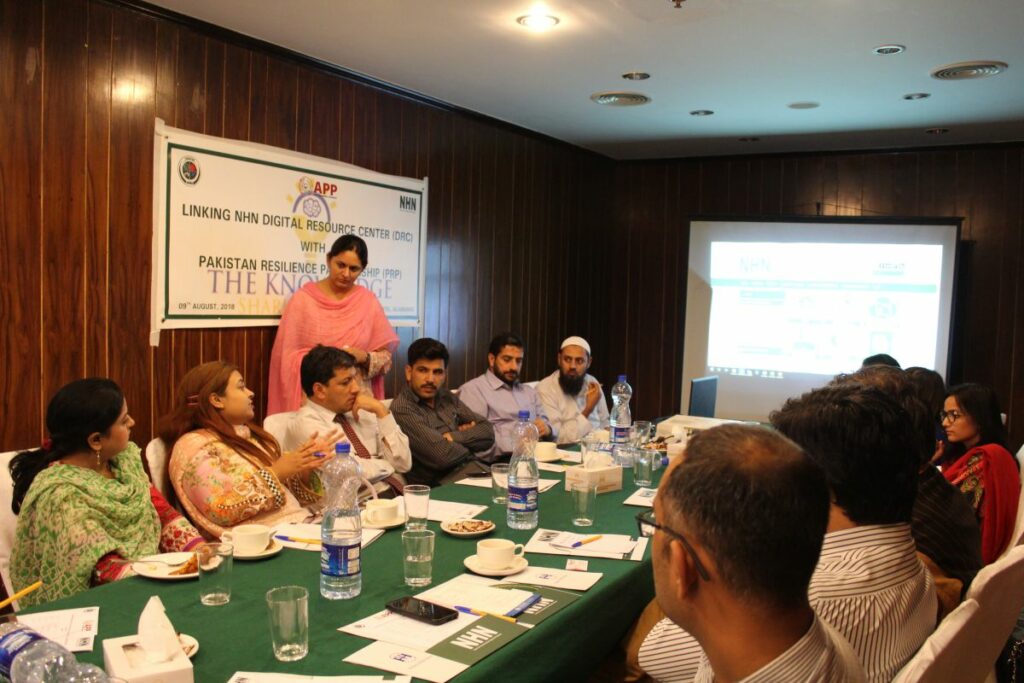 Mr. Sajid Naeem, ADPC Country Manager in Pakistan along with Ms. Sana Zulfiqar, Communication Focal Person briefed the participants about the Asian Preparedness Partnership (APP) initiative and how partners can support these activities. The broad contours of APP communication strategy and web portal was highlighted to emphasize on the importance of communications and outreach. The web based portal plays a critical role in the dissemination of work undertaken to improve and strengthen coordination mechanisms and emergency response capacities of key stakeholders. DRC would serve as a one-stop knowledge hub for knowledge exchange at the national level while APP would play a similar role at the regional level. As one of the key outreach mechanisms available, the stakeholders agreed to regularly update and utilize information through partner websites, social media campaigns and relevant global and national forums on DRR.