On 1 August 2022, the Department of Disaster Management (DDM) conducted its second National Steering Committee (NSC) and National Institutionalization Working Group (NIWG) meeting, with technical support from ADPC. The meeting focused on reviewing the progress of the Program for Enhancement of Emergency Response (PEER) and Strengthening Emergency Preparedness and Resilience in Bangladesh (SERB) programs and strategizing ways to embed PEER courses into the various programs, plans, and budgets of national institutions. With senior officials from national institutes as members, the NSC and NIWG are formed to oversee and provide guidance in implementing PEER in the country.
Representatives from the Ministry of Disaster Management and Relief (MoDMR), DDM, Directorate General of Health Services (DGHS), National Institute of Preventive & Social Medicine (NIPSOM), Bangladesh Red Crescent Society (BDRCS), Bangabandhu Sheik Mujib Medical University, Fire Safety and Civil Defence (FSCD), Cyclone Preparedness Partnership (CPP) and Bangladesh Scouts joined the discussion to review the current status of PEER and SERB institutionalization and identify entry points for program integration.  
Mr. Mohammed Ahsan Ullah, Senior Project Manager, ADPC commenced the discussion and updated all the participants on the program achievements and the activities planned for 2022. Mr. John Abo, Chief of Party, SERB, and PEER, described the program journey and walked through the nine conditions of PEER institutionalization as prescribed in the institutionalization assessment tool.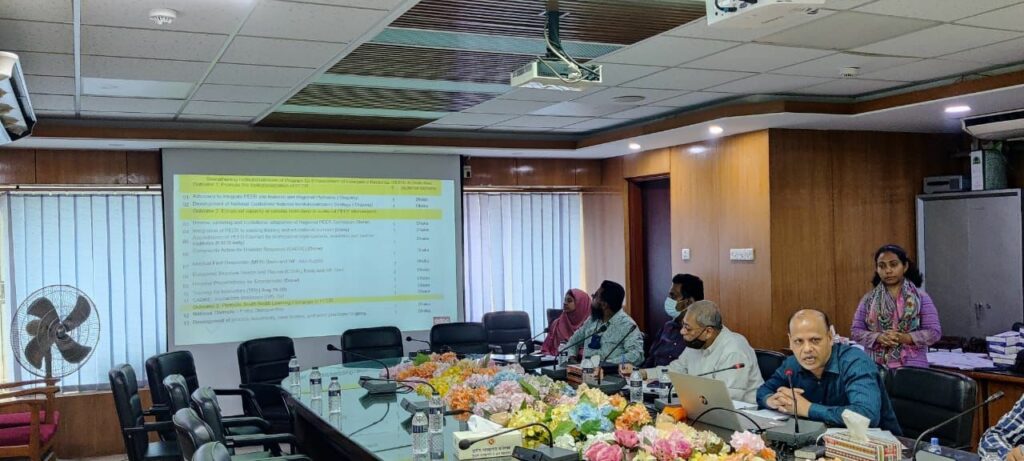 This was followed by a detailed discussion on PEER and SERB integration progress. Mr. Md Shahajahan Saju, Assistant Director, BDRCS shared the progress on embedding CADRE and highlighted the integration of the course curriculum into the annual implementation plan of FSCD, CPP, and BDRCS. 
Lt. Col. Md. Rezaul Karim, Director (Training & Planning), FSCD talked about the adoption of MFR and CSSR courses into the training plan of FSCD. "FSCD has been regularly building the capacity utilizing MRF and CSSR curriculum," he added. MFR and CSSR are conducted regularly in FSCD as per its annual operational plan. Dr. Baizid Khoorshid Riaz, Director, NIPSOM also shared the progress of HOPE institutionalization and added that the course is embedded into NIPSOM's training curriculum and annual capacity-building plan. He further spoke up about the ongoing consultations with NIPSOM, Bangladesh Nursing College, and BSMMU to accredit the HOPE curriculum.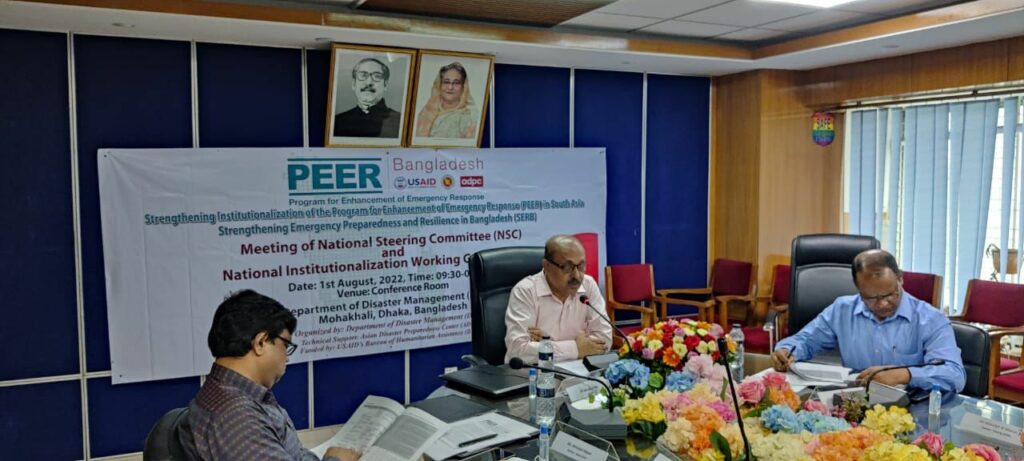 The meeting ended with deliberating on significant issues and challenges and identifying key priorities. Some of the priority areas discussed are:
Establishing long-term partnerships with multiple stakeholders,
Including PEER in the Annual Implementation Plan of partners in the country, 
Maintaining a database of community volunteers, ensuring a 1:1 ratio of male and female volunteers, 
Conducting assessments of hospitals to understand the impact of PEER and SERB interventions, 
Conducting more activities in flood-affected communities. 
*Cover picture by Freepik