The program for Strengthening Emergency Preparedness and Resilience in Bangladesh (SERB), under the Asian Disaster Preparedness Center (ADPC), addresses gaps in disaster response. The program was initiated in 2013, with a focus on building resilience against earthquakes. However, in 2019, the program entered its second phase, adopting a multi-hazard approach against disaster risks.
Under the second stage, SERB targets three vulnerable regions, namely Cox's Bazar and Chittagong Hill Tract Districts, mainly Rangamati and Bandarban districts to enhance disaster preparedness and response. These target areas highlight diverse topographies from coastal plains to hilly tracts. The vision is to apply hospital resilience and capacity-building elements in different topographies and integrate SERB components across the region.
Hospital safety and planning in Bandarban
ADPC, partnered with the Directorate General of Health Services (DGHS) to conduct Hospital Disaster Safety Assessment (HDSA) and prepare Hospital Emergency Response Plan (HERP) workshops at Ruma Upazila Health Complex, Bandarban from 8-9 August and 10 August 2022 respectively.
During the assessment of the Upazila Health complex, the participants identified the risks to the health facility from earthquakes due to its geographic location. Water supply, waste management, and even fire protection were ranked as low in the health facility. Out of the 29 indicators under HDSA, the participants marked the hospital low in hospital emergency and disaster response and recovery planning. Based on this evaluation, HERP was developed.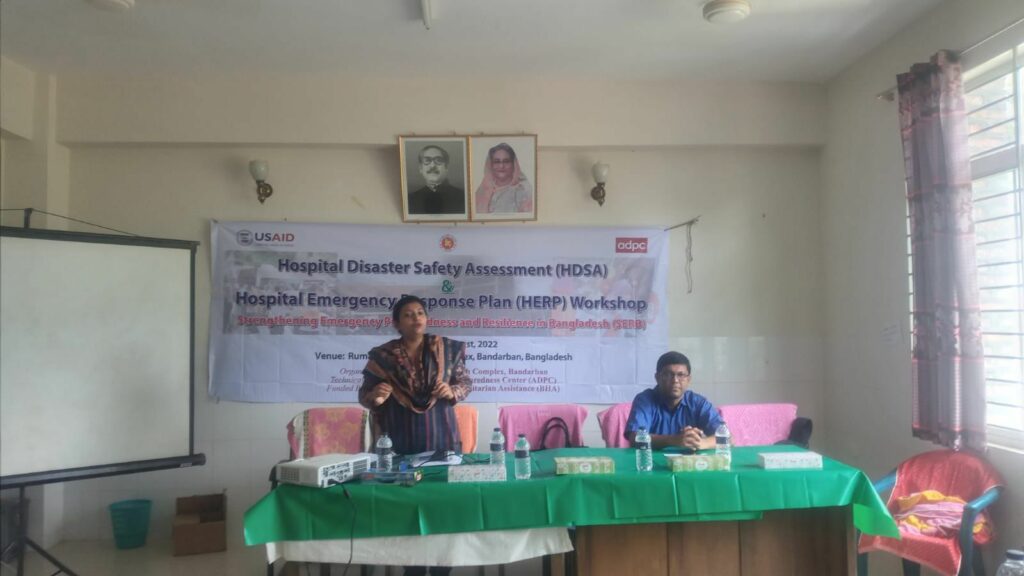 Dr. Bowm Prue, Upazila Health and Family Planning Officer (UHFPO) at Ruma Upazila Health Complex, Bandarban thanked ADPC for initiating interventions targeted at building the resilience of hospitals to disasters, "Hospital staff has learned a lot and are better prepared to respond during emergencies."
SERB has customized HDSA and HERP tools for Bangladesh, that assess the vulnerabilities of the health facilities in managing disasters and further develop a mass casualty plan, to address these gaps. Drawing inspiration from WHO's Hospital Safety Index (HSI) tool, these tools are designed to meet the requirements of Bangladesh's primary, secondary, and tertiary hospitals.
Adopting a Multi-Hazard Approach in Rangamati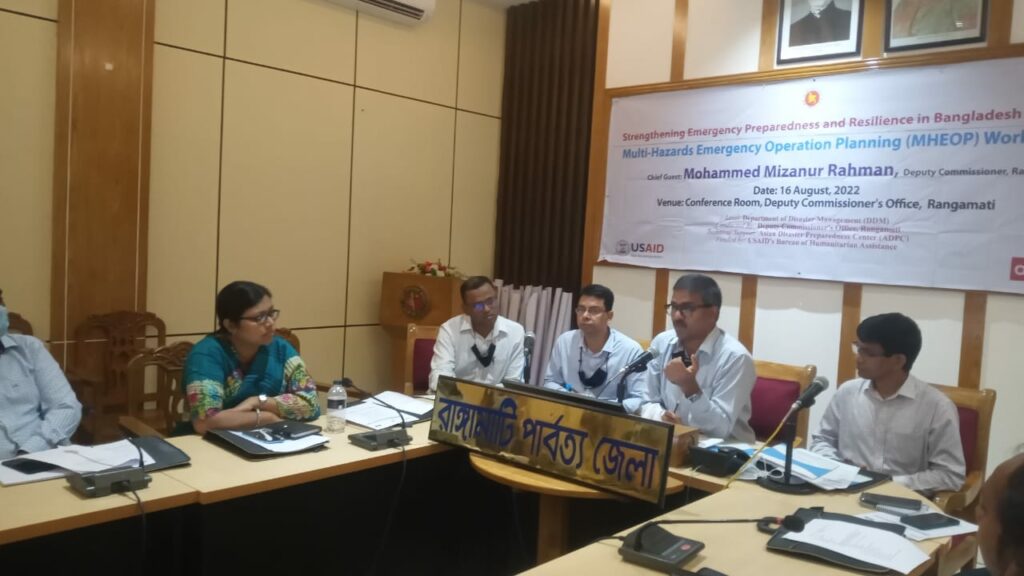 To address the risks of disasters in the Rangamati region, District Disaster Management Committee (DDMC) and Deputy Commissioner's Office, Rangamati, and ADPC jointly organized Multi-Hazard Emergency Operational Plan (MHEOP) workshop on 16 August 2022, under the SERB program.
46 DDMC members participated in the discussion to formulate a comprehensive hazard management plan for the region. Mohammed Mizanur Rahman, Deputy Commissioner chaired the workshop and said, "MHEOP is essential to reduce the impact of hazards in disaster-prone regions." 
MHEOP will introduce a multi-hazard approach in the region, enabling effective disaster response and management.
Validating Emergency Plans in Bandarban and Cox's Bazar
It is imperative to evaluate an emergency plan to test its efficacy during emergencies, before implementing it. To assess the operational applicability of the draft hospital emergency response plans at Ruma and Chakaria Upazila Health Complex, the Civil Surgeon Office conducted simulations at the health facilities on 28 and 30 August, respectively.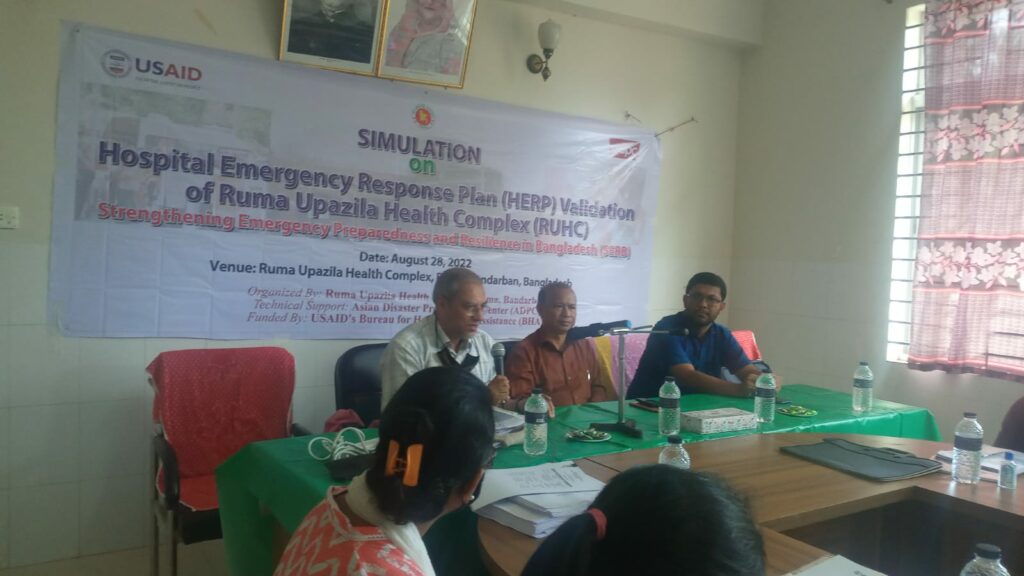 An earthquake simulation was carried out as part of testing the evaluation plan. The hospital staff applied their knowledge of triage, classifying patients as they would in mass casualty events, and following the safety procedures mentioned in the emergency plan.

These simulations under the SERB program allow the hospitals to understand and assess the plan's viability in disasters before its adoption.
The above-mentioned SERB interventions cater to the program's goal of developing an integrated emergency response system and reducing the risk to life and livelihoods for communities in the vulnerable regions of Bangladesh.