The micro, small, and medium enterprises (MSMEs) across the Philippines have been forced to adapt to the new normal. Many have completely ceased operations while others have temporarily closed or reduced their workforce. Despite these challenges, local MSMEs are hopeful again with the reopening of the economy and the attempt of the government to reduce the number of COVID-19 cases by achieving herd immunity through vaccination.

According to Dr. Napoleon Arevalo of the Department of Health (DOH), the National COVID-19 Vaccine Deployment Program aims to have a safe, equitable, and post-effect immunization that will be available to the population by 2023. However, vaccination scare is still evident among citizens despite the ongoing vaccination rollout that started in March 2021.

The Philippine Disaster Resilience Foundation (PDRF) through the collaborative efforts of its Project T3 and SIKAP, and with the support of the Philippine Preparedness Partnership (PHILPREP), conducted a webinar entitled "Bakunang Ligtas, Negosyong Bukas" last 4 May 2021 to aid MSMEs in providing timely and relevant information on COVID-19 vaccines. The initiative is part of addressing the fear associated with vaccines.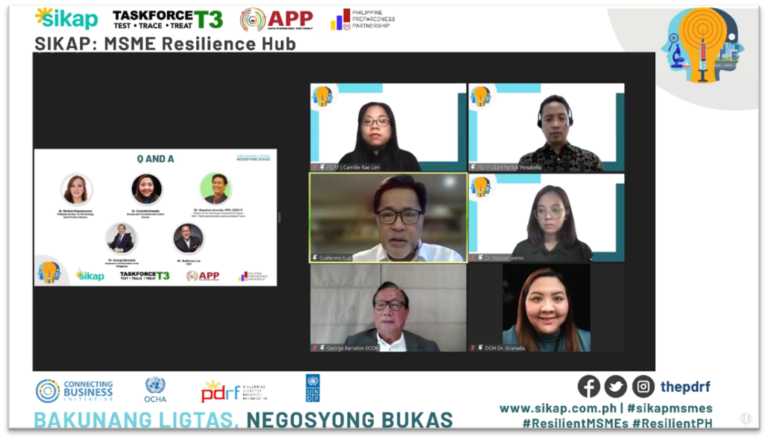 The webinar was streamed on Zoom and Facebook. MSMEs as well as representatives from the general public, government, health, education, and civil society organizations in and outside the Philippines attended the webinar. With the joint advocacy to support building resilience through preparedness among various sectors, the session focused on discussing the science behind vaccines and addressing the hesitancy of being administered with them. It also served as an avenue for MSME owners and enablers to answer frequently asked questions (FAQs) on the vaccine rollout. Additionally, the webinar created an opportunity for business owners to initiate the discourse on effective pandemic response through shared experiences inspired by decision-makers at the national level. The speakers of the event included Dr. Marisse Nepumoceno of the Manila Doctors Hospital, Dr. Napoleon Arevalo and Dr. Carmela Granada of DOH, and Mr. George Barcelon of the Employers Confederation of the Philippines (ECOP).

Mr. Butch Meily, President of PDRF, shared that he envisions a future where businesses can thrive, stores are open again, children can play outside, and families can gather again safely. He anticipates a time without face shields, face masks so everyone can see each other. He hopes that the variety of vaccines being imported will be available to small businesses also. 

Ms. Mayfourth Luneta, Deputy Executive Director of the Center for Disaster Preparedness (CDP) and PHILPREP representative, concluded the event by stressing that greater protections for MSMEs will result in more business opening. It will also pave the way toward safer communities.