Learning from the past to build a better future has been the current direction of Myanmar Preparedness Partnership (MPP). The national multi-stakeholder platform part of Asian Preparedness Partnership (APP) has been implementing priority interventions identified through a baseline study and MPP roadmap process with support from Asian Disaster Preparedness Center (ADPC) and Bill & Melinda Gates Foundation (BMGF). USAID's Office of U.S. Foreign Disaster Assistance (USAID/OFDA) has provided additional support under the 'Program for Strengthening Preparedness for Emergency Response through Multi-Stakeholder Cooperation in Myanmar' (September 2018 – September 2019), where MPP initiatives are expected to be leveraged and scaled-up by building on the activities carried out in the past year.
In December 2018, MPP discussed its regional roles and responsibilities with ADPC as Co-Chair for the 4th APP Regional Steering Committee meeting to be hosted in Myanmar later this year. Now the MPP members comprising of Department of Disaster Management (DDM), Myanmar NGO Consortium for Preparedness and Response (MNGO CPR) and Myanmar Private Disaster Preparedness (MPD Network) have taken the first steps towards shaping its national activities for 2019. This was achieved through the 'Lessons Learned and Planning Workshop for MPP' on 24 January and 6th Meeting of MPP Task Force on 25 January hosted in the capital city of Nay Pyi Daw.
Reflecting on lessons learned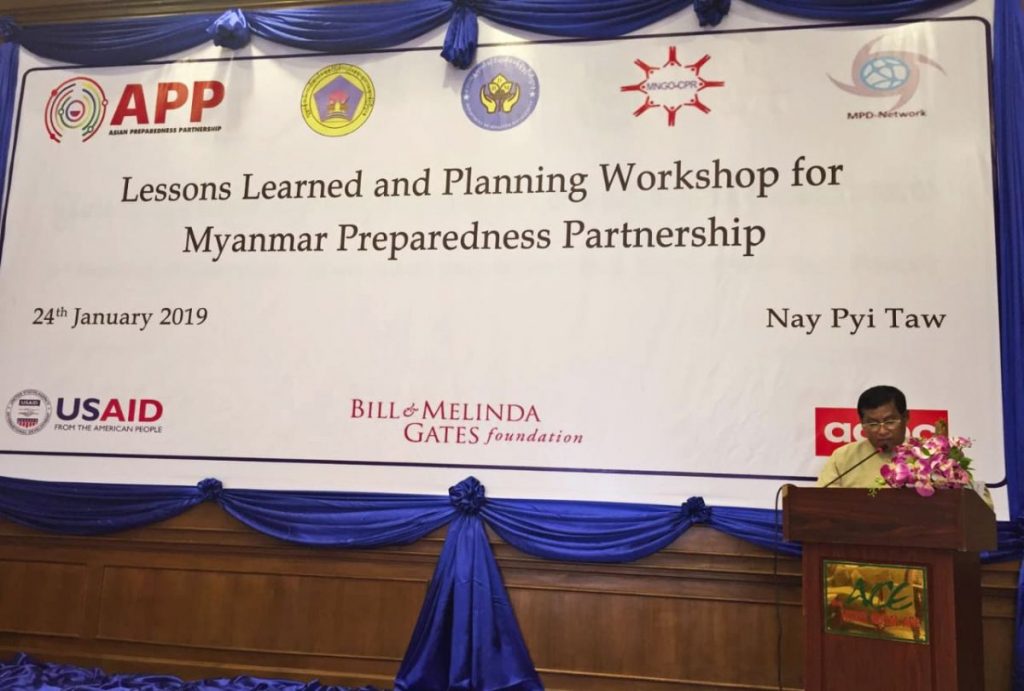 The Lessons Learned and Planning Workshop for MPP reviewed past challenges and achievements to build a more coordinated national path of activities for 2019. 30 members representing MPP, Ministry of Social Welfare, Relief and Resettlement (MSWRR), Department of Disaster Management (DDM), Directorate of SME Development Centre (DSCMEDC) were invited to give their feedback and recommendations.
Gesturing to the many logos on the backdrop, H.E. U Soe Aung, Deputy Minister of MSWRR remarked "Do not think of those as differences, but as synergy". He mentioned that MSWRR was the country's primary focal point, but all government departments and organizations need to take responsibility for disaster management.
Mr. Sisira Madurapperuma, Director, ADPC indicated that the first responders to disasters are the national partners who have the duty to identify priority areas before consulting international support.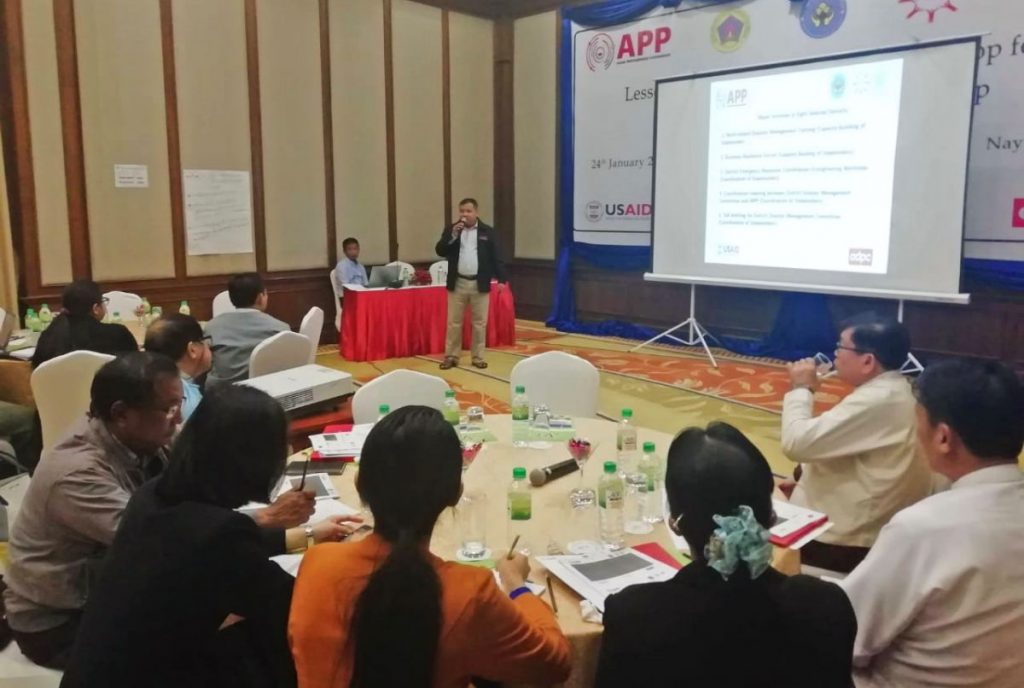 A joint-reflection was conducted by MPP members to highlight its achievements for 2018. Through its trainings, business resilience forums and workshops conducted across 8 districts, feedback received from participants suggested ways for new insurance and taxation systems to support Business Continuity Management (BCM) after a disaster. Conducting risk assessments at a more localized level would also help communities who are affected by the same disaster to address them together.
Using the World Café approach, participants were encouraged to exchange information and ideas in small groups while also reflecting on 2019 planning based on specific disaster preparedness themes. To further build on capacity development, it was determined that more emphasis on community participation and recovery planning would further improve trainings at the district level.
Industrial zones and microfinancing project areas were recognized as new potential locations to conduct business resilience training, especially for Small and Medium Enterprises (SMEs). Linking partnership activities to existing Disaster Area Networks and online platforms, as well as inclusion of the private sector in contingency planning would also support effective coordination and information management between the current multi-sector partners.
6th MPP Task Force Meeting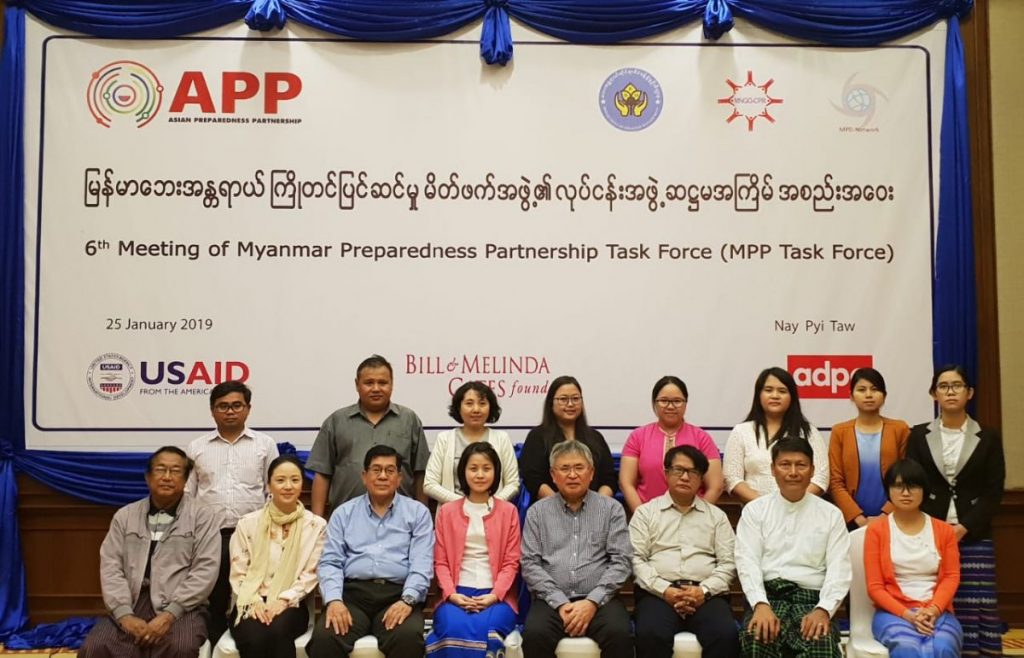 The 6th Meeting of MPP Task Force was held on 25 January to review the outcomes of the workshop and discuss MPP's work plan for 2019. U Ngwe Thein, Co-Chair of MNGO CPR stated that MPP was gaining acknowledgement from senior-level government officials and stakeholders involved in disaster risk reduction which will pave the way for new opportunities to work together. MPP members also reviewed animation videos explaining Myanmar's most common disasters that were used in previous Business Continuity Management trainings to encourage feedback. The meeting also brainstormed the Phase II of APP from a country perspective.