The domino effect of disasters is most noticeable in public service delivery – power lines broken down by a cyclone interrupt electricity supply to a community, leaving schools, hospitals and police stations unable to attend to their duties. To protect institutions against such disaster risks, Sri Lanka's 2005 Disaster Management Act requires that all Ministries, public corporations and government agencies develop a disaster management plan. This law is supplemented by the Disaster Management Centre's (DMC) 2015 'Guidelines for Preparing Disaster Management Plans', yet only a few public services like the Atomic Energy Authority, Sri Lanka Police, Ministry of Health and Ceylon Electricity Board have such plans currently in place. Recognizing the need to revisit the current guidelines, the Sri Lanka Preparedness Partnership (SLPP) organized a 'Workshop on Review and Update the Institutional Plans and Guidelines' in Colombo. 25 representatives from several government, private sector and civil society organisations actively participated in the workshop. The aim of the workshop was to hear various stakeholder inputs and adopt a more expanded institutional-specific approach towards drafting disaster management plans.
SLPP represents the national platform under Asian Preparedness Partnership network for strengthening capacities of government, private sector network and local humanitarian organization networks with support from Bill & Melinda Gates Foundation (BMGF). DMC – the focal government partner of SLPP, would prioritize efforts to update its guidelines based on recommendations coming out of this workshop. Janathakshan, SLPP's local humanitarian network partner, facilitated the reviewing process using available guidelines and plans from the ADPC Consultant and the Preparedness Planning Division of DM.   
Learning from the law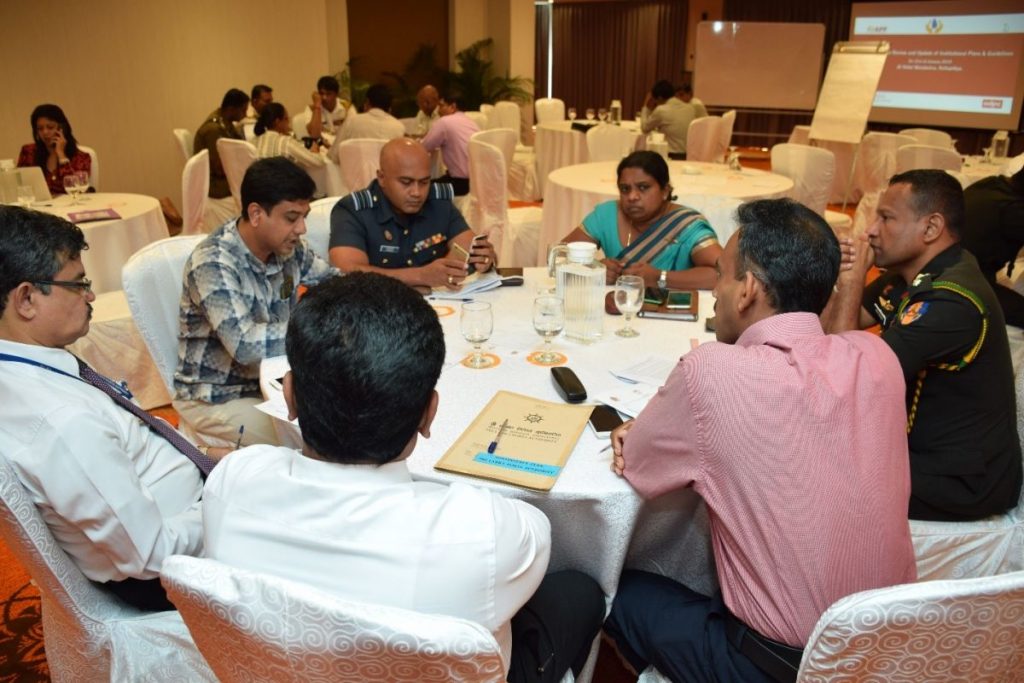 Dr. S. Amalanathan, DMC's Director General, extended his welcome and explained the need to update the 2015 guidelines. A breakdown of the 2005 Act by DMC Assistant Director Mr. Chathura Liyanaarachchi revealed that any government agency can request DMC's assistance in establishing disaster management plans, who will then submit it to the National Council for Disaster Management for approval. He also mentioned the 7 organizational categories ranging from working with hazardous chemicals to people services where damage inflicted by a disaster could have a negative impact on their operations. Dr Buddhi Weerasinghe, Consultant from Asian Disaster Preparedness Center (ADPC) explained the detailed process of developing such guidelines and drew attention to the importance of receiving stakeholder inputs from all organizations that were present.
Learning from experience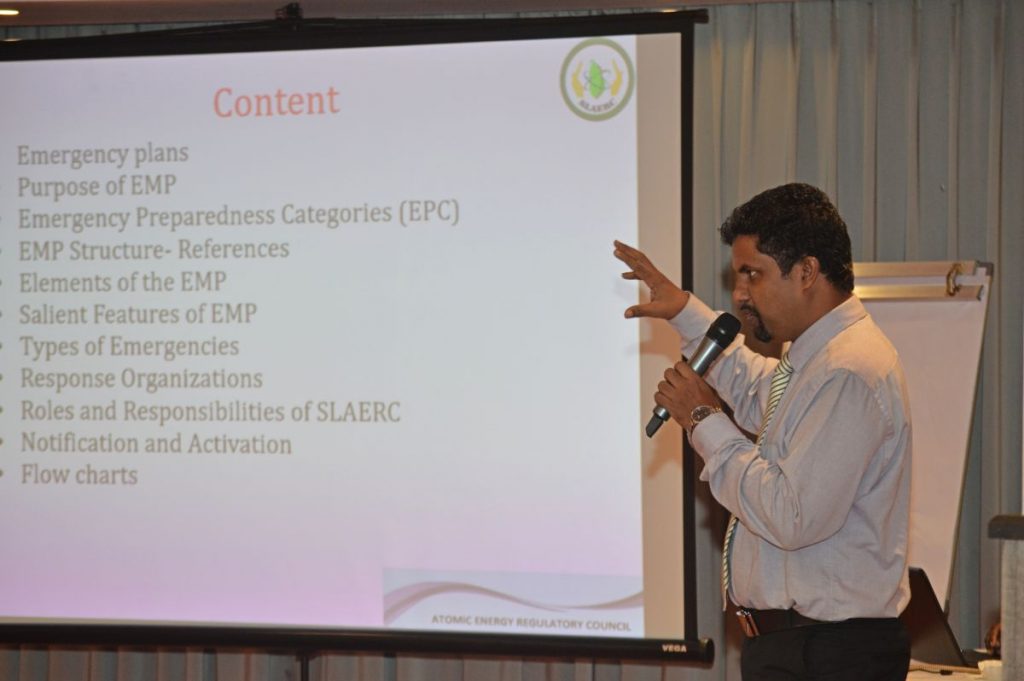 Experts from Sri Lanka Atomic Energy Regulatory Council (SLAERC) and Sri Lanka Police were invited to share their Institutional Disaster Management Plans (IDMPs) along with practical experiences in drafting them based on their organizational needs. To better prepare for any untoward incident, Mr. K. Kadadunna, Deputy Director of SLAERC confirmed there are many urgent protective actions that need to be administered based on the amount of radioactive exposure and waste caused by a disaster, and a back-up system is in place if SLAERC can't resume energy production.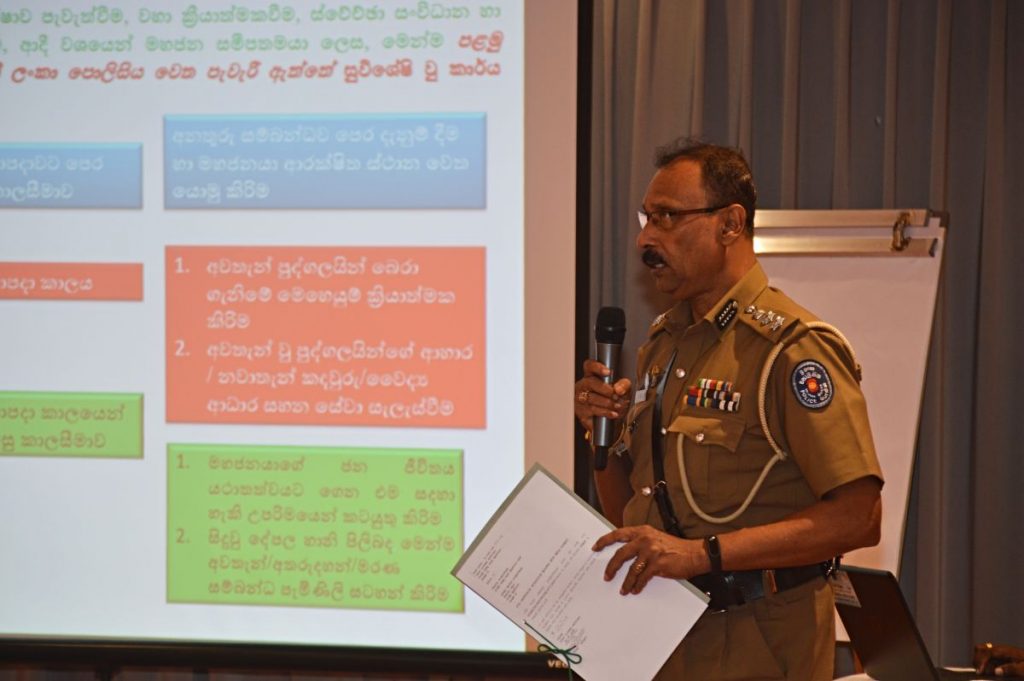 Senior Superintendent H. Chulasiri, Director of Environmental Protection and Life-Saving for the Sri Lanka Police confirmed that police stations are equipped with loudspeakers and life-saving units to assist citizens in distress, while officers can resume their police duties to maintain law and order during the disaster situation.   
Reviewing the new guidelines on institutional disaster management plans
Having heard the experiences and challenges by the expert presentations, the participants representing port authorities, building researchers, fire services, international non-governmental organizations and hotels were invited to share their thoughts on improving DMC's 2015 Guidelines. The recommendations were to have another two-day consultation meeting based on the report developed by this workshop with wider stakeholder participation to finalize the guidelines. Participants also agreed to update their institutional DM plans in line with the existing guidelines.