A field mission conducted in December 2018 in Cambodia revealed startling results as per the National Committee of Disaster Management (NCDM) project report 2018 (funded by ADB). 289 respondents of the District Committees for Disaster Management (DCDMs) of the targeted participants stated that capacities in Community-Based Disaster Risk Reduction of all DCDMs are significantly low. 80% of the respondents had said that only 30% of high level officials and secretariat staffs have been trained, while only 10% of them are women, who hold low key positions as assistants and committee members. Therefore, they have less chance to meaningfully participate in training workshops and meetings.
Despite the huge emphasis placed on gender by the Royal Government of Cambodia (RGC), attention towards disaster-related policies and actions is limited. To address these issues in a structured way, NCDM brought together UN agencies, development partners and national and international organizations for the one-day workshop on "The National Multi-Sectoral Workshop on Promoting Women, Peace and Security and Gender Mainstreaming in DRR/CCA" on 20 June 2019. This annual forum by NCDM aims to collect responses for developing its own strategy in enabling women to "access sufficient, reliable and timely assistances during emergencies/crisis".
The World Risk Report 2018 figures indicate Cambodia as ranking 4th in Asia and 12th globally among most at-risk of disasters. Stressing on this fact, Ms. Hun Boramey, Country Director- Action Aid calls for women's voices and their active involvement in planning and implementing emergency response which is crucial for women's leadership.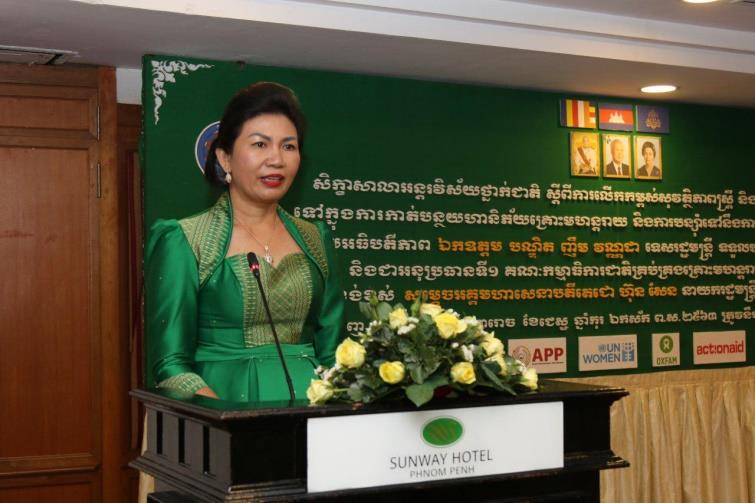 Appealing to all development partners, Ms. Lok Chum Teav Khov Sang, Deputy Secretary-General of NCDM, informed them about the establishment of Gender Team to coordinate with ministries, institutions and partner organizations. Her Excellency further stressed to support NCDM in developing minimum standards for gender in emergency response.
With 120 people in attendance (in which 50% were women), H.E. Dr. Nhim Vanda, Senior Minister in charge of Special Mission and First Vice President of NCDM, officially opened the workshop by reiterating that the Royal Government of Cambodia always pays high attention to women especially on giving men and women equal opportunity for capacity building and decision making processes.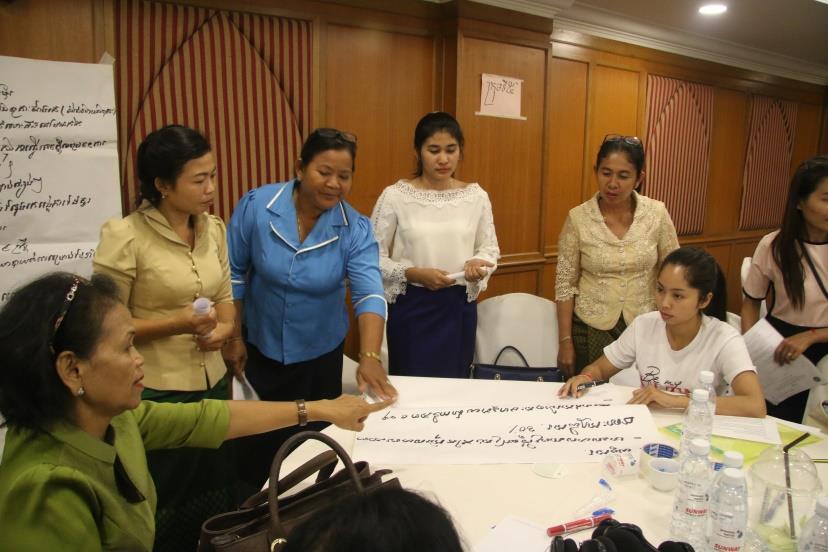 Deliberations on important issues concerning distribution of financial and human resources suitable for promoting gender equality; Law and regulations to ensure gender equality including human rights policies against sexual harassment in organisations; representation in all levels of disaster management committees; development of monitoring, evaluation and accountability framework among other ideas, were tabled to steer a way ahead in formalizing minimum standards in Cambodia. The Preparedness Partnership of Cambodia (PPC) formed under the ambit of APP would contribute in this endeavor.
Supported by APP, UN-Women, ActionAid Cambodia and Oxfam, the one-day workshop was organized by NCDM towards addressing disaster management issues in Cambodia.