The Government of Bihar (GoB) has made strides and been recognized for its COVID-19 Vaccination Drive. These initiatives were possible with the strong leadership of the GoB, Health Department, and the support from the Asian Disaster Preparedness Center (ADPC), Bill & Melinda Gates Foundation (the Foundation), and other health partners in the state. MIMANSA is a series of coffee table books highlighting various sector initiatives. The Bihar Government had initiated the documentation to include stories, and reflections from the fields have been published as a coffee table book.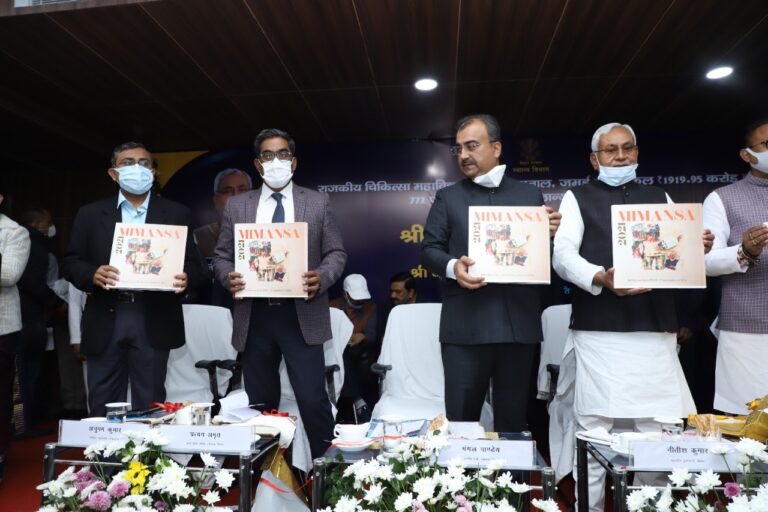 The 'Reflections from COVID-19 Vaccination in Bihar' from the MIMANSA series is dedicated to the COVID-19 Vaccination Drive. It depicts the stories from at the core of the Bihar Government health system this year. The PROSPER India program supported the development, networking, and content generation for the publication. It was prepared under the leadership of Mr. Pratyaya Amrit, Additional Chief Secretary of Health Department in close coordination with senior health officials and district health teams. MIMANSA was launched by Mr. Nitish Kumar, Honorable Chief Minister of the GoB, at the Foundation Stone Laying Ceremony. It was organized by the Health Department on 14 December 2021 at the State Institute of Health & Family Welfare, Patna Bihar. The event witnessed the presence of various ministers, health officials, the Foundation representatives, and all other health partners.

Ms. Dhannya Vadakkumpadathu Sasi, Public Health and Data Analytics Specialist and ADPC team member, received an appreciation award from the Honorable Chief Minister for her contribution to outstanding work in setting up rapid antigen test-polymerase chain reaction (RT-PCR) labs in each of the 38 districts of Bihar. It has supported streamlining the process efficiency for lab testing and enhanced health systems for COVID-19 testing across the state.
You can download the full MIMANSA text by clicking the button below: