Running a successful business requires an understanding of how to serve customers, regardless of market conditions and the negative influences of internal and external environments. Business continuity management (BCM) helps businesses stay running during natural and manmade disasters, economic downturns, bad publicity etc. While some business owners like to believe that they can quickly come up with a "Plan B" to work through a crisis, the world's best corporate leaders spend time making plans for events they hope will never happen.
Understanding the importance of adopting BCM practices, Sri Lanka Preparedness Partnership (SLPP) is working closely with Micro, Small and Medium Entrepreneurs in Sri Lanka helping them to build their capacities to stay running during natural disasters. So far over 450 entrepreneurs in Rathnapura, Kaluthara, Batticaloa and Kegalle districts have been trained under the phase one of SLPP. Having heard the service of SLPP, Hatton National Bank (HNB)- one of the leading private banks in Sri Lanka made a special request to SLPP to conduct an awareness session on BCM for the clients of their Negombo Branch. These clients are hoteliers and their businesses have been severely affected due the unfavorable business environment was created due to the Easter Sunday suicide Bomb attack on 21st of April 2019. The Easter Sunday, Sri Lanka witnessed atrocious terrorist attacks in Colombo and a few suburbs. Three Christian churches during Easter services in Batticaloa, Negombo and Colombo and three luxury hotels, Shangri-La, Cinnamon Grand and Kingsbury were targeted in a series of coordinated suicide bombings, killing 253 people including at least 42 foreign nationals and three police officers and at least 500 were injured. The Easter attack hit the tourist trade hard. Hotels were empty, beaches were deserted and popular attractions that had been starting to suffer from over tourism were eerily quiet. Negombo, located approximately 37 km north of the commercial capital of Colombo in Sri Lanka offers some of the better beaches on the west coast of Sri Lanka, and draws tourists who stop over for a day on their way to or from the airport. Several hotels ranging from luxury hotels to budget hotels, guest houses and restaurants are available in Negombo. Hotel industry in Negombo was severely affected due to the attack resulting a great loss.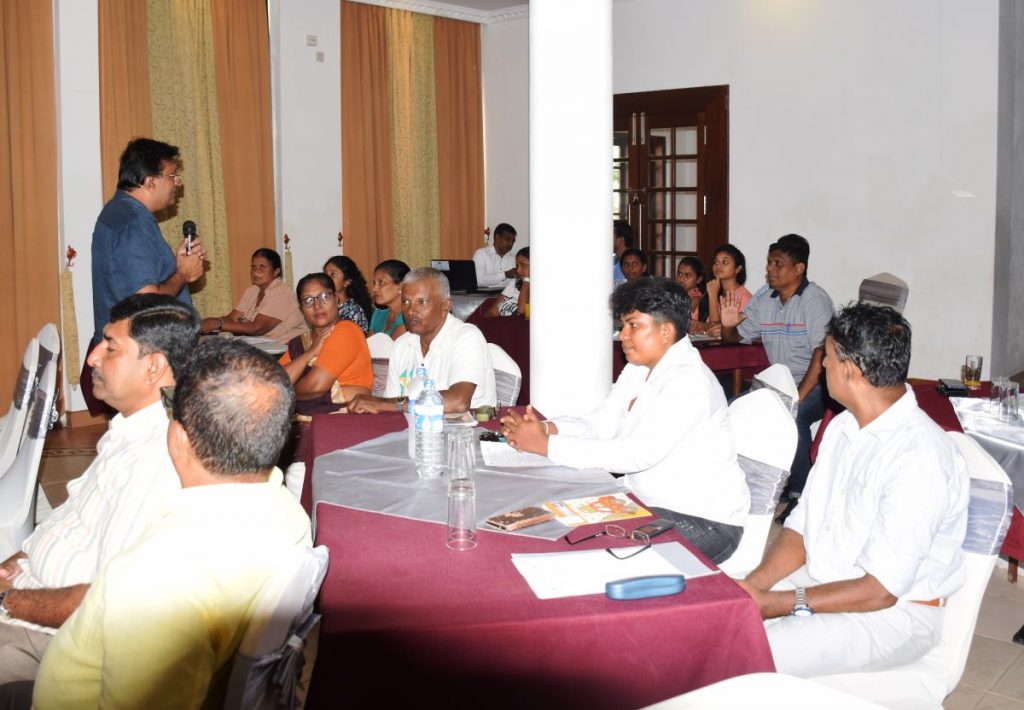 Accepting the request of HNB, SLPP conducted a training on disaster management and BCM for their clients engaged in the hotel industry on 12th July 2019 at Hotel Sherry Land, Negombo, Sri Lanka. The key objectives of the training program were to enhance the knowledge and understanding on potential disaster that could affect their businesses and to develop their skills on BCM concept to bounce back from such disaster incidents if hits their businesses. Dr. Buddhi Weerasinghe, Technical Specialist, ADPC explained the current disaster context in Sri Lanka and the process of evaluation the risk giving a special focus to the hotel industry in Sri Lanka. Mr. Bandula Wickramarachchi, Technical Specialist, ADPC explained the BCM framework and the elements of business impact analysis. He also discussed about the process of developing a business continuity strategy. Mr. Malsha Samarasekara, Senior Executive- Health, Safety and Environment at Cinnamon Hotel Management shared their lessons the Easter attack and explained the systems and procedures adapted to overcome the crisis to bring their business back to normal. Thirty-five participates representing hotels and resorts in Negombo participated for the programme. The training program was organized by the Ceylon Chamber of Commerce, Sri Lanka under SLPP in collaboration with Janathakshan Gte Ltd and Asian Disaster Preparedness Center.
Participants were enthusiastic about the content and the method of delivery of the training program and expressed their wiliness to adopt their own Business Continuity plans to stay running during natural and manmade disasters.