PEER Pakistan organized a Stakeholders Consultation Workshop to discuss the institutionalization of Hospital Preparedness for Emergencies (HOPE) in the country on 7 July 2021.  A total of 24 participants took part in the workshop led by the National Disaster Management Authority (NDMA) and National Health Emergency Preparedness & Response Network (NHEPRN) on the integration of HOPE in institutional strategies, programs, and budgets. This includes the accreditation of the HOPE course and the required processes in Pakistan.
The workshop aimed at sensitizing stakeholders on the PEER institutionalization process and integration of HOPE within the institutions' annual work programs, medical colleges, and hospital curricula.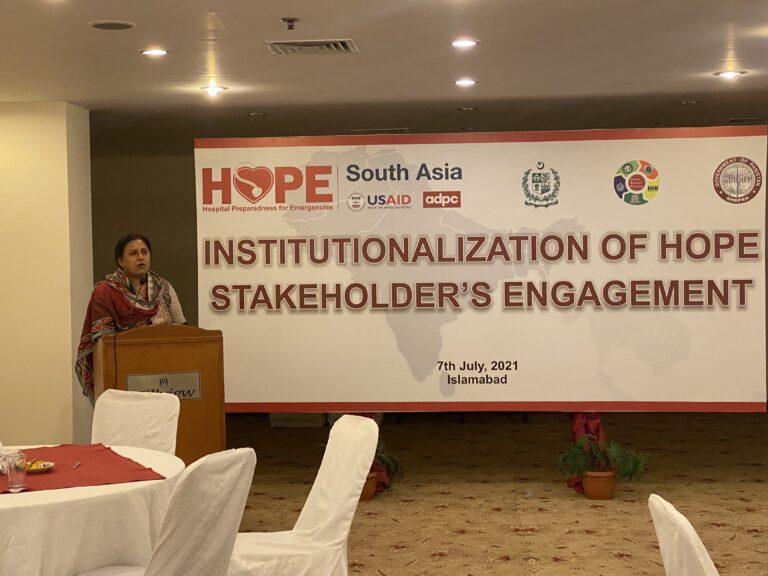 HOPE aims to enhance the capacity of hospitals and health facilities to be better prepared for managing emergencies and mass casualty events. HOPE has been instrumental in training healthcare personnel and developing qualified instructors in the country. The workshop brainstormed on the current status as well as a way forward for integrating HOPE in the following nine dimensions in Pakistan: 
Nationally adapted PEER curricula

Established National standards

Minimum PEER instructors sustained

Engagement plan for trained personnel established

PEER integrated into DRR strategies

Identified funding sources for rollout and integration in the annual budget

PEER included as one of the training programs/ modules by national/ sub-national institutes

One or more courses accredited by professional institutes

Established PEER community of practice for learning and sharing
Officials from the National Disaster Management Authority, Foundation University Islamabad, Foundation Hospital, Shifa Hospital and College of Medicine, Health Services Academy, NHEPRN, and HOPE Instructors participated in the workshop.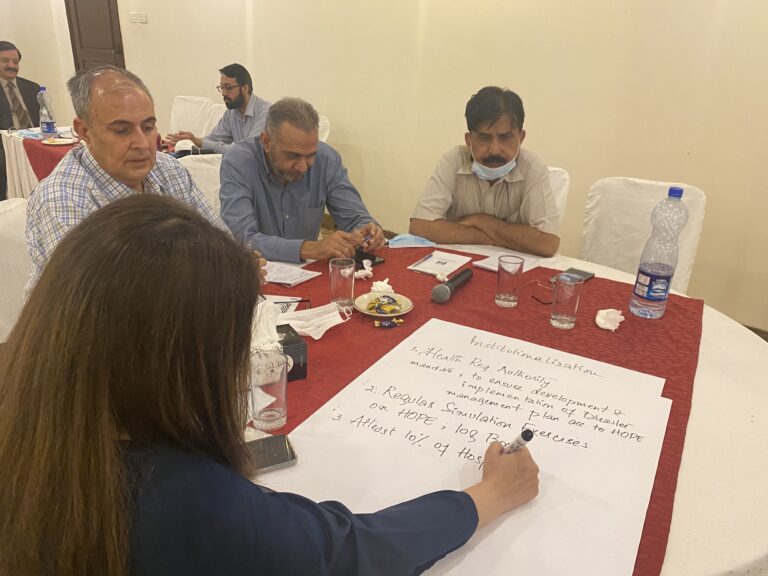 Mr. Muhammad Idrees Mahsud- Member (DRR), NDMA appreciated ADPC for this initiative and NHEPRN for providing technical support. Dr. Sabrina Durani- Acting Director-General, NHEPRN appreciated the role of NDPA, ADPC, and PEER in bringing a partnership that helped save hundreds of lives in the nation. She also acknowledged the integration of HOPE as it would enhance medical capacities in the absence of external support during disasters.  
The discussion ended with identifying the priority areas for integrating HOPE. These included the inclusion of HOPE in-hospital response mechanism and integration of the curricula in medical colleges at the postgraduate level and Community Medicine and Surgery Curricula of MBBS.