On 31 May 2021, the Asian Disaster Preparedness Center (ADPC) organized a program introductory meeting with the World Health Organisation (WHO) office in Bangladesh to discuss priority programs addressing health emergency and disaster risk management (HEDRM). The meeting also posed an opportunity to share updates and information on safe hospitals and collaborative work in Bangladesh.
ADPC provided highlights of the Hospital Risk Assessment conducted in 23 public hospitals including the primary, secondary and tertiary levels of healthcare in the 12 cities/districts (Bandarban, Chattogram, Cox's Bazar, Dhaka, Gazipur, Manikganj, Mymensingh, Narayanganj, Rangamati, Rangpur, Sylhet, Tangail and Teknaf) in collaboration with NIPSOM and DGHS.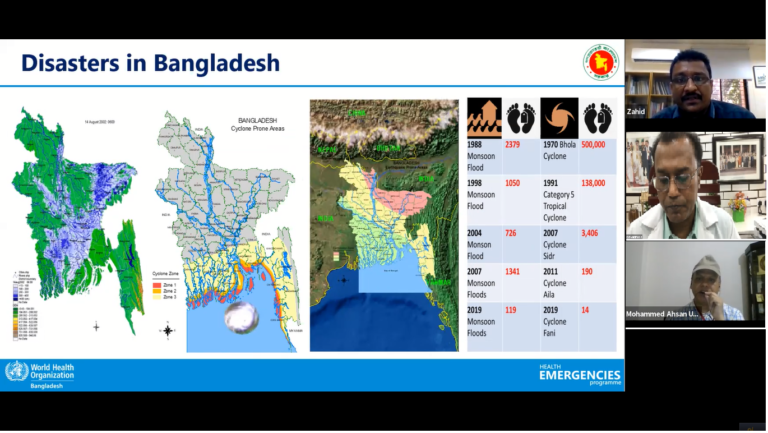 Structural Safety results suggest that hospitals need to plan for alternative care sites for the high-risk hospitals and enhance hospital lifelines (power, water, communications), protect critical hospital equipment and supplies, and improve life safety systems in the hospital. There is a need to standardize the emergency planning processes in hospitals.
Dr. Muhammad Zahidar Rahim, National Professional Officer, WHO, presented an overview of disaster-related health problems in Bangladesh, Risk Assessment Emergency Response and Coordination activities, challenges in health emergency preparedness, disaster risk management as part of WHO regular activities, and best practices on health resilience in the country.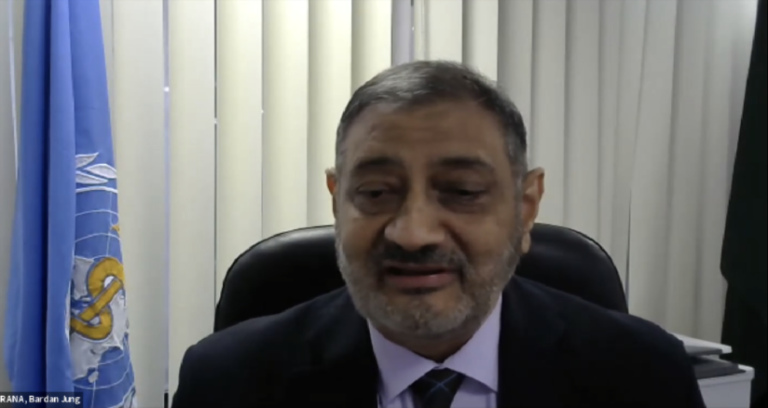 Dr. Baizid Khoorshid Riaz, Director, National Institute of Preventive and Social Medicine (NIPSOM), applauded the meeting initiative as a 'wake-up call' in light of the Covid-19 pandemic, and highlighted the need for close collaboration between the agencies. Going forward, joint activities ranging from capacity-building initiatives on health preparedness, instructor development courses through co-financing, emerging needs on hospital infrastructure development, and training medical and non-medical staff of hospitals to develop a human resource pool for managing disasters will be explored. 
Dr. Rana applauded ADPC's activities in hospital risk management. Recalling the Nepal earthquake in 2015 and its aftermath, preparing hospitals should be a major focus for Bangladesh. He reiterated that hospital preparedness activities will prepare Bangladesh to face future disasters in light of the growing risk from climate change, zoonotic diseases, and other hazards.
Potential collaborative areas with WHO Bangladesh were discussed ranging from:
Enhancement of national policies and guidelines on hospitals and HEDRM

Adapt the WHO Hospital Safety Index Tool to develop a National HRA Tool

Integrate HRA Tool into existing Hospital Accreditation Process for sustainability, including in private hospitals

Integration of HRA as part of regular reporting and monitoring of the health sector

Mainstreaming DRR into Health Sector development plans, including annual programs and budgeting