A new network of local civil society organizations (CSOs) was formally launched by the Sri Lanka Preparedness Partnership (SLPP) at an event on June 17, 2022. This network aims to enhance and connect local disaster management practitioners in Sri Lanka to progress safer and more sustainable communities. 
The network will serve as a community-driven platform to expand disaster risk reduction (DRR) dialogues and instill sustainable change. It seeks to enhance the resilience of at-risk communities in the nation, and introduce and implement systematic collaboration among working groups, donors, and policymakers. There are currently 60 organizations that have joined the network. They collectively endeavor to empower local CSOs on national and international platforms.
CSOs have played a significant role in the social and economic development of Sri Lanka. Their commitment has stimulated international agreements and national commitments toward improving disaster resilience in the country. APP's conceptual design champions local CSOs as advocates and implementers of DRR initiatives. Alongside government agencies and the private sector, local CSOs offer a valuable role in localizing DRR projects in effective and sustainable ways. SLPP's primary local CSO partner has been Janathakshan (Gte) Ltd, which works to build resilience through low carbon development pathways and circular economy processes. Sri Lanka Civil Society Action Network for Community Resilience formally acknowledges the creation of an independent network of local CSOs working towards common goals and objectives. In addition to developing linkages across Sri Lanka's DRR ecosystem, it will also support building the capacity of its members and function as one voice for local, national, and international platforms.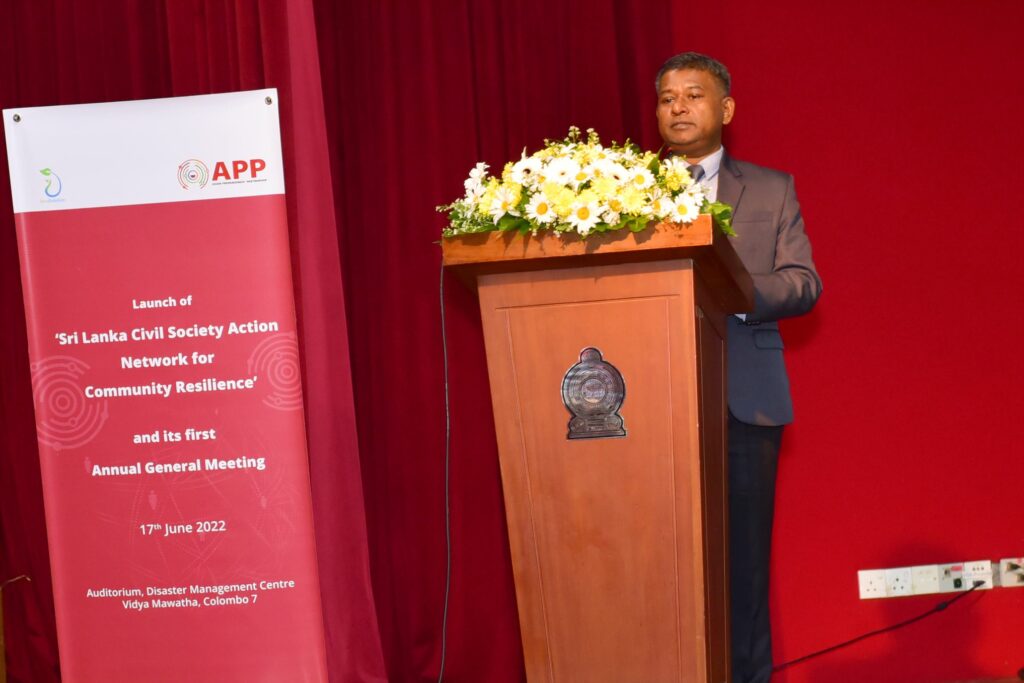 Mr. Janaka Hemathillaka, CEO of Janathakshan (Gte) Ltd, welcomed guests in his opening address, where he focused on the significance of the new partnership, "We hope to influence and enhance policy-making with the support of CSOs. We have seen this network work towards that goal and welcome other organizations to support and join the platform."
Mr. Sisira Madurapperuma, Director at ADPC, concluded that the network will improve APP's ability to further develop the capacities of local CSOs, "Local organizations must consider sustainability and value addition during the inception stage. This should be coupled with the durability of the interventions to ensure longevity. The growing network we have launched today motivates like-minded groups to come together."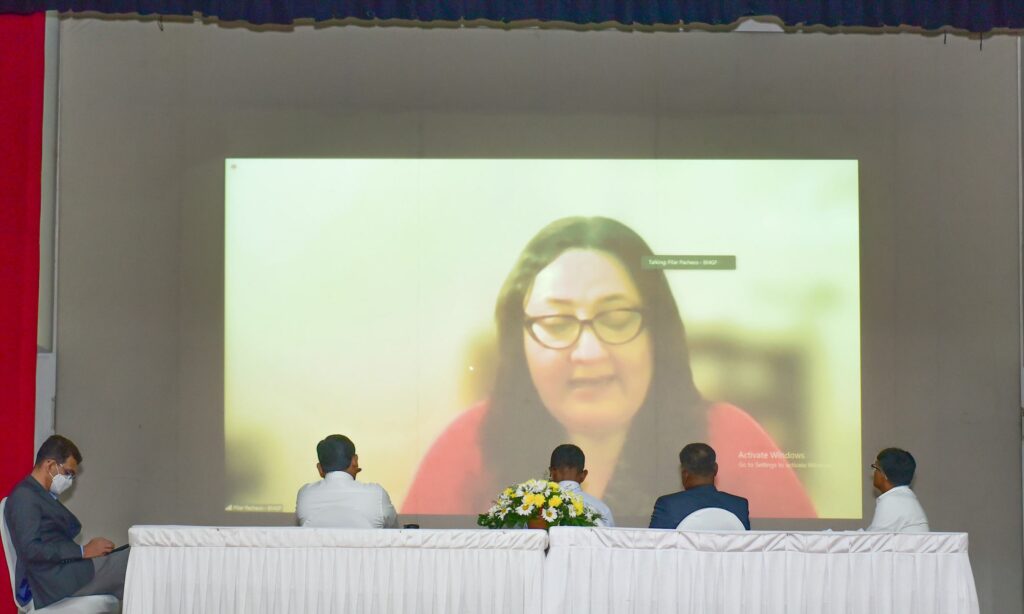 Ms. Pilar Pacheco, Senior Program Officer in the Global Development Division of the Bill & Melinda Gates Foundation (the Foundation), emphasized the role of strategic and innovative financing in enhancing CSOs' sustainability at the forefront of inception – "Funders are looking for innovative ways for local organizations to act more as partners than solely as recipients. Networks are optimal aid targets for funders because they reduce the need for intermediaries connecting donors to the ground. By tapping into the power of the collective, local organizations can learn from their peers and strengthen each other."
Mr. Chandraratne Vithanage, Senior Assistant Secretary-General, The Ceylon Chamber of Commerce (CCC), addressed the scope for collaboration between the private sector and local CSOs: "Our objectives are a collective aim. We must join hands to implement our work at the grassroots level, especially when it comes to reaching rural communities to expand the chamber's scope."
The keynote address of the event was delivered by Maj. Gen. (retired) Sudantha Ranasinghe, who is the current Director-General of the Disaster Management Center, Sri Lanka. He built on the comments by the previous speakers and underscored the need to prioritize civil society's engagement in national DRR initiatives.
SLPP encourages local CSOs in Sri Lanka to join the network of like-minded organizations committed to DRR. Participation is open to any functional and established local CSO that is registered in Sri Lanka and contributes to disaster management and/or climate change interventions. The network aims to expand and further integrate into discussions with other stakeholders to consolidate and strengthen complementary efforts. 
Any interested CSO can obtain the membership by registering through the following link. Registration Link. 
For more information and clarifications please contact Ms. Chandrika Kularathna – Senior Manager, Janathakshan (Gte) Ltd on Chandrika@janathakshan.lk / Mobile: +94 77 060 9128.