Under the PEER Stage-5, ADPC organized the first Regional Technical Working Group (RTWG) meeting for Safer Hospitals on 28 September 2021. Representatives from the World Health Organisation (WHO) – Southeast Asia Regional Office, Department of Health, Philippines; and RTWG members from partner institutions namely, Department of Disaster Management(DDM), National Institute of Preventive and Social Medicine (NIPSOM), and Directorate General Of Health Services (DGHS), Bangladesh; National Disaster Response Force (NDRF) and Gujarat Institute of Disaster Management, India; Armed Police Forces (APF), Institute of Medicine and Ministry of Health, Nepal; PESD Rescue 1122, Foundation University Medical College, Agha Khan University (AKU), Federal General Hospital (FGH) and Health Services Academy (HSA), Pakistan; and Disaster Management Center (DMC), Director Building Engineering and Ministry of Health, Sri Lanka, participated in the meeting.
The discussion was aimed at promoting safe hospitals from disasters through supporting hospital preparedness and recovery plans in partner countries. The RTWG on Safe and Disaster Resilient Facilities and Hospitals is envisioned to instill resilience in the healthcare system and aims at achieving it through policies and national guidelines, conducting safety assessments, facilitating private sector engagement, promoting knowledge exchange, and supporting the institutionalization of HOPE. 
John Abo, Chief of Party, PEER started the discussion with a brief overview of how the RTWG for Safe Hospitals was conceptualized in the backdrop of HOPE. He presented the continuing focus of the Global DRR frameworks, "Safe hospitals have been highlighted as a major recommendation to stimulate people-centered investment in emergency and disaster risk reduction. Similarly, WHO as the global lead on health emergency and disaster risk management issues has laid down specific guidelines for countries to build safer hospitals." He also highlighted the roles and responsibilities of the RTWG and said, "This is an opportunity to widen our perspective in terms of enhancing hospital preparedness and not just limiting ourselves to training."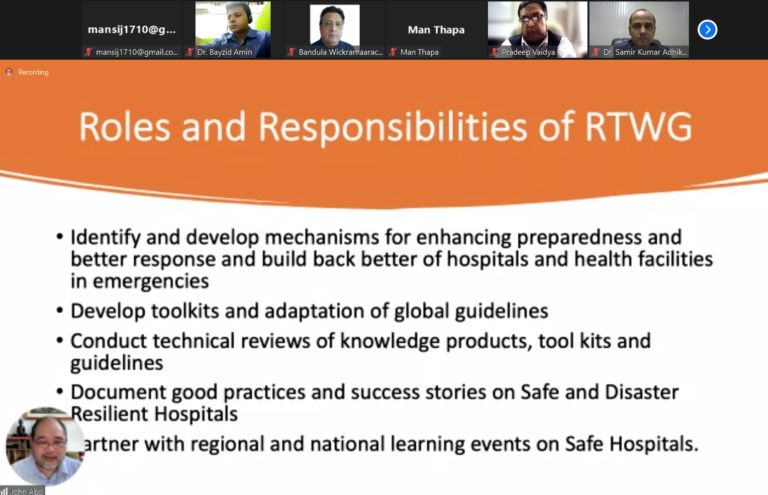 Dr. Anil Bhola shared the initiatives of  WHO-SEARO on Safe Hospitals. He presented the progress on the hospital safety index of all the partner countries and said, "During this ongoing pandemic, there arises a need to reassess the existing healthcare facilities and develop a plan to build a resilient healthcare system."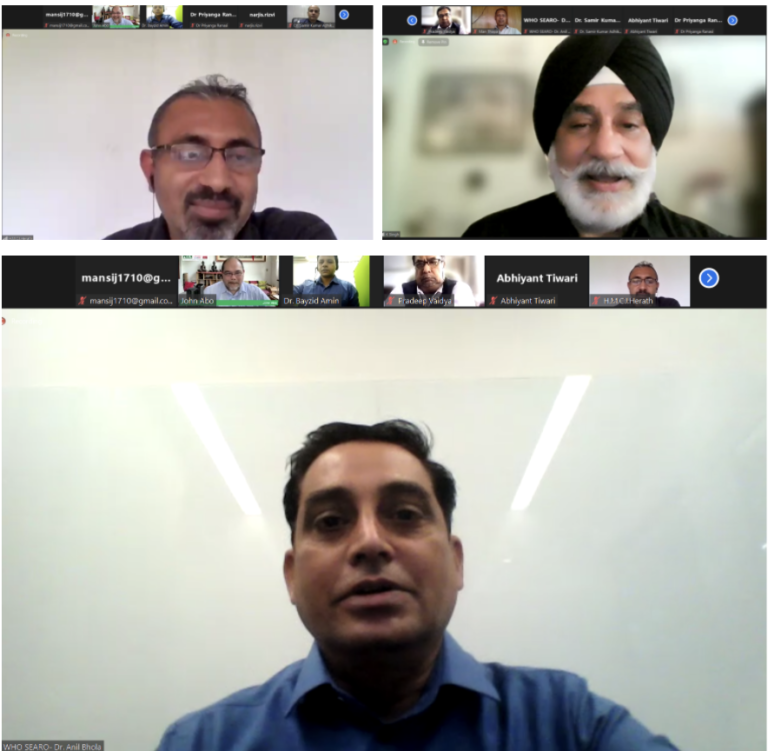 Dr. Pradeep Vaidya, Professor at the Institute of Medicine, Nepal shared the experience of conducting the first virtual HOPE course by NSET and highlighted the positive responses from the participants. Dr. Bayzid Amin, Lecturer at NIPSOM and a participant of the online HOPE refresher course also shared his experience, "Initially, I was a little hesitant towards pursuing the course online, but my experience has been great. The sessions were very interactive and I feel that the online approach can help PEER in institutionalizing its programs." His comments were echoed by Mr. Abhiyant Tiwari, Assistant Professor and Program Manager at GIDM. Dr. Narjis Rivzi, Associate Professor, AKU also shared the course methodology used in Pakistan.  
The meeting deliberated on priority activities for the upcoming months, frequency of meetings and actions to be taken up on developing toolkits, case studies, HOPE self-paced learning, and participation in global dialogues among others.
Cover Photo by Freepik.