Under the leadership of the Disaster Management Center (DMC), the four PEER curriculums for HOPE, MFR, CSSR, and CADRE are being reviewed by four Technical Curriculum Review Groups (TCRGs)- constituted for each course. Thirty-eight experts (including eight females) have been involved in the review process. CADRE, CSSR, and MFR TCRGs are coordinated by an appointed DMC senior official. The HOPE curriculum review is co-led by DMC and the Ministry of Health (MoH).

To ensure adequate expertise and representation of institutions involved in the delivery of similar training, the following organizations are participating in the consultation process for the national adaptation exercise:
· Disaster Management Center
· Center for Disaster Response Training (CDRT), Sri Lanka Army
· Rapid Action Boat Squadron (RABS), Sri Lanka Navy
· Sri Lanka Life Saving Association (SLLSA)
· Fire Rescue Training School, Fire Service Department
· Disaster Preparedness and Response Division (DPRD), MoH
· Sri Lanka Red Cross Society
· Sarvodaya Movement
· Janathakshan GTE Ltd
· Suwa Seriya 1990
· Department of Civil Engineering, University of Moratuwa
· National Building Research Organization
A series of TCRG meetings and subgroup meetings were held to provide feedback and review the existing course curricula. The mid-planning meeting of the MFR, CSSR, and CADRE curriculum was held on 09 March 2021 via zoom. The curriculum mid-reviews are now complete and ready for regional review by subject matter experts.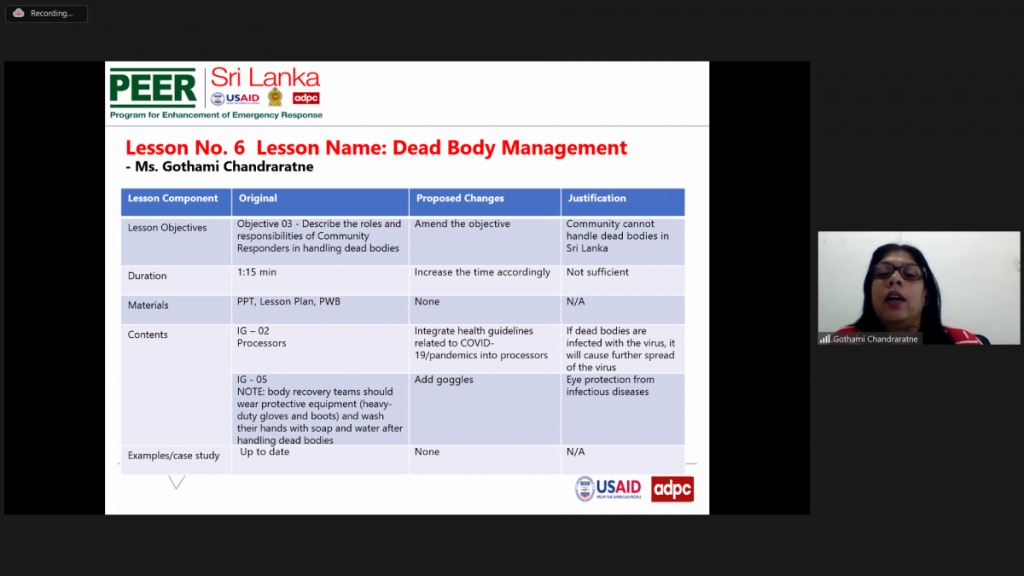 Mid Planning Meeting of HOPE curriculum
The mid-planning meeting of the HOPE curriculum was held on 10 March 2021 via zoom. In addition to the TCRG members, the following experts from Bangladesh, Pakistan, and Nepal were invited to share their experience and provide feedback on the changes proposed by the TCRG:
· Prof. Dr. Md. Ziaul Islam, Bangladesh
· Dr. Ummul Khair Alam, Bangladesh
· Dr. Rowshan Ara Begum, Bangladesh
· Dr. Ejaz Ahmad Khan, Pakistan
· Dr. Naila Azam, Pakistan
· Dr. Pradeep Vaidya, Nepal
· Mr. Aditya Tamang, NSET-Nepal
· Prof Dilanthi Amaratunga, University of Huddersfield, UK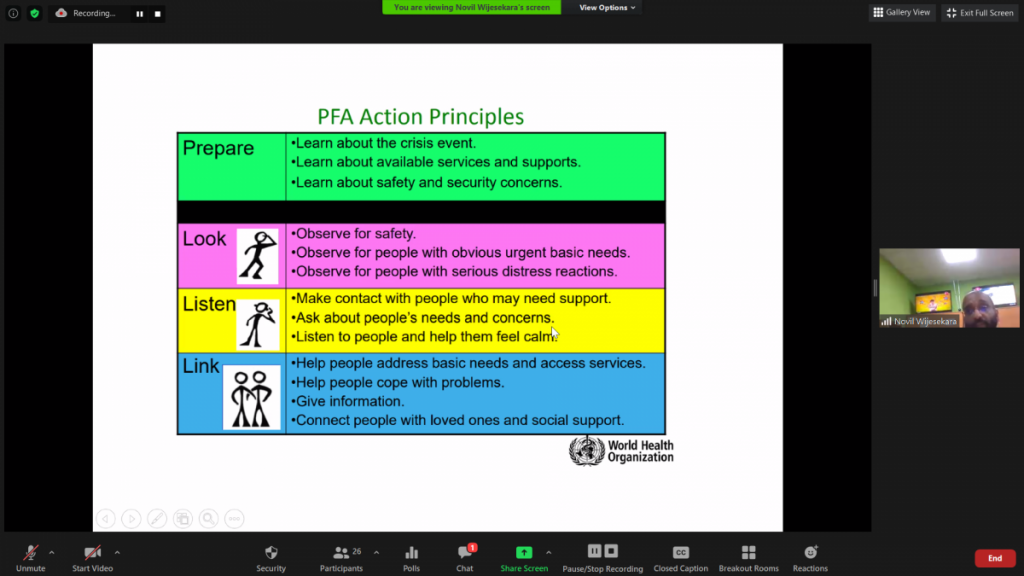 The regional experts commended the contextualization process and the outcomes of the HOPE course curriculum by the TCRG. The following key recommendations were agreed upon for inclusion:
· Definitions on disasters and concepts have to be updated as per the accepted international standards.
· Information on disaster statistics and epidemiology was agreed to be updated.
· Structural aspects of hospital safety were to be adjusted to suit the disaster profile of Sri Lanka.
· There is a need to align the concept of triage in the HOPE material with the Accident and Emergency Policy guidelines in Sri Lanka.
· The risk communication lesson to be improved to incorporate up-to-date information.
· Sri Lankan examples and photographs were incorporated wherever possible.
· Management of the dead bodies of foreigners was proposed to be incorporated into the HOPE curriculum.
· It was agreed to share the updated material with the other countries of the region. NSET expressed willingness to assist in conducting a Training of Trainer program when the COVID-19 situation improves.