The Asian Disaster Preparedness Center (ADPC) through its Strengthening Emergency Response in Bangladesh (SERB) program conducted a three-day HOPE training in Rangamati- a hill district in Chittagong, Bangladesh from 23 – 25 October 2021. The training was organized in partnership with the Directorate General of Health Services (DGHS) and the National Institute of Preventive and Social Medicines (NIPSOM) supported by USAID-BHA. 
The training was conducted with the focus to develop the capacity of the hospital disaster management committee members and hospital managers to manage mass casualty events. The SERB program supported by USAID BHA aims at reducing the impact of disasters through institutionalizing emergency preparedness in Bangladesh.  
HOPE in Rangamati
Rangamati is highly prone to landslides, due to heavy rainfall, deforestation, and weak soil structure. The lack of an emergency management system in the region multiplies the effect of disasters. The HOPE training in Rangamati is part of building a robust emergency management system through first responder training.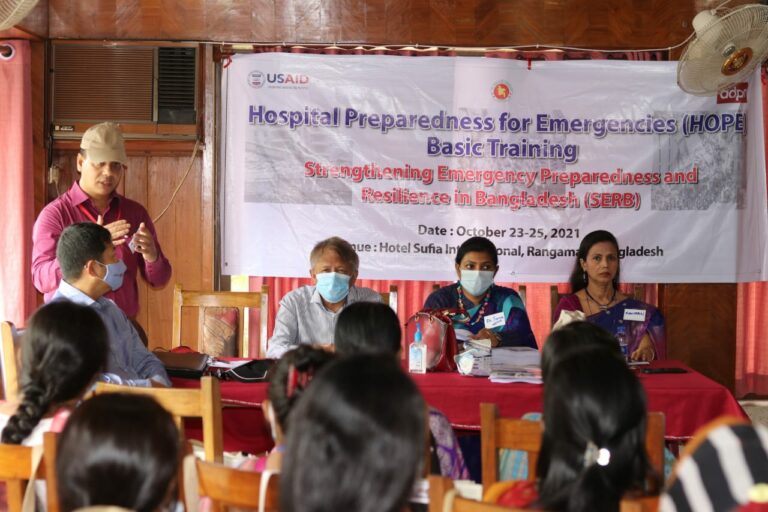 24 participants from the four Upazila level Health Complex (UHC) along with 04 instructors and the ADPC team took part in the training. UHC is the first referral health facility at the primary level of the health care delivery system in Bangladesh and the Government provides healthcare services to its rural people through these facilities. Training the medical personnel of the UHCs will strengthen its capabilities to manage mass casualty events. 
The training sessions were spread across three days of intensive lectures and hands-on exercises. The first day of training covered the basics of the HOPE course, pattern of injury, structural and non-structural components of hospitals, triage, etc.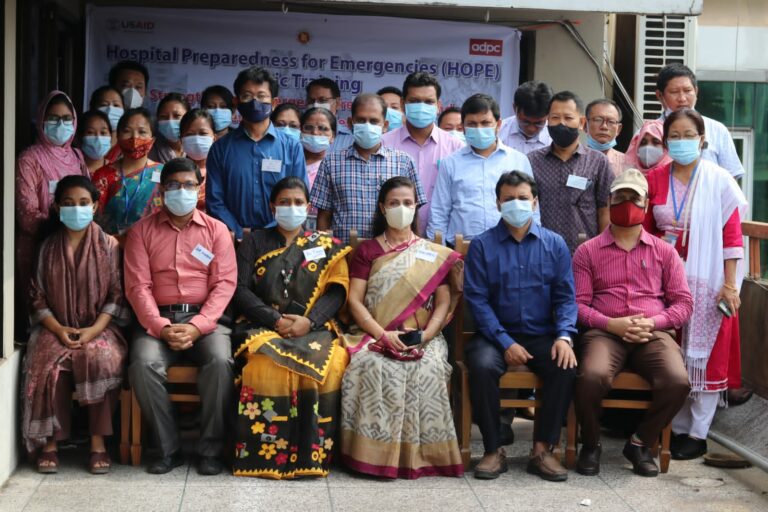 The second day dived deeper into hospital operations and covered subjects like Hospital Incident Command System (HICS), Mass Fatality Management, Psychosocial Consequence of Disaster, etc. The lesson covered the basics of the hospital command center, potential sites for this facility, and services that should be present in such a facility. 
On the final day of the training, participants were divided into four groups, and each group was given a different disaster situation to work out. The given scenarios were:
Fire breaks in fair 

Gas explosion in hospital 

Pulmonary Anthrax in a religious congress 

Collapse of  the Athletic stadium
Applying their learnings from the first two days of the training, the groups presented solutions with a detailed call to action that the participants would take in case of a disaster or mass casualty event. The groups presented how they would treat and rescue the victims; manage dead bodies and contact the right organization to minimize the loss of life.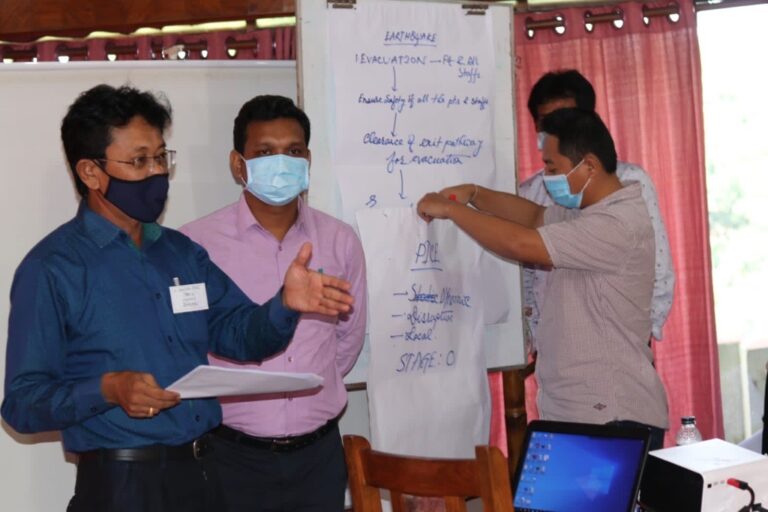 The training ended with remarks from the Civil Surgeon of Rangamati- Dr. Nitish Chakma, who acknowledged, "This training has been a great learning experience for all the participants, I would personally thank all the instructors and ADPC team for this training."