PEER Pakistan organized a workshop on 14 October 2021 to integrate CADRE into the existing programs and budgetary processes of the Pakistan Red Crescent Society (PRCS). A total of 21 individuals participated in the event, including people from National Disaster Management Authority (NDMA), PRCS, National Humanitarian Network (NHN), and the Asian Disaster Preparedness Center (ADPC). 
Dr. Adeel Nawaz, Secretary-General, NDMA gave the opening remarks and emphasized integrating CADRE in the PRCS program and budget. Mr. Sajid Naeem, Senior Program Manager, and ADPC Country Representative opened the session by walking the participants through the objectives and expected outcomes of the workshop. He presented the achievements of PEER and highlighted the impact of CADRE in creating skilled emergency responders and the availability of trained instructors at the community level.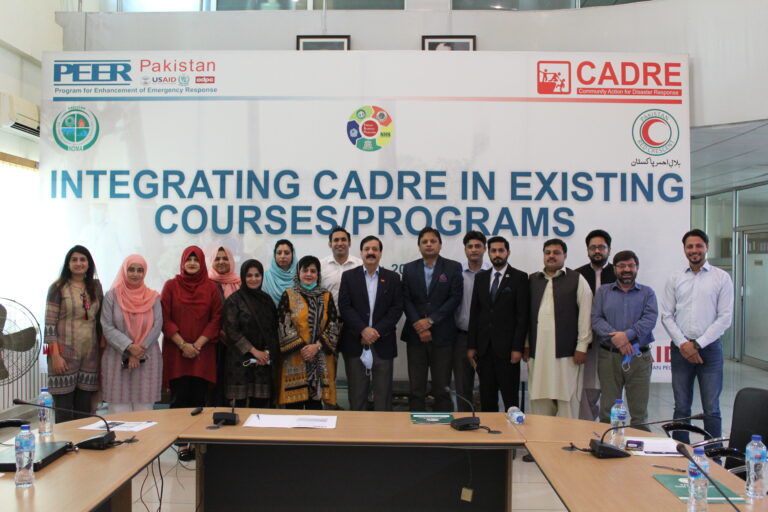 Mr. Muhammad Atif Khan, Program and Disaster Management Manager, PRCS, shared PRCS's contribution to the PEER program in Pakistan and elucidated the possibility of integrating CADRE into PRCS existing programs. He also talked about the funding source of the courses and reiterated that the inclusion of CADRE will facilitate the integration as well as provision of funding, as most of the courses are being funded by the International Federation of Red Cross and Red Crescent (IFRC). Mr. Khan proposed the following recommendations as a way forward: 
Inclusion of CADRE in policy documents of all relevant PRCS programs.

Include CADRE as a regular PRCS program to train vulnerable communities.

Develop a pool of instructors at the national and provincial levels. 

Conduct refresher courses for instructors and communities. 

Provide training kits to all provincial/regional branches. 

Leverage PRCS resources and other programs to implement CADRE. 
The participants were divided into small groups to discuss and identify the existing courses where a customized CADRE curriculum can be integrated. Since PRCS is also organizing Pre-Hospital Emergency Course (PHEC) and First Aid Course (FA), therefore MFR and HOPE curriculum was also discussed and analyzed for its possible integration into these courses.
Each group deliberated on the progress made in institutionalization, based on the nine parameters specified by PEER. The consultation ended with recommendations from the group discussion. These recommendations were: 
Developing National Guideline on Mobilization of Community Volunteers to facilitate volunteer engagement in case of any emergency/disaster response. Formulation of national guidelines should be supported by the PEER program.

Translation of the revised curriculum into Urdu to contextualize the curriculum in-country context. 

Developing National PEER Standards by customizing regional PEER standards. 

Conducting CADRE TFI/IW to train more instructors to meet the growing demand for community training.

Purchasing new equipment for national and regional branches to facilitate CADRE training to the community.