The third virtual meeting of the Regional Technical Working Group on 'Inclusive Approaches in Localization (RTWG-IAL)' took place on December 4, 2020. It was the last one of the year. Participants from nine countries discussed the development of a training curriculum for local organizations on rights-based and inclusive approaches to early warning, evacuation, and camp management. They also tackled case study development on inclusive approaches in localization and updates on upcoming events.
Using local-level case studies and lessons, the training course is being co-developed by the member countries of the Asian Disaster Preparedness Center's (ADPC) Asian Preparedness Partnership (APP) ─ a multi-stakeholder platform of governments, the private sector, and civil society ─ and the Raoul Wallenberg Institute (RWI), Sweden. Ms. Loreine B. Dela Cruz, Executive Director of the Center for Disaster Preparedness (CDP), Philippines chaired the meeting.
Ms. Shalini Kanwar, Project Manager for Preparedness for Response and Recovery Department, ADPC, presented updates on behalf of the secretariat. She shared the registration links for the Canvas platform for feedback from the members. She also provided information on the 6th Asian Preparedness Partnership Regional Steering Committee (APPRSC) meeting that will take place on December 11, 2020. She invited the group to the International Symposium on Multi-Hazard and Early Warning as the APP is organizing a plenary session on December 14, 2020. Ms. Kanwar concluded with the planned activities for 2021 with a focus on the training curriculum and the development of case studies as knowledge products.
Mr. Matthew Scott, Senior Researcher, Team Leader, People on the Move thematic area from RWI gave a walkthrough of the online course. He distinguished the main page that provided general information from the discussion board that was created to promote interaction between learners.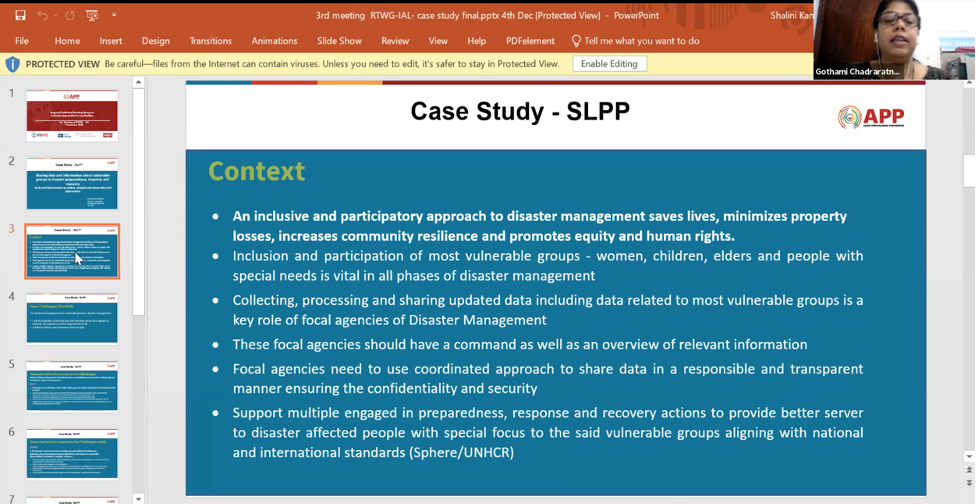 The discussion about the online course was followed by the sharing of a case study from Sri Lanka by Ms. Gothami Chandraratne, Director of Operations at Janathakshan GTE Ltd. It focused on vulnerable groups in disaster preparedness, response, and recovery. She emphasized that an inclusive and participatory approach to disaster management saves lives through accurate and timely data. Vulnerable groups are often left out of the development process because of this lack of information. She reported that the Ministry of Disaster and Management in Sri Lanka has taken steps to address this challenge by developing a Disaster Information Management System, preparing scenario-based contingency plans, and devising a system to collect disaggregated data at the registration points of safe centers.
The meeting concluded with final remarks from Mr. Edwin M. Salonga, Program Manager of ADPC in the Philippines, and the speakers expressing their hopes for progressive discussions and collaborative actions in the coming year.