The 2010 flash flood was initially started as a provisional disaster in northern Pakistan. The disaster gradually escalated to a national catastrophe leaving one-fifth of the country underwater. Mass flooding affected 20 million people with nearly 2,000 casualties and 1.6 million homes and key infrastructure across 78 districts. Muhammad Sharif lost three of his children when the torrents of water were unleashed in his village, "I was resting while my children were playing outside the house, We all heard someone running and shouting that the water was sweeping in engulfing anything in the villages. It was the last time I had seen my sons, Asif and Tahir, and my daughter, Naseem." 
Muhammad is a day laborer from Hanjrai in Kot Addy district of Punjab. The small village of 2,500 people is mostly comprised of agriculture and livestock farmers who work for daily wages during the off-seasons of the harvest. Farming communities like Hanjrai were the most affected as the floods destroyed 2.2 million acres of crops. Muhammad earns about Pakistani Rupees (PKR) 7,000 (USD 41) a month. Disaster impacts are an everyday reality for a poor family like Muhammad. Extreme weather created a consumption loss of USD 520 billion and pushes 26 million people into poverty.

The family of five requires about PKR 20,000 a month to survive and Muhammad is the breadwinner – "My wife takes care of the house and the two goats and chickens we have. My eldest son, Ahmad, is also working as a day laborer to bring additional income with me." However, his income depends on the availability of jobs on any given day. Muhammad's narrative has become a way too common reality in Pakistan. Flood-affected populations have increased by 114% between 1970 and 2010 with 9 out of 10 people affected by the disaster.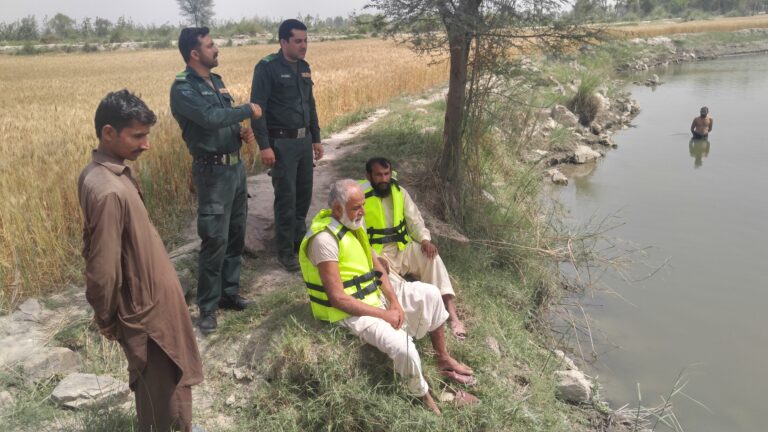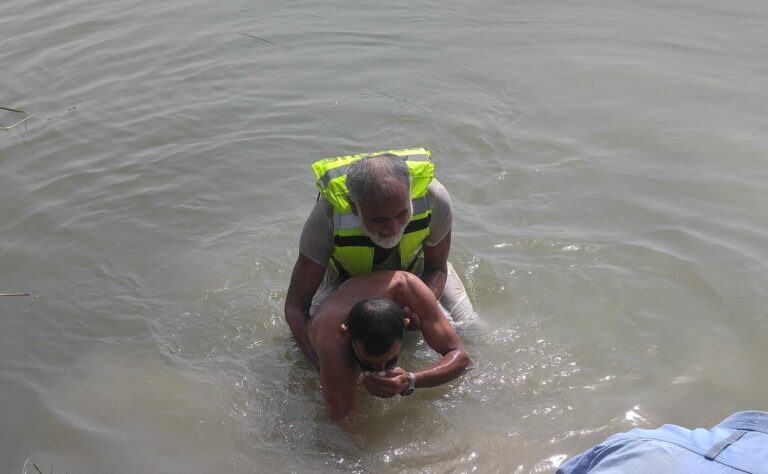 Helplessness during the flood is something Muhammad recalls every day: "I was able to pull out Ahmad from the water as soon as I saw him being pulled by the waves. My next instinct was to find Naseem but I was unable to reach her on time. I was carrying her lifeless body to safety." Muhammad knew it was too late by the time he had found his younger sons. Loss becomes a turning point for Muhammad. He was determined to have control over the outcome of any future floods. Muhammad joined Rescue 1122 and organized the Building Disaster Resilience in Pakistan (BDRP) program in 2017, "The professional trainers prepared us through practical demonstrations and exercises. The search and rescue session were simulated in a swimming pool for a hands-on experience. We also learned how to respond to affect persons through first aid training including cardiopulmonary resuscitation (CPR)." BDRP has engaged local organizations like Farmers Development Organization (FDO) to enhance the emergency response capacity of community members in rural areas of Pakistan. 

The training has also equipped participants with the ability to control bleeding in injured persons and accidents ranging from first aid to firefighting. Muhammad is most grateful that the program has changed his outlook, "I don't feel a looming sense of insecurity when I think of future disasters. I have the confidence to take a leading role as a first responder. Today, I can say that I will be there to save someone's Naseem." Muhammad was selected as the leader of the Village Emergency Response Team (VERT) during the Union Council ERT – "I want my community to have a mobilize mindset when catastrophes strike. Disaster warnings are a call to activate and cooperate for resilience."
Stakeholders for Resilience

The BDRP program was established to respond to the inherent climate factor as well as the lack of resources and technical capacity at the government and community levels. It aims to build resilience in communities and households in Pakistan to manage the impact of disasters by maintaining or transforming living standards in the face of shocks and stresses without compromising their long-term prospects. A series of capacity-building events were organized under the program to enhance the capacity of the targeted communities for effective preparedness and response. Pakistan currently ranks fifth on the Global Climate Risk Index. The country has experienced 152 extreme weather events from 1999 to 2018 with 9,989 disaster-related casualties and an economic loss of USD 3.8 billion. 
The eight-year program was implemented in nine districts by a consortium of Concern Worldwide, ACTED, Welthungerhilfe, IRC, and local implementing partners Doaba Foundation, Farmers Development Organization, Veer Development Foundation, Lodhran Pilot Project, and Rural Development Foundation. BDRP was formulated in full consultation with the Government of Pakistan, UN agencies, and implementing partners. The program demonstrates the collective capacity and reaches when international and national programs initiate capacity-building activities that enable and empower affected communities. 
The Pakistan Resilience Partnership (PRP) seeks to enhance the best practices of local member organizations of its network. This cooperation includes our civil society partner, National Humanitarian Network (NHN), which supports organizations such as the FDO. The partnership seeks to share these success stories to expand its prospects at a regional level and promote South-South learning. PRP has supported academic research on disaster risk management (DRM) aligned with disaster management adaptation (DMA) priorities such as flood awareness and preparedness. University students have produced 30 quality research publications of which seven analyze flood-related topics such as urban flash flooding, impacts of floods on health, and vulnerability assessment of flash floods. These research publications have been collated and disseminated on the Asian Preparedness Partnership Platform (APP) to promote South-South knowledge exchange: Research work by Students of Center for Disaster Preparedness and Management (CDPM), University of Peshawar.