Floods are among the most common disaster events in Sri Lanka. The economic repercussions of floods have exponentially increased and are expected to impact the annual GDP by USD 338 million by 2030. Small and medium enterprises (SMEs) commonly experience a drop in sales volume and impact on business operations following these disasters.
The ''Building Businesses' Climate Resilience'' (BBCR) project was launched in September 2018 to support local small enterprises in Sri Lanka to be better prepared for disruptive flooding events. The project is led by the UNEP DTU Partnership in partnership with Asian Disaster Preparedness Center (ADPC) Thailand and Sri Lanka, the Ceylon Chamber of Commerce (CCC) Sri Lanka, and MPEnsystems India with funding support from the Nordic Climate Fund (NCF).
With the aim of reducing damages and losses, the BBCR tool in the form of a mobile application was developed to provide easily accessible guidance and recommendations to enhance the ability of small and medium-sized enterprises to prepare for and reduce the negative impacts of flooding events.
Following a co-creation phase and piloting of the tool together with SME owners, key features including rain data tracking, self-assessment on flood risk levels, and tailored recommendations have been incorporated into the tool.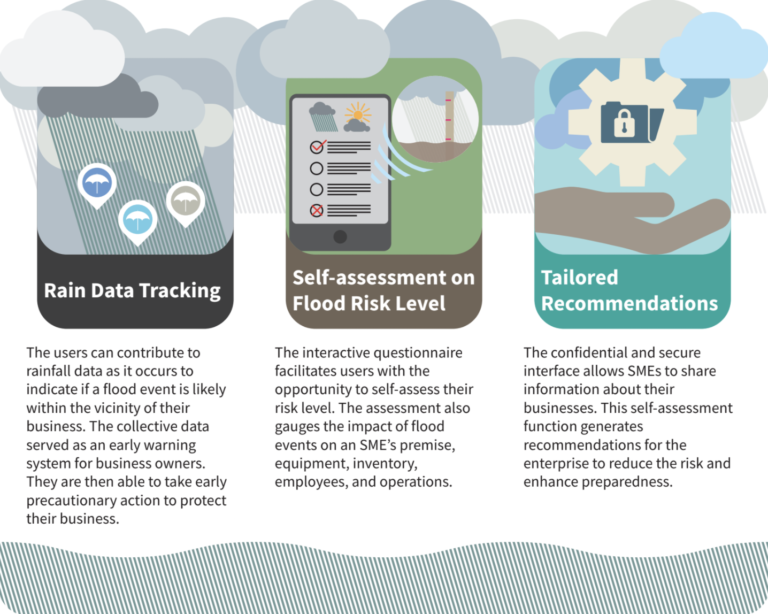 The project and tool have gained recognition from relevant Government of Sri Lanka agencies working on disaster management and supporting business development in the country, including the Disaster Management Center and the Ministry of Industries. Following the lessons learnt from the implementation of the BBCR Tool in Sri Lanka, the aim is for further dissemination in the Asia region, allowing countries with similar circumstances to benefit from the features presented
The BBCR Tool is available for download via the following platforms:
For more information about the BBCR project or tool please contact: Kilian Murphy, email – kilian.murphy@adpc.net.