Under the Bangladesh Preparedness Partnership (BPP) program, ADPC organized a Roadmap Development Workshop on 16 September 2021 in a semi-virtual mode, with sectoral partners to collaboratively identify the emerging needs and prepare a collective response for improving coordination during disasters in Bangladesh. BPP is a multi-stakeholder partnership that aims at improving emergency management coordination in Bangladesh. The program is led by the Ministry of Disaster Management and Relief (MoDMR) through a multi-stakeholder partnership with other key sectors from civil society networks, academia, and the private sector. 
This workshop was a culmination of mobilizing like-minded partners over the past months by identifying key sectors in Bangladesh for locally-led actions to enhance the emergency response system. BPP partners from the MoDMR, Department of Disaster Management (DDM), Cyclone Preparedness Program (CPP), Bangladesh Fire Service and Civil Defense (FSCD), National Alliance of Humanitarian Actors in Bangladesh (NAHAB), Bangladesh Scouts, Foundation of Disaster Forum, Center for Disability in Development (CDD), BRAC- Humanitarian Programme (BHP), Network for Information Response and Preparedness Activities on Disaster (NIRAPAD), Development Research Network (D-net), Bangladesh Garment Manufacturers and Exporters Association (BGMEA) and Vice-Chairman- Newage Group, Federation of Bangladesh Chambers of Commerce & Industries (FBCCI), Dhaka University and BRAC University participated in the discussion.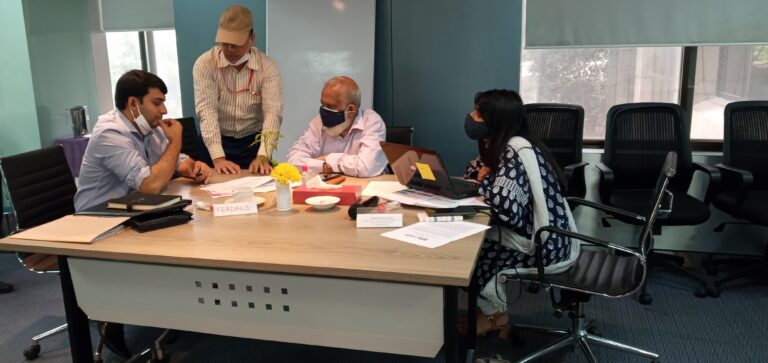 BPP is a strategic program supported by the Bill & Melinda Gates Foundation (the foundation) that focuses on improving emergency management coordination in Bangladesh. It follows the 'Whole of Society' approach promoted by the Standing Orders on Disaster 2019. The focus of this workshop was to jointly identify the emerging gaps in the emergency coordination system and enhance disaster response collaboration at the national and sub-national levels through a long-term roadmap. A high-level Program Advisory Committee (PAC) will be established comprising key sectoral agencies to oversee the overall BPP program and roll-out of interventions to achieve its mission.
Mr. Abdullah Al Arif, Deputy Secretary, MoDMR opened the workshop by adding, "multi-sectoral engagement is the core mandate of SOD for disaster management in the country."
Mr. John Abo, Technical Lead, Asian Disaster Preparedness Center (ADPC) highlighted the importance of developing partnerships for achieving disaster resilience in Bangladesh and said, "A collective response is needed to confront complexities of different hazards in the nation and partnerships are essential for successfully implementing DRR in national and local government." He further stated that a systematic approach and active participation from all the local actors are required for implementing SOD 2019. 
Ms. Shivani Gupta, Project Management Specialist, ADPC, walked through the BPP framework, which reiterated BPP's strategy to support SOD 2019 implementation for locally-led actions through a four-pronged approach. The program envisions improved coordination through multi-stakeholder partnerships, strengthening of emergency operation centers, capacity development, and south-south learning and exchange of knowledge.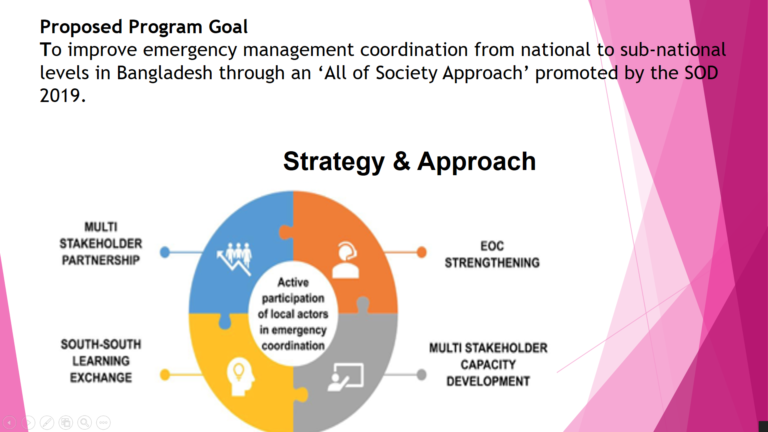 The deliberations were followed by a group discussion and presentations on identifying priority activities for each sector.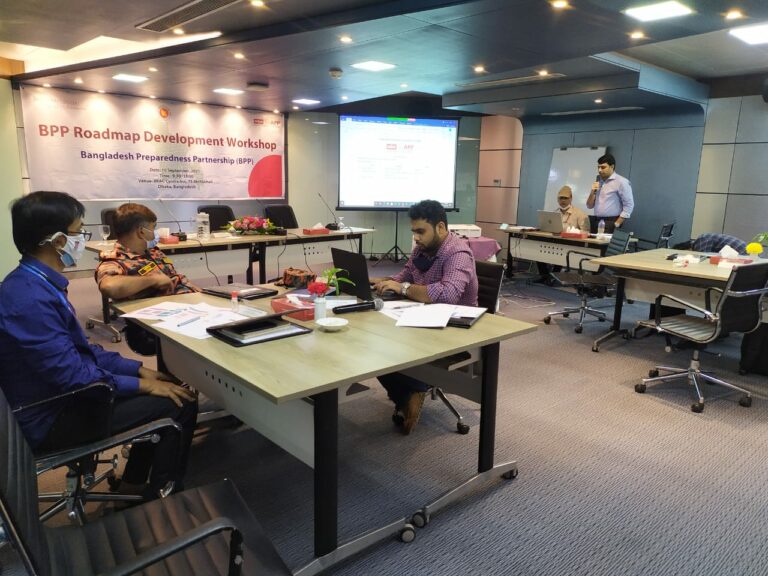 The workshop ended with the following key action points:
Finalize and agree on the BPP Governance Structure

Signing of Partnership Terms of Reference 

Finalize short, medium, and long-term BPP Roadmap