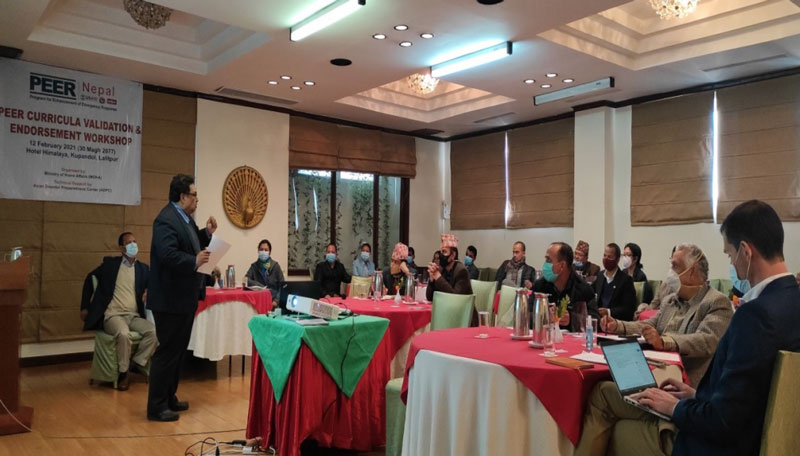 The Ministry of Home Affairs (MoHA), Nepal, with technical support from ADPC Nepal, organized a one-day workshop on "PEER Curricula Validation and Endorsement" as part of the Program for Enhancement of Emergency Response (PEER – 5) on 12 February 2021 at Hotel Himalaya, Kupandol, Lalitpur. The workshop's main objective was to share the proposed revision to update and adapt PEER curricula on CADRE, CSSR, HOPE, and MFR led by the National Technical Curricula Review Group (TCRG). Highlights from the PEER Institutionalization Scoping Study in Nepal were also presented in the meeting, including key recommendations to strengthen Nepal's PEER institutionalization.
The workshop was attended by 26 participants from the government, donor agencies, UN agencies, Red Cross, private sector, and civil society organizations.
Mr. Man Thapa, ADPC Country Manager of Nepal, welcomed the participants and presented the meeting objectives and expected outcomes. Mr. David Mann, the Deputy Director for the Disaster Risk Reduction Reconstruction and Resilience (DR4) from USAID Nepal, delivered an opening message and reinforced USAID's commitments to support the government partners in developing emergency response capacities in the country through the updated PEER Curricula.
Likewise, Mr. Ganesh Gaire, Under Secretary, MoHA, thanked ADPC for the coordination and technical support in bringing experts from diverse backgrounds to revise and validate the PEER curricula. He expressed his happiness to see a lot of progress in the curricula development and shared his commitment to providing any essential support on behalf of the Nepal Government.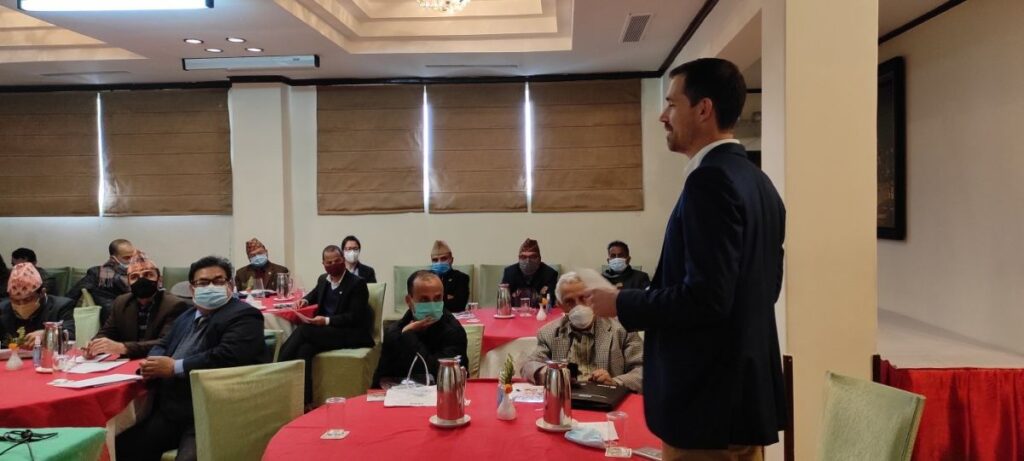 Also, Dr. Samir Adhikari, Chief of HEOC from the Ministry of Health and Population, shared key issues during the COVID-19 response and management in Nepal and said these initiatives would help better prepare our human resources for potential future emergencies.
Respective group members of all the four Technical Curricula Review Group (TCRG) shared their progress and results, followed by an active discussion to incorporate any missing and useful information. Mr. Subash Thapa, the Regional Expert on CSSR, CADRE, and MFR, shared his critical inputs to all three presentations and facilitated the group discussion. Also, Dr. Pradeep Vaidya, HOPE Regional Expert, shared his views on the revised HOPE curricula.
Mr. Man Thapa presented brief findings from PEER Institutionalization Scoping Study. He highlighted key findings around the need for collaborative actions, scientific approach, and need-based curricula content development for effective institutionalization.
During the closing session, Frederick John Abo, Senior Program Manager & Chief of Party PEER from ADPC, expressed his gratitude to all for their hard work and active participation during the workshop. He also shared commitments on behalf of ADPC to take this initiative forward and facilitate learning exchange from other countries. The workshop was formally closed by Mr. Ganesh Gaire, Under Secretary, MoHA, with the vote of thanks to all the stakeholders, including USAID, ADPC, UN agencies, Red Cross, and Private sector representatives. He also shared a commitment on behalf of MoHA to take this forward.