World Humanitarian Day (WHD) 2021 focused on the immediate consequences of the climate emergency for the world's most vulnerable population to ensure that their voices are heard. The time is now to protect millions of vulnerable people from climate emergencies before it is too late. Nepal is prone to several natural disasters – primarily earthquakes and floods. With the vision of bringing all stakeholders together, Disaster Preparedness Network (DPNet), Ministry of Home Affairs (MoHA), Association of International NGO (AIN), National Disaster Risk Reduction Centre (NDRC), Asian Preparedness Partnership (APP), Asian Disaster Preparedness Center (ADPC), Bill & Melinda Gates Foundation (the foundation) organized a national level discussion for the global event.

The session was held to enhance the knowledge and skills of government and non-governmental organizations working in the field of humanitarian assistance. It also sought to promote neutrality, impartiality, and humanity when interventions are taken up in all communities. The main objectives of the session were to initiate the discussion to streamline humanitarian assistance issues through the Humanitarian Assessment Toolkit/assessment report, and Humanitarian Standards Training Manual. Participants were sensitized on the agenda, and shared, discussed, and instilled a common understanding of the toolkits, report, and manual to adopt these standards. 
Mr. Man Bahadur Thapa Country Representative of ADPC welcomes the participants and introduced the participants to the APP's tool for Core Humanitarian Standard Assessment Tool (CHSAT), Institutional Capacity Assessment Tool (ICAT), and Self-Assessment Tool for Institutional Engagement (TIE). He detailed how the tool was a regional initiative towards strengthening local actors: "The tool was rolled out during the Melamchi floods to assess the effectiveness of inclusive efforts. Furthermore, nine organizations in the country tested these tools intending to see more build a more effective humanitarian sector."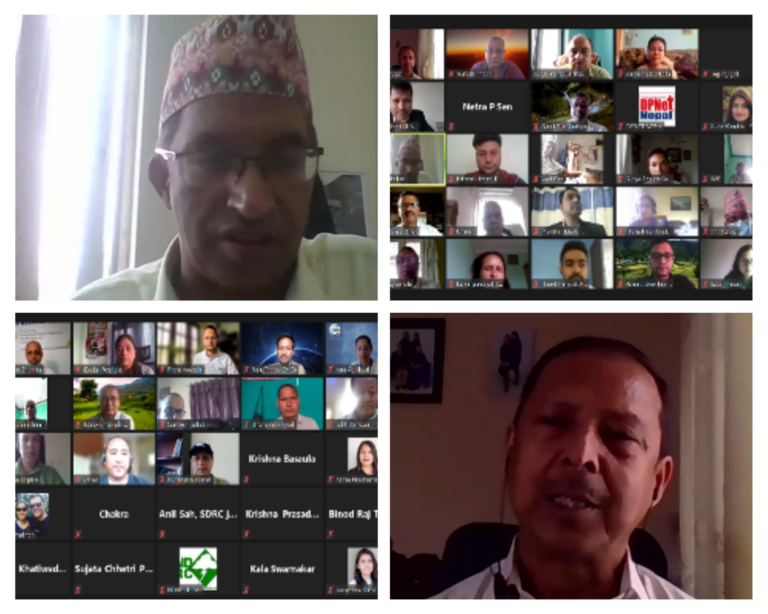 Knowledge at Present
Three topics were presented by specialists during the event. Mr. Krishna Adhikari, Researcher of Rastriya Samachar Samiti (RSS), presented his findings from the rollout of the CHSAT during the Melamchi floods. He found that local level governments, non-governmental organizations, and the private sector had partial, medium, and minimal Core Humanitarian Standard (CHS) achievements respectively. Mr. Adhikari specified that these actors will apply the recommendations of the assessment and adopt the CHS in their future actions. 
Mr. Sunil Sun Shakya, an expert in the CHS training manual, presented the layout of the publication and the session plans and reading materials. He explains that the manual is constructed of 12 session plans that include the legal provisions on humanitarian assistance and disaster management historical backgrounds of humanitarian principles and standards, commitments of CHS, and overview of the Sphere Standard, preparation for Sphere exercise, and execution of exercise on Sphere Standard.
Dr. Raju Thapa, General Secretary of Disaster Preparedness Network- Nepal (DPNet-Nepal) presented on the utilization of social security in humanitarian assistance. He informed participants that the network would be the national focal point for Sphere. Dr. Thapa stated that DPNet-Nepal has translated the Sphere standards and disseminated 1,506 sets to the United Nation's International Organization for Migration for further distribution to 753 local communities and training purposes at these levels.
The Expert Insight
The virtual event garnered expertise and perspectives from some of the key stakeholders with the hope that sharing knowledge and experience would lead to a cooperative way forward.
Mr. Pushkar Khati, Member Secretary of Social Welfare Council (SWC), that humanitarian standards needed to be implemented to witness their effects and that these efforts need to be coordinated with the government's action. He also reflected on the role of local non-governmental organizations (LNGOs) in COVID-19, "These organizations have provided over 2,600 oxygen cylinders when it was scarce. Furthermore, more than half of the pandemic support required is from these organizations so we need to emphasize supporting them in the future."
Ms. Humkala Pandey, Joint Secretary and Chief of Disaster and Conflict Management Division of MoHA emphasized that the approach to disaster risk reduction and management requires the participation of society as a whole. She prioritized social security and humanitarian services as complementary, "Social protection can be provided in the form of rebuilding houses or distributions financial support and food items. The government recently translocated 5,143 people for their safety and such support has been a continuous national effort which becomes stronger when all humanitarian actors come together"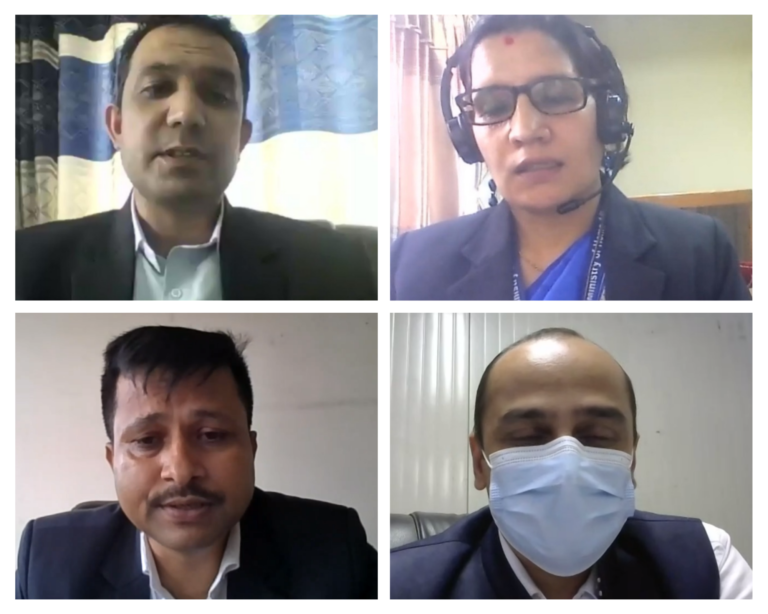 Dr. Samir Kumar Adhikari, Under Secretary and Chief of National Health Emergency Operation Center (HEOC), elaborated on COVID-19 as an indicator for collaboration towards sustainable development, "Organizations from various sectors came together for the pandemic response. It demonstrated the need for a common understanding, risk mapping, and resource mapping. A single organization cannot solely conduct all response activities." 
Mr. Bed Nidhi Khanal, Under Secretary of National Disaster Risk Reduction and Management Authority (NDRRMA), indicated the need for research – "The Intergovernmental Panel on Climate Change's report has illustrated how the degrees of impact vary across regions. We faced the Melamachi flood along with the pandemic this year. After we have identified the trends of disaster impact, we need to collaborate to avoid duplication of efforts."
Taking Climate Action Forward 
Mr. Surya Bahadur Thapa, Chairperson of DPNet-Nepal, closed the session with an urge to be more active and always look towards enhancing current efforts. He requested the participating agencies and institutions to review the current projects for disaster management and how they can incorporate disaster preparedness and risk reduction with social security. Mr. Thapa concluded on a reflective note by asking attendees to think about how successfully they have all worked towards mainstreaming DRRM in development and collaboratively taking this ambition forward.
The meeting contributed to a national framework and action to address climate change. The greater need to include the Ministry of Forest and Environment (MoFE) into climate change dialogues are forums was one of the key takeaways. The ministry is the national focal point for climate change and further engagement would interlink disaster risk reduction and management (DRRM) with climate change. In addition, policy frameworks and legal documents on shock-responsive social protection systems in the context of DRRM were identified as a priority.