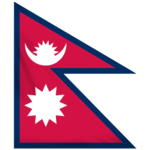 Official Website 
The Ministry of Health and Population (MoHP)
The ministry provides the national context of the COVID-19 pandemic. The site includes information regarding the latest situation, guidance regarding healthcare and patient care, the latest news reports, and IEC material (English & Nepali).
 Reports & Guidelines  
Enhanced Surveillance On Sero-Prevalence Of Sars-Cov-2 in the General Population
The study is the first serosurvey conducted from a planned series of seroprevalence studies for COVID-19 in Nepal. Research has found an estimated national seroprevalence was 14.4% (95% CI, 11.8-17.0). The actual infection prevalence is far greater than the observed case prevalence observed through routine surveillance systems (English).


Rapid Hospital Readiness Facility Assessment Checklist for COVID-19


The assessment report presents the fifteen key components that play a crucial role in better hospital management. It also considers how prolonged outbreaks such as COVID-19 can result in increasing service demands that may potentially overwhelm the capacity of hospitals and health systems at large (English).
Infographics & Posters
Videos
* Cover by Unsplash.