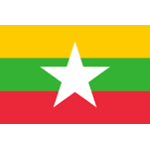 Official Website
Ministry of Health and Sports (MOHS)
The website provides information on the COVID-19 situation as well as the measures taken and current information. There is also a COVID-19 Surveillance Dashboard with the latest numerical updates (Myanmar and English). 
Reports & Guidelines 
Home Quarantine Guideline
The ministry has issued a guideline on home quarantine (Myanmar).

Clinical Management Guidelines for COVID-19 Acute Respiratory Disease
The guidelines provide procedures for the clinical management of probable and confirmed cases of COVID-19 (English).

Guidelines for Returnees to Prevent the Spread of COVID-19
The guidelines provide information on how to stay safe when individuals return to their hometowns which they are strictly required to follow (Myanmar).

Instructions to be Followed while Reopening Restaurants
The instructions include safety measures to prepare to prevent the spread of COVID-19 in a restaurant setting.  It also includes instructions for the person-in-charge and the staff (Myanmar).

Messages for Mental Health and Psychosocial Support
The messages focus on how to find factual information on COVID-19 and avoid fake news which may cause more stress to the public. It also provides directions for staying socially connected while being physically distant, and the need to support and acknowledge the bravery and dedication of healthcare workers (Myanmar).

Nutritional Suggestions To Be Followed During COVID-19
The guideline promotes a healthy diet with suggestions such as taking clean, fresh natural food daily, drinking enough water daily, taking oil and fats with cautions, reducing the intake of salt and sugar, avoiding to eat outside/at shops as much as possible, staying healthy, and receiving counseling, psychosocial support (Myanmar).

Why it is Important to Wear a Mask Systematically and Safely
The guideline explains how the people without a mask can get infected by the virus and why it is important to wear the mask systematically and safely (Myanmar).

What Pregnant Women and Lactating Mothers Should Know During COVID-19
The guidelines provide instructions for lactating mothers and pregnant women to ensure their safety and control the transmission of COVID-19 (Myanmar).

What Parents/Guardians Should Do Before Sending the Children to Schools
The guideline instructs parents/guardians on the provisions they should teach their children and the measures they should take in regard to attending school (Myanmar).

Updated Guidelines on COVID-19 Prevention and Control at Factories, Workplaces, and Construction Sites
The guidelines include five sets of instructions for professional settings. They include general instructions for all, and specific instructions for employers, employees, supervisors and construction sites (Myanmar).

Standard Operating Procedure (SOP) for Reopening Restaurants
The SOP includes the instructions for the following: preparation at the restaurants, the person in charge of staff at the restaurants, the consumers, and cleaning the restaurants (Myanmar).

Instruction on COVID-19 Prevention and Control at IDP Camps Version 1.0
The instructions provide guidance for those in charge of camps and those who inhabit the camps (Myanmar).

Guideline for Community Fever Clinic
The guidelines include objectives, the rationale for community fever clinics. It includes parameters such as scope and field of application, role and responsibility, procedure, the surveillance case definition for COVID-19, patient record forms, and required resources (English).

Clinical Management Guidelines for COVID-19 Acute Respiratory Disease
The guidelines include the standard definition for COVID-19, medical history charting, physical examination, a risk factor for severe disease, COVID-19 disease severity, investigation, immediate implementation of infection prevention and control (IPC) measures, treatment, rehabilitation for patients with COVID-19, pregnancy and COVID-19 disease, discharge criteria, and relevant references (English).

Management Protocol for COVID-19 Acute Respiratory Disease (Version 08)
The protocol provides stepwise instructions from the identification of a COVID-19 positive patient to their care procedure in health facilities (English).

Recommended Guidelines for Safe Surgery in COVID-19 Pandemic Era (Version 01)
The guidelines include patients entering the surgical emergency, effective surgery, laparoscopic surgery, an endoscopic procedure, factors to be considered in the recovery of effective surgical service in the post COVID era, setting up COVID operation theaters, special notes, and references (English).

Points to be Strictly Followed by Those Discharged from Hospital (Version 1.0) 15-9-2020
The guideline explains the procedures to undertake in order to stay safe at home for seven-day home quarantine after a patient is discharged (Myanmar).

Points to be Followed by Persons under Investigation (PUIs), Their Family Members, and Close Contacts
The guideline identifies and details the identification of a PUI and the symptoms they have. It also provides the instructions these individuals should follow during their time at the hospital (Myanmar).

Points to be Followed by Those who Come Back from Facility Quarantine Centers (FCQ) and Their Families
The guideline includes the contact numbers of the Medical Research Department's call center, the Central Emergency Operating Center hotline, the Yangon Region Public Health, and the Medical Care Department. It also details the instructions for the families of and the individual who has come back from FQC (Myanmar).

Points to Be Followed in Order to Effectively Prevent and Control COVID-19 Disease, Shops and Roadside Shops in Townships / Wards / Villages Must Follow Certain Guidelines (Version 1.0)
The guideline includes 11 points for following the shops and roadside shops in townships, wards, and villages. The transmission rate and pattern of infection of the new coronavirus species were explained in detail, and the guide is required to be followed (Myanmar).

Points to be Followed by Highway Truck Drivers and Truck Helpers in Order to Prevent COVID-19
The guideline includes 10 points that truck drivers and helpers can follow to prevent the contraction of COVID-19. It mainly includes do's and don'ts of during their trip (Myanmar).

Standard Operation Procedure to be Followed by Airport Staff and Passengers, during the Resumption of Regular Domestic Flights. (Standard Operation Procedure – SOP) (Version-2.1) 14.12.2020
The guideline details the six points to follow with the purpose of the Standard Operation Procedure (SOP). Mainly, it provides instructions to be followed for the passengers, airport staff, and pilots during domestic flights (Myanmar).

Guidelines for Prevention of COVID-19 in Offices and Departments (Version 3.0) (4.12.2020)
The guideline provides recommendations for offices and departments that need to operate. There were 13 categories included in the guideline and a QR code is given to download it (Myanmar).

Guideline to Prevent and Control COVID-19 to be Followed by Buyer, Shoppers, Shops, Markets, and Market ‌ Administration Committees in Townships, Wards, and Villages. (Version 3.1) (5.11.2020)
The guideline includes three parts that need to be followed by buyer, shopper, and market administration committee. The transmission rate and infection patterns of the new strain of COVID-19 are explained in detail (Myanmar).

Guidelines for Prevention of COVID-19 Disease to Follow in Public Areas and Parks (Version 01)(13.1.2021)
The guideline details the ten points to follow for people who visit public parks and other communal areas to ensure their own safety as well as others (Myanmar). 
Infographics & Posters
Videos
* Cover by Unsplash.